Welcoming a baby into the world is a whole new celebration; we all get excited about this and try to find unique and best gifts to present to new parents. The current birth rate in Malaysia is about 16.066 births per 1000 people. If you are searching for newborn baby gift sets Malaysia, you are at the right place because we are here to help you pick the best gift for newborn babies and mothers.

Before we dive into the product details, let's talk about some essential factors you should know before securing a gift box or hamper in your cart. Every parent or friend wants the best for a child, and here we are to help you out. Let's get into this.
Newborn baby gift sets in Malaysia: How do You Pick One?
If you are in a situation where you want to take your gift ideas to another level, you should visit blissbies.com/my for impressive options. The massive problem people go through while buying a baby gift box is quality and safety. Let's discuss how you can pick the best one and what factors need your attention.
Newborn-Safe
A baby gift should not only be pretty but tested for safety and never compromise a baby's health. Besides being affordable and trendy, it should be newborn-safe. The organic processing and environmental-friendly gift sets make products safe to use. Before buying newborn gifts in Malaysia, ensure they are made from food-grade safe material because babies like to lick and bite every object they touch.
No Sharp Edges
We all know baby shenanigans, and we love to see them doing adorable stuff, but before we enjoy any of these things, it's our responsibility to ensure they are playing with the right product. A product should be soft and must not have any sharp corners that injure them. As we all know, kids like to lick everything, so toys should be made of soft material which is safe to keep in their mouths and has no dangerous sharp corners for their safety.
Durability
Most mummy and baby gift set is expensive because of their organic processing. When we pay a reasonable amount for these products, we expect them to last long. The durability of these sets depends on the material they are made of. We want these gifts to be kept for years to come as memory, and some become child's favourites. Sensitive brands seriously consider durability and develop a product that can last for many years. Also, every product has a purpose that makes them unique to parents.
No Suffocation
Picking out a gift for a newborn baby requires lots of contemplation because you can't just present anything. It should be safe, soft and easy to use. Many products are complicated and come up with a danger of suffocation. Whether picking a product from a clothing range or toys category, ensure it's safe in every aspect for kids. It should not require adult supervision when using it.
Affordability
The best gift is the one you put thoughts into. The arrival of a baby into the world makes you excited and emotional but don't buy everything that is of no use. Ask yourself a few questions, such as how purposeful your gift is to parents. Will baby love it for years to come? Some gifts take a long road before coming to use. Choose gifts that are not hefty in your pocket and are a pleasant surprise for parents.
Baby Gift Sets in Malaysia: Types of Gifts You May Gift
From personalized baby gifts to a baby gift box, our list has all to make your gift top-notch. You can't only pick from the toys category but others, too. Let's explore what gifts you can choose for a newborn baby.
Toy Based
Toys are not only for the entertainment purpose of a baby, but they stimulate their senses. Educational or purposeful toys help your babies develop new habits and make them active.
While exploring the toy category, you can consider cloth books which are magical to enhance your child's vision to stacking cups that help them identify different shapes and numbers.
If you are looking for such gift, Blissbies is your go-top. They curate meaningful educational toy-based newborn gifts & hampers to support new parents and provide a good learning journey for their newborns & young babies in Malaysia.
Clothing-Based
Who doesn't want their kids to be on the ball so they can look trendy all the time? Massive brands understand the concerns of new parents as they want to buy fashionable clothes for babies. But parents and relatives also get worried because they want the fabric to be soft and comfortable, which prevents rashes, irritations or any allergies.If you love to see kids being all fashionable that can turn tables, then you can count on some of these baby websites. They have cute outfits for every event, such as rompers, socks, beanies, and booties. However, clothing gifts can only last for a few months as babies grow out of their size really fast.
Just for Mum
A baby and a new mom deserve special treatment as they are going through a lot after delivery. It would be so thoughtful of you to think about them and make them feel special by presenting them with a new mum gift set. You can give them nipple cream, essential oils for calming therapy, a necklace or anything that compliments them.
Luxurious Gifts and Books
If you have a handsome budget, choosing something from luxurious gifts would be great. From designer muslin and natural soothing cream to baby shampoo and massage oil, you can present anything you want to. Lavish gifts and books are another way to shower your love on friends and family.
Things to Note When Buying Newborn Baby Gifts
Baby gifts are a source of excitement for everyone, and you can see the glow of happiness on a parent's face as they open every present filled with love and warm wishes. Before picking any newborn baby gifts in Malaysia, Penang or Ipoh, you should note a few things to avoid.
As mentioned earlier, large wooden and fancy toys are unsuitable for newborn babies. They have sharp edges that can injure their mouth, as babies have habits of putting everything in their mouth. Also, large wooden toys are too heavy for babies.
Fancy clothes are unsuitable for parents as this present is not practical. Usually, newborn babies are uncomfortable in fancy clothing, so this gift will not fulfil its purpose and can only be worn a few times.
Don't buy body-fitting clothes for newborn babies because kids grow quickly in the early months. Non-stretchable clothes are also to be considered carefully, and parents can't use them after a few months.
When choosing a mummy and baby gift set, avoid items like nipper cream or diapers. Most mommies have already purchased lots of them to prepare for post-delivery. And, some of them have preferred brands they go for.
Many people buy practical gifts for babies like diapers, creams, powder and other baby products. These products may not be helpful for them because every baby is different. Some go through allergies, while some are okay with all products. It's better to leave this stuff to parents so they can evaluate it first and buy it later.
Best Baby Gift Vendors in Malaysia
Blissbies is about celebrating the happiness of a new arrival in this world. They curate meaningful educational newborn gifts & hampers to support new parents and provide a good learning journey for their newborns & young babies in Malaysia. Their toys are carefully selected by their team.
From the arrival of a baby to their birthdays, blissbies got you covered in choosing the perfect gift box & hamper for the baby.
| | |
| --- | --- |
| Key Services | Educational toys, entertainment toys, books, clothing, personalized gifts and gift boxes |
| Price Range | From RM99 onwards |
| How to Order | You can order through their website and pay using PayPal or credit/debit cards. They offer 10% off on your first order if you subscribe to their newsletter.Use code FIRST10 to get 10% off. |
| Shipping Details | Free delivery in Malaysia 2~5 working days |
A baby diary is one of the leading brands that offer top-notch and affordable baby products. They provide a compatible gift range for new babies and mothers passionate about dressing them up. They pay attention to the tiniest of details to make every product memorable for you.

| | |
| --- | --- |
| Key Services | Premium baby bibs, baby T-shirts, baby blankets, baby gift sets, customization and accessories. |
| Price Range | From RM60 onwards |
| How to Order | You can secure products in the cart, and they will deliver to you in 3-5 working days. |
| Shipping Details | If you order products above RM200, they will offer free delivery throughout Malaysia. |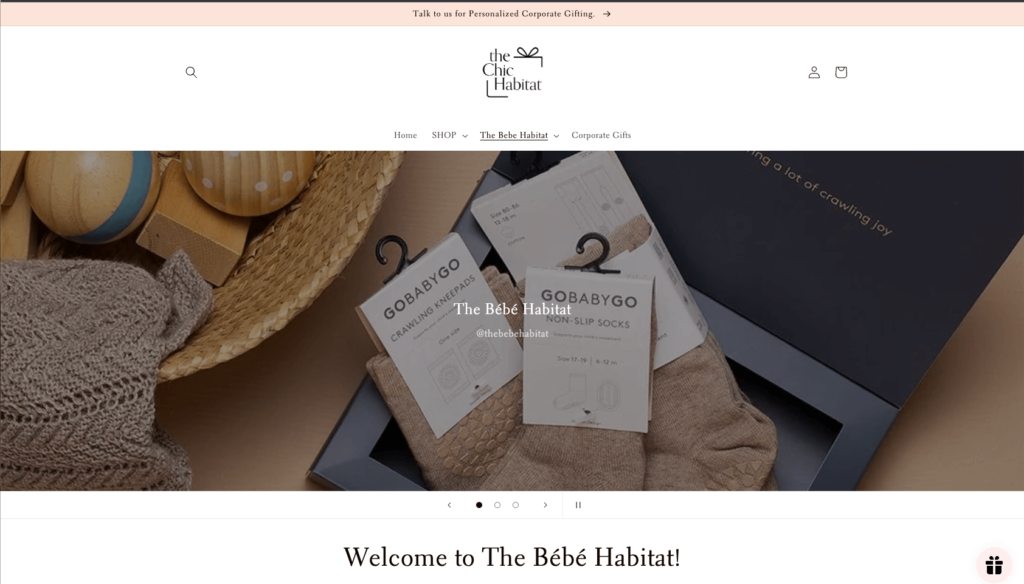 For a newborn baby gift hamper, you must search for a platform that can offer durability and affordability in one place. The Bebe habitat designs chic products for your baby and encourages them to learn every day without cutting off entertainment from their lives.
| | |
| --- | --- |
| Key Services | Books and clothes gift sets |
| Price Range | From Rm129 onwards |
| How to Order | You can place an order through their website. |
| Shipping Details | Domestic orders within Klang Valley: 3 – 6 business days Outside of Klang Valley: 5~10 business days |
| Shipping Cost | They deliver the order to your doorstep in 3-5 working days and offer free delivery on domestic orders above 200MYR. |
Buying a personalized gift for your loved ones is always a difficult struggle. Every love is a brand that makes you feel like a family and only works on products that can help you raise a kid quickly. You don't have to rummage through the internet for customized gifts because every love can deliver you all. Their massive range has products for all, from women and men to babies. Also, you can select gifts for several occasions.
| | |
| --- | --- |
| Key Services | Corporate gifts, DIY gifts, bags, home and living, customization and for different occasions. |
| Price Range | From RM30 onwards (individual item) |
| How to Order | You can order directly from their website |
| Shipping Details | If you live in west Malaysia, the order above RM80 has free delivery. Order less than the desired range has delivery charges. RM8 for west Malaysia and RM15 for East Malaysia. |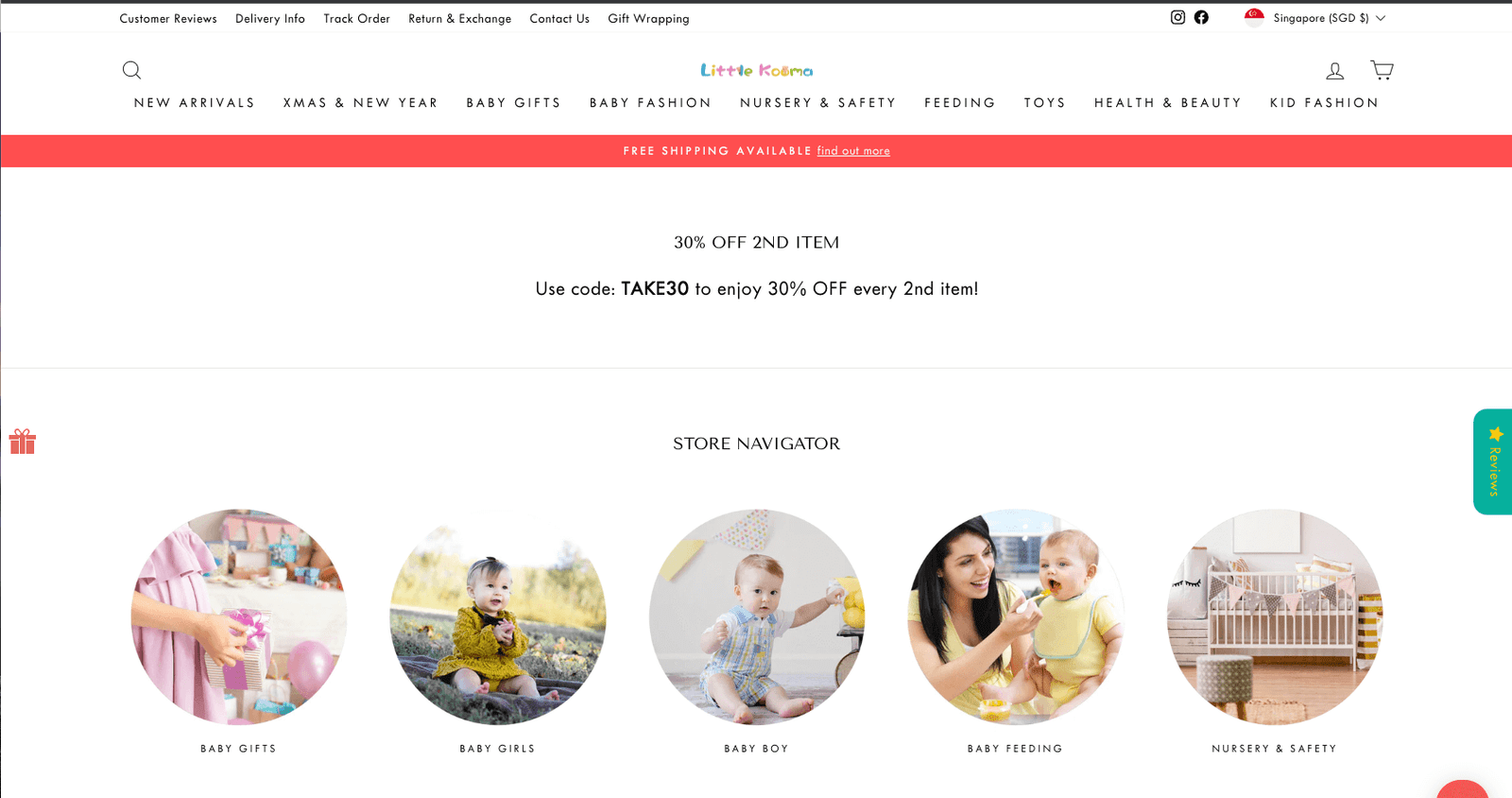 Little kooma is a trusted brand you can count on for quality baby products. As a parent, you want the best for your kids and others. Little kooma ensures to deliver the best products at your doorstep so your child can stay comfortable and at ease. They have several channels to sell their baby products, and the range is vast.
| | |
| --- | --- |
| Key Services | Baby clothing, toys, and an occasional range to beauty products |
| Price Range | From S$99 onwards |
| How to Order | Select your products from the list and secure them in the cart. Fill in all the information and checkout |
| Shipping Details | If you live in west Malaysia, the order above RM80 has free delivery. Order less than the desired range has delivery charges. RM8 for west Malaysia and RM15 for East Malaysia. |
| Shipment Details | You can have free shipment above 35SGD. They also offer international shipping with delivery charges to other countries. |
Buying Baby Gifts Made Easy in Malaysia
Blissbies has made it easy to pick the best gifts Malaysia because of its wide range. Let's see what you can have.
Toy Box
If you want to give multiple gifts to a baby that will make your present unique, choose a gift box from blissbies. The gift box contains high contrast black and white cards, a tsk tsk shaker, an ocean fun cloth book, high contrast colourful art cards, fun stackers, a duck swimmer, my belly cloth book, bear rattle, and deer gliding tumbler. You pick more from other options. Also, these toys can last for 6-12 months.
Different Gifts
As we all know, babies' habits change every month, and they always need something new for entertainment. Blissbies has a whole package to accommodate all your baby's needs in a snap. The gift box has almost everything you want to give your child in 12 months. Books, rattle toys, staking cups, non-tearable clothing books, vision cards and bathing toys, you can have them all from this platform.
Easy to Order
Are you planning to buy a gift box from blissbies to present to your loved ones but are confused about how to order? The order processing of blissbies is easy and requires only 4-steps.
Step 1:
Choose a gift box according to your budget. You can choose the type from the options such as $49, $69 and $89.
Step 2:
Move to the next page, fill in all your details and pay from your debit/credit card to secure it in your cart.
Step 3:
As soon as blissbies get your details, they prepare your gift box and ship it your way within 24 hours.
Step 4:
They will send an email containing all your shipment details.
What is Blissbies Discount Code?
Blissbies offer high-quality products at affordable rates. But to provide you with more relief, they give a 10% discount on your first order. While checking out, enter a code FIRST10, and you can avail the discount.
Final Thoughts
Giving a gift to new parents and celebrating their little bundle of joy is something precious to experience. While picking out a gift for someone requires lots of thought, especially about a newborn baby. From our formulated guide, you can't only pick unique gifts for babies but for their mothers, too. From choosing multiple gift sets to educational toys, you can have anything from here.When searching for baby gifts Malaysia, you should buy something that can work out for both parents and baby throughout the time. It should have a sentimental value so they can keep it near them and remember you.
Sedang mencari hadiah bayi? Lihat set hadiah bayi kami di Malaysia.