Bidding farewell is never an easy task, especially when it involves someone close to us. A thoughtful farewell gift can make this emotional moment memorable and meaningful for both the giver and the receiver.
In Malaysia, where diverse cultures intertwine, finding the perfect parting present might pose a challenge. That's why we've curated a list of 32 unique leaving gifts suitable for various occasions – from saying goodbye to colleagues or teachers to bidding adieu to friends embarking on new adventures.
Importance Of Giving A Farewell Gift
Giving a heartfelt farewell gift is a significant way to express appreciation and gratitude for the bond shared with an individual who is leaving. It acts as a lasting reminder of the memories, experiences, and friendship forged throughout your time together.
In our personal and professional lives, people often move on due to various reasons like career advancements or relocating to another place. When someone makes such transitions, it can be both exciting and challenging for them.
Presenting farewell gifts during these times serve as tokens of support, helping create positive emotions that ease the anxiety associated with change.
For instance, when a cherished coworker departs for new opportunities or when your favorite teacher retires after years of dedicated service, offering something special will demonstrate your acknowledgment of their hard work and contributions over the years – leaving them with feelings of joy and fulfillment as they embark on their next chapter in life.
Challenges Of Finding The Perfect Gift In Malaysia
Finding the perfect farewell gift in Malaysia can be both exciting and challenging. One of the main challenges lies in the diverse cultural backgrounds found within the country.
Another challenge is navigating through an abundance of options available in popular shopping spots like Kuala Lumpur's bustling malls or local markets. It might feel overwhelming when trying to find something truly unique among countless items that may seem similar at first glance.
Furthermore, budget constraints may pose another hurdle as excellent quality goods come with high price tags in some cases. This can cause frustration while searching for that ideal token of appreciation that doesn't break the bank but still conveys heartfelt feelings towards your departing friend, boss or colleague.
Farewell Gift Ideas for Colleague Female
The beauty of these gift suggestions lies in their wide appeal, specifically crafted to cater to a diverse array of tastes and preferences. The extensive variety ensures that there is a special something for everyone, irrespective of individual likes and interests. The thoughtfulness behind each gift idea is sure to resonate deeply, thereby making the farewell all the more meaningful.
By understanding that everyone's preferences are unique, these gift choices not only celebrate the recipients' individuality but also make them feel appreciated. From personalized mementos to practical utilities, these offerings encapsulate a broad spectrum.
Personalized Name Necklace
A personalized name necklace is a beautiful and thoughtful gift. It's a unique piece of jewelry that she can wear daily, serving as a constant reminder of your appreciation and well-wishes. Get your jewelry gift personalised here.
Customized Coffee Mug
A customized coffee mug is a practical and personal gift. You can have her name, a special quote, or a personal message printed on it, making her morning coffee routine a bit more special.
Spa Gift Basket
A spa gift basket is a luxury gift that allows her to pamper herself. Filled with bath bombs, lotions, scrubs, and other spa essentials, it's a gift that encourages relaxation and self-care. Choose from wide variety of Spa set here.
Gift Card to Her Favorite Store
A gift card to her favorite store allows her to choose something she really wants or needs. It's a practical gift that ensures she'll get something she'll love.
Journal with Personalized Cover
A journal with a personalized cover can serve as a private space for her thoughts, dreams, or ideas. You can have her name or a meaningful quote embossed on the cover, making it a personal and thoughtful gift.
Farewell Gift Ideas for Boss
Selecting a gift for your boss presents its own unique set of challenges. The need to strike a balance between professionalism and personalization can often make the task seem daunting. It's all about finding something that's not just appropriate in a professional context, but also resonates on a personal level, reflecting your appreciation and respect for their leadership.
To help navigate this intricate task, we have curated a list of gift ideas that are both thoughtful and professional. These suggestions aim to ease the process, providing you with choices that uphold professional boundaries yet offer a personalized touch. These thoughtful tokens of appreciation are sure to leave a lasting impression on your boss.
Personalized Desk Name Plate
A personalized desk name plate can add a touch of professionalism and sophistication to your boss's office. It's a thoughtful gift that acknowledges their leadership and can be customized with their name and title.
Gift Card to a Fancy Restaurant
A gift card to a high-end restaurant is a great way to show your appreciation. It's a thoughtful gift that allows your boss to enjoy a nice meal on their own time, serving as a tangible thank you for their guidance and support.
Leather Bound Notebook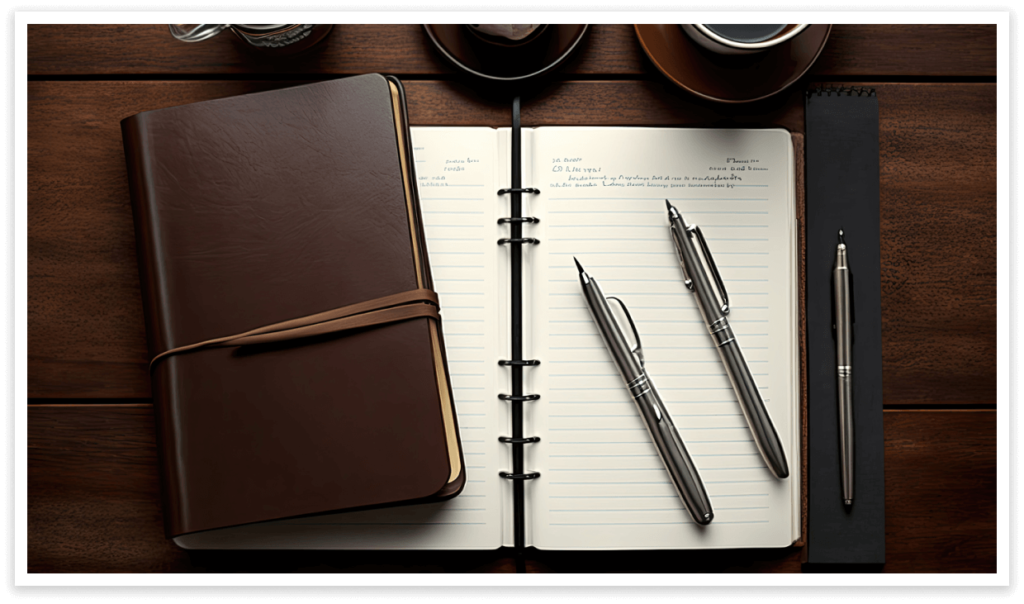 A leather-bound notebook is a practical and stylish gift. It's a classy accessory for jotting down notes or ideas and can be personalized with their initials for an extra special touch. Choose your leather bound notebook here.
Professional Portfolio
A professional portfolio is a practical gift that can be used daily. It's a sophisticated accessory that can help keep important documents and notes organized. Choose a high-quality material like leather for a lasting impression.
Travel Coffee Mug
A travel coffee mug is a practical gift that your boss can use every day. Personalize it with their name or a thoughtful message to make their morning coffee routine a little bit special.
Farewell Gift Ideas for Colleague Male
If you're on the hunt for a gift for a male colleague, you might be looking for something that is both unique and meaningful. It's about finding that perfect balance between personal sentiment and professional appropriateness. The quest to find such a gift that aligns with his tastes, while also conveying your appreciation, can seem like a formidable task.
To assist you in this quest, we have compiled a list of distinctive and thoughtful options. These gifts are not just tokens of appreciation, but they also express a sense of camaraderie and respect for your professional relationship. From personalized accessories to practical gadgets, these gift ideas are designed to be as unique as the individual you're buying for.
Personalized Leather Wallet
A leather wallet is a classic gift, and personalizing it elevates its value. You could have his initials embossed on it, turning this practical accessory into a personal keepsake that he will use daily.
Engraved Pen Set
For the professional man, an engraved pen set is a thoughtful and practical gift. A high-quality pen, engraved with his name or initials, will remind him of your appreciation every time he uses it. Personalised your pen set here.
Bluetooth Earbuds
Perfect for the music lover or the busy professional who needs to make calls on the go. Bluetooth earbuds are a practical and modern gift that he'll surely appreciate.
Wireless Charger
In this digital age, a wireless charger can be a convenient and appreciated gift. It's a practical item that can help him keep his devices charged and ready to go.
Personalized Duffel Bag
A duffel bag can be useful for gym visits, weekend trips, or even as a carry-on bag for flights. Personalizing it with his name or initials can make it a unique gift that he'll use frequently. Get your duffel bag customised here.
Farewell Gift Ideas for Friend
If you're in search of a gift that truly resonates with your friend's heart, it involves more than just picking an item off a shelf. The gift should embody the essence of your bond, reflecting the memories, laughter, and shared experiences that make your friendship unique. It's about finding that perfect token that not only brings joy but also conveys how much they mean to you.
To aid you in this heartfelt mission, we've gathered a selection of gifts that are designed to make your friend feel truly special. These options go beyond the realm of material possessions, tapping into the emotional connection that strengthens your friendship. From personalized mementos to gifts that celebrate shared interests, these options are poised to not only touch their heart but also create lasting memories.
Personalized Friendship Bracelet
This is a timeless token of friendship. A personalized friendship bracelet can be engraved with her name, a special date, or a meaningful quote. This piece of jewelry can serve as a constant reminder of your bond and the memories you've shared.
Memory Scrapbook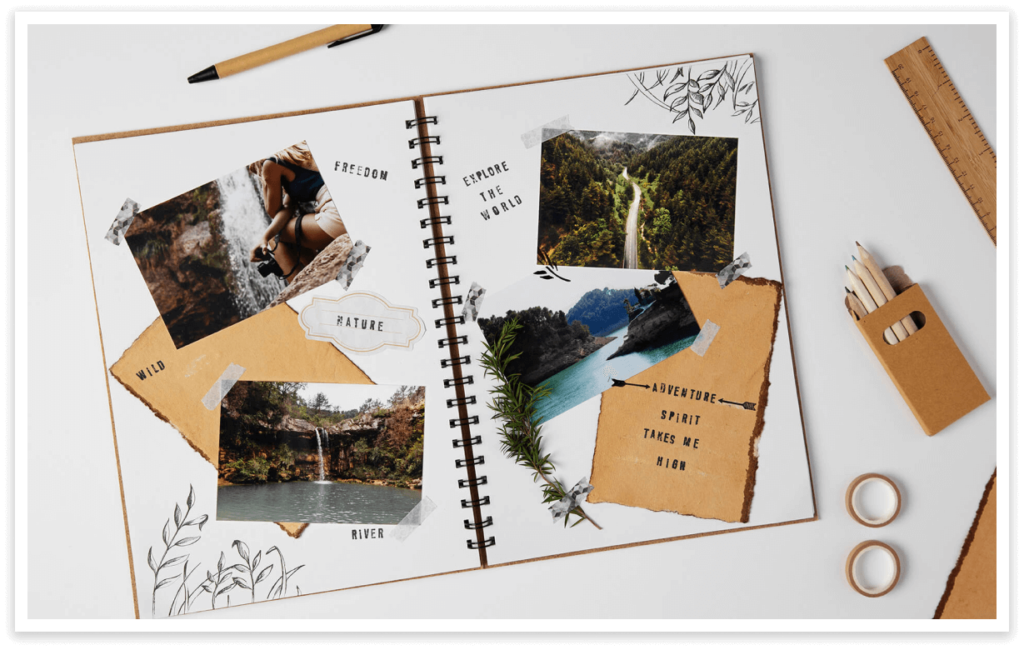 A memory scrapbook is a heartfelt gift that documents your shared experiences. Fill it with photographs, ticket stubs, notes, and other memorabilia. Each page will remind your friend of a special moment you shared, making it a keepsake to be cherished.
Personalized Photo Collage
A personalized photo collage can serve as a visual timeline of your friendship, showcasing your favorite moments together. This personalized piece of artwork can add a touch of sentimentality to your friend's home decor.
Friendship Mug Set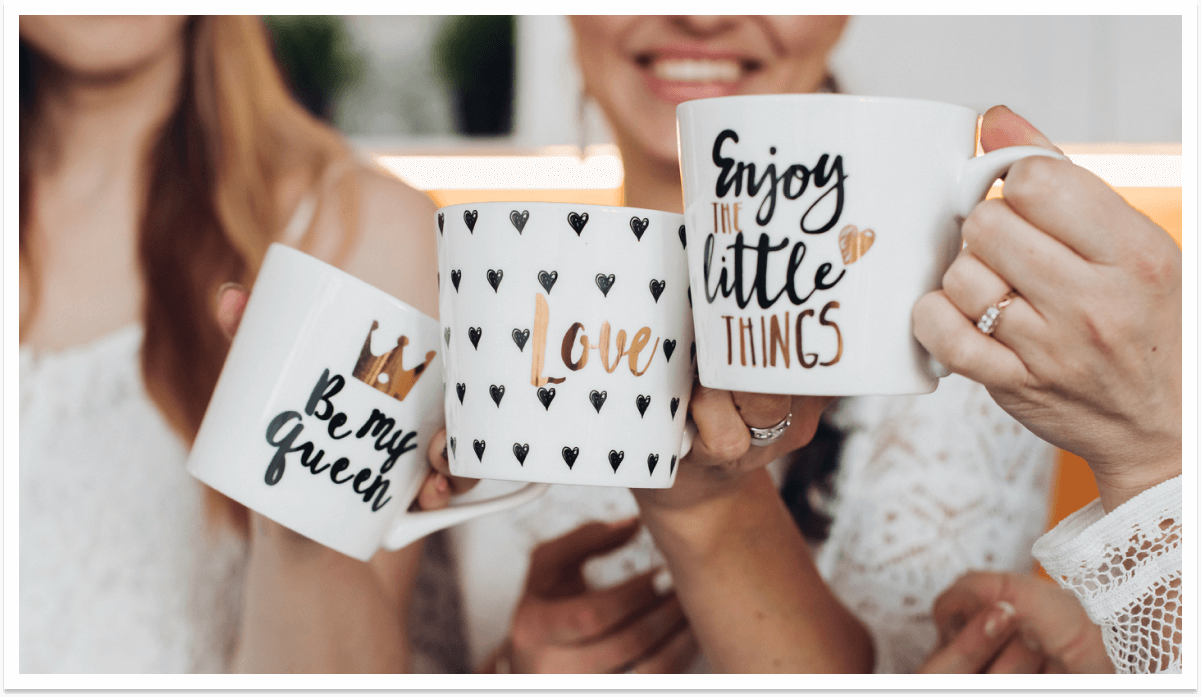 A friendship mug set is a practical gift with a sentimental twist. Every time your friend enjoys a cup of coffee or tea, they'll be reminded of your friendship. You can choose a set that features a design or quote that encapsulates your friendship. Get your customized mugs here.
Personalized Wine Tumbler
If your friend is a wine lover, a personalized wine tumbler can be a perfect gift. Engrave it with their name, initials, or a special message. This gift is both useful and personal, adding a touch of luxury to their wine-drinking experience.
Farewell Gift Ideas for Girls
If you're on the quest for a special gift for a young girl, you're likely seeking something that not only brings joy but also sparks her imagination. The right gift should resonate with her interests, encourage her creativity, and most importantly, make her feel cherished. It's about choosing a present that goes beyond just being a physical item, and instead captures the spirit of her youthful enthusiasm.
To assist you in this delightful task, we've compiled a selection of gift options designed to bring that coveted smile to her face. These offerings are not just mere objects but are thoughtful gestures that affirm her unique personality. From personalized treasures to fun and engaging toys, these gift ideas are designed to deliver happiness and create memorable moments in her young life.
Personalized Jewelry Box
This is a thoughtful present that serves a practical use. A personalized jewelry box not only provides a safe and organized space for her jewelry but also becomes a cherished item because of its personalization. It can be engraved with her name or initials, making it truly unique to her.
Customized Wall Art
This gift allows you to tap into her personal preferences and style. It could be a piece that reflects her interests, her dreams, or even a memorable quote that she loves. Customized wall art adds a personal touch to her space and makes it feel truly her own.
Personalized Makeup Bag
Perfect for the girl who loves makeup, a personalized makeup bag lets her store her favorite products in style. With her name or initials on it, this bag becomes uniquely hers. It's a gift that she'll use every day, reminding her of your thoughtfulness. See some of the top-selling makeup bags here.
Personalized Photo Book
A photo book is a heartfelt gift that she'll treasure. Fill it with photos of memories you've shared, places she loves, or moments you know she'd want to remember. It's a personal and thoughtful way of saying farewell.
Personalized Passport Holder
If she loves to travel, a personalized passport holder can be an excellent farewell gift. It's a practical item that she'll use on all her adventures, and having it personalized makes it uniquely hers. Every time she uses it, she'll be reminded of your thoughtful gift.
Farewell Gift Ideas for Colleague Malaysia
Paying homage to the rich and diverse culture of Malaysia, our gift ideas embrace the uniqueness of this beautiful country. The essence of these gifts is steeped in the country's traditions, offering a slice of Malaysia's rich heritage and vibrant culture. It's not just about presenting a gift, but about celebrating and appreciating the distinct cultural tapestry that makes Malaysia so special.
These unique gift ideas are symbolic gestures that represent Malaysia's cultural richness. From traditional Malaysian souvenirs to personalized items reflecting the local design aesthetics, each gift tells a story of its own. These tokens of appreciation serve as a beautiful reminder of the country's multifaceted culture and are sure to be cherished by those who receive them.
Personalized Batik Scarf
This stylish accessory represents the traditional Malaysian art form of Batik. It's a unique and thoughtful gift that allows the recipient to carry a piece of their culture with them wherever they go.
Traditional Malaysian Souvenirs
A collection of traditional Malaysian souvenirs is a charming way to honor the recipient's heritage. This could include items such as handcrafted pottery, woven baskets, or local spices.
Malaysian Snack Basket
Give the gift of a gastronomic journey through Malaysia with a basket full of local snacks. This will surely be a delightful treat for anyone missing their home comforts. See some of the top-selling snack baskets here.
Personalized Wooden Serving Tray
This stylish addition to the dining table can be used to serve guests or as a decorative piece. Engrave it with the recipient's name or a heartfelt message for a personal touch.
Handcrafted Malaysian Pottery
Unique and beautiful, handcrafted pottery can enhance home decor while also representing the rich culture of Malaysia. Each piece tells a story of the artisan who crafted it.
Farewell Gifts for Men
When it comes to finding a special gift for a man in your life, the goal is to choose something that not only resonates with his interests but also shows your thoughtfulness. Whether he's a lover of tech gadgets, a connoisseur of fine whiskey, or an avid reader, finding a present that aligns with his passions can make all the difference. The perfect gift should not just impress, but also express your appreciation and respect for him.
In pursuit of this goal, we've curated a selection of gift options that are designed to impress. These gifts range from personalized items that add a touch of uniqueness to practical choices that enhance his daily life.
Customized Cufflinks
Cufflinks are more than just a fashion accessory; they add a touch of class and sophistication to any formal outfit. Personalized cufflinks would be a thoughtful and personal gift.
Personalized Flask
A flask is a classic gift for men. Having it personalized with his initials or a special message can make his drinking experience more enjoyable.
Best Gift Vendors in Malaysia
Printcious
Specializing in personalized gifts, Printcious offers a wide range of products from customized t-shirts and mugs to personalized puzzles and mouse pads.
Giftr
Giftr is an online marketplace offering a variety of gifts including floral arrangements, personalized items, gourmet baskets, and more. Their selection is diverse, catering to all genders and ages.
Flower Chimp
While they are predominantly a florist, Flower Chimp also offers a selection of gift hampers and baskets, making them a great choice for any gender.
Happy Bunch
Known for their affordable and beautifully curated gift boxes, Happy Bunch offers a range of options from beauty products to snacks and lifestyle items.
L'Occitane Malaysia
This renowned brand offers a range of beauty and skincare products that are suitable for all genders. Their gift sets are particularly popular.
The Olive Tree
If you're looking for natural and environmentally-friendly products, The Olive Tree offers a range of bath and body care products that are suitable for everyone.
Zalora
As one of the largest online fashion retailers in Malaysia, Zalora offers a broad range of products from clothing and accessories to beauty products, suitable for all genders.
Shopee
Shopee.com.my is a leading online shopping platform in Malaysia that offers a wide range of products at affordable prices. With a user-friendly interface and convenient mobile app, shoppers can easily browse and purchase items from popular categories such as fashion, electronics, and beauty. Shopee.com.my also provides reliable delivery services and secure payment options, making it a trusted choice for online shopping in Malaysia.
Lazada
Lazada.com.my is a popular online shopping platform in Malaysia that offers a wide range of products from various categories, including electronics, fashion, beauty, and home goods. With a user-friendly interface and convenient mobile app, customers can easily browse and purchase items on Lazada.com.my. Lazada.com.my also provides reliable delivery services, secure payment options, and benefits such as Lazada Wallet and Lazada Live, which offer customers a more interactive shopping experience.
Poh Kong
Poh Kong is a Malaysian jewelry retailer that specializes in gold and diamond jewelry. They offer a wide range of beautiful and high-quality jewelry pieces, including necklaces, bracelets, earrings, and rings, that make great gifts for special occasions such as birthdays, anniversaries, and weddings. Poh Kong has several physical stores located throughout Malaysia, as well as an online store.
BROS
BROS is a Malaysian brand that sells a variety of reusable water bottles and tumblers. Their products come in a range of colorful and trendy designs, making them a great gift option for eco-conscious friends and family members who want to reduce their plastic waste. BROS has physical stores located in several shopping malls across Malaysia, as well as an online store.
Key Takeaways
Giving a well-thought-out farewell gift is important in showing appreciation and gratitude towards someone who is leaving.
Finding the perfect goodbye present can be challenging in Malaysia due to its diverse cultural backgrounds and the abundance of options available.
Personalized gifts such as engraved pens, customized mugs, or photo frames are great farewell gift ideas for colleagues, teachers, bosses, or friends.
A unique parting present not only leaves behind cherished memories but also shows respect and care towards those who have played a significant role in our lives.
Choosing a memorable farewell gift in Malaysia, with its abundant options, can be challenging. For coworkers, consider personalized office items or cushions with touching quotes. For teachers, a Malaysian-themed notebook or planner is ideal. The gift should cater to their tastes and needs; for example, male and female coworker gifts may vary.
Farewell parties could range from themed events to cozy dinners with gift exchanges. Travel accessories and keepsakes are perfect for those relocating or graduating. Ultimately, a thoughtful farewell gift symbolizes respect and gratitude for the recipient's contributions.
Frequently Asked Questions
What makes these farewell gift ideas unique to Malaysia? These gift ideas incorporate elements of the rich and vibrant Malaysian culture. Items such as personalized batik scarves, traditional Malaysian souvenirs, and handcrafted Malaysian pottery reflect the unique cultural heritage of Malaysia, making these farewell gifts truly special.
Are these gift ideas suitable for any occasion? While these gift ideas are specifically curated for farewell occasions, they are versatile and can be suitable for other events like birthdays, anniversaries, or holidays.
Can I find these farewell gift ideas easily in Malaysia? Most of these gifts can be easily found in local stores or online. Some items, especially the personalized ones, may need to be ordered in advance.
How can I choose the best farewell gift for a colleague or friend? Consider their personal tastes, interests, and the nature of your relationship. Personalized gifts are often a great choice as they add a thoughtful touch. Practical gifts that they can use regularly are also appreciated.
What should I consider when buying a farewell gift for my boss? When choosing a farewell gift for your boss, it's important to maintain a balance between professional and personal. Consider their interests, but keep the gift appropriate for a workplace relationship. Items like a personalized desk name plate or a professional portfolio are good examples.