Welcoming a newborn into the world is an exciting and joyous occasion for parents, friends, and family members alike. In Malaysia, this calls for a thoughtful gift that not only expresses love and care but also helps ease the journey of new parenthood.
From practical baby products such as clothes, toys, shoes to curated gift sets designed specifically for new parents; there's something here to suit every taste and need.
Those seeking personalised options will be delighted with our range of customised baby gift sets that can be ordered online and shipped directly within Malaysia. With many local vendors offering exceptional deals on unique items found nowhere else, you'll have no trouble finding the perfect token of affection to honour these special moments in life.
How To Pick The Best Baby Gifts In Malaysia
Selecting the perfect baby gift in Malaysia can be a rewarding experience if you have the right tips at your disposal. The key to choosing a thoughtful and useful present lies in understanding the needs of both parents as well as their newborn child.
Consider family preferences and cultural sensitivities
Keep in mind the diverse customs and traditions of Malaysia. Consider the personal tastes and preferences of the family.
Prioritise functionality over extravagance
Select gifts that cater to the changing needs of newborns as they grow. Avoid items that may become outdated quickly.
Explore personalised options
Stand out with personalised gifts tailored exclusively for the recipients. Consider handmade rattan baskets filled with essential baby items.
Look for online stores that customise gifts
Find online shops within Malaysia that offer customisation options. Check prices and shipping details, as they may vary per shopfront.
Take advantage of complimentary delivery services
Many stores offer free delivery services for baby gifts & newborn gifts in the Klang Valley area. Save on delivery costs while taking advantage of excellent online deals.
Support local businesses
Encourage and support local businesses that showcase their artisanal creations. Promote the growth of local craftsmanship and contribute to the community.
52 Best Ideas for Baby Gifts & Newborn Gifts
1. Footprint and Handprint frame set
baby's tiny handprints and footprints. Whether using ink or clay, these cherished imprints serve as a timeless reminder of the precious early years and the remarkable growth and development of your little one. Displayed elegantly, they become a cherished memento of those fleeting moments of infancy.a bottle brush. You can also include a baby food recipe book or organic baby food pouches.
2. Baby Food Maker
Simplify meal preparation with an all-in-one kitchen appliance designed to steam, blend, defrost, and reheat baby food. This versatile tool caters to parents who prioritise homemade meals, making it effortless to create nutritious and wholesome options for their little one.
3. Baby Monitor
Maintain a constant connection with your baby using a dependable baby monitor featuring high-quality video and audio capabilities. This essential device enables parents to keep a watchful eye and listen to their baby's sounds, ensuring peace of mind even when they are in a different room.
4. Baby Walker
Encourage your baby's early steps with an interactive baby walker that provides stability and entertainment. This engaging device offers a supportive structure and features stimulating toys and interactive elements that spark curiosity.
5. Baby Carrier
Experience the joy of keeping your baby close while having your hands free with a comfortable and adjustable baby carrier. Designed to accommodate newborns to toddlers, this versatile accessory enables easy bonding, soothing, and multitasking.
6. Baby Blanket Set
Wrap your little one in cozy comfort and tenderness with this irresistibly soft baby blanket. Whether used at home or on the go, baby blanket is a must-have essential for your baby's comfort and happiness.
7. Custom name bracelet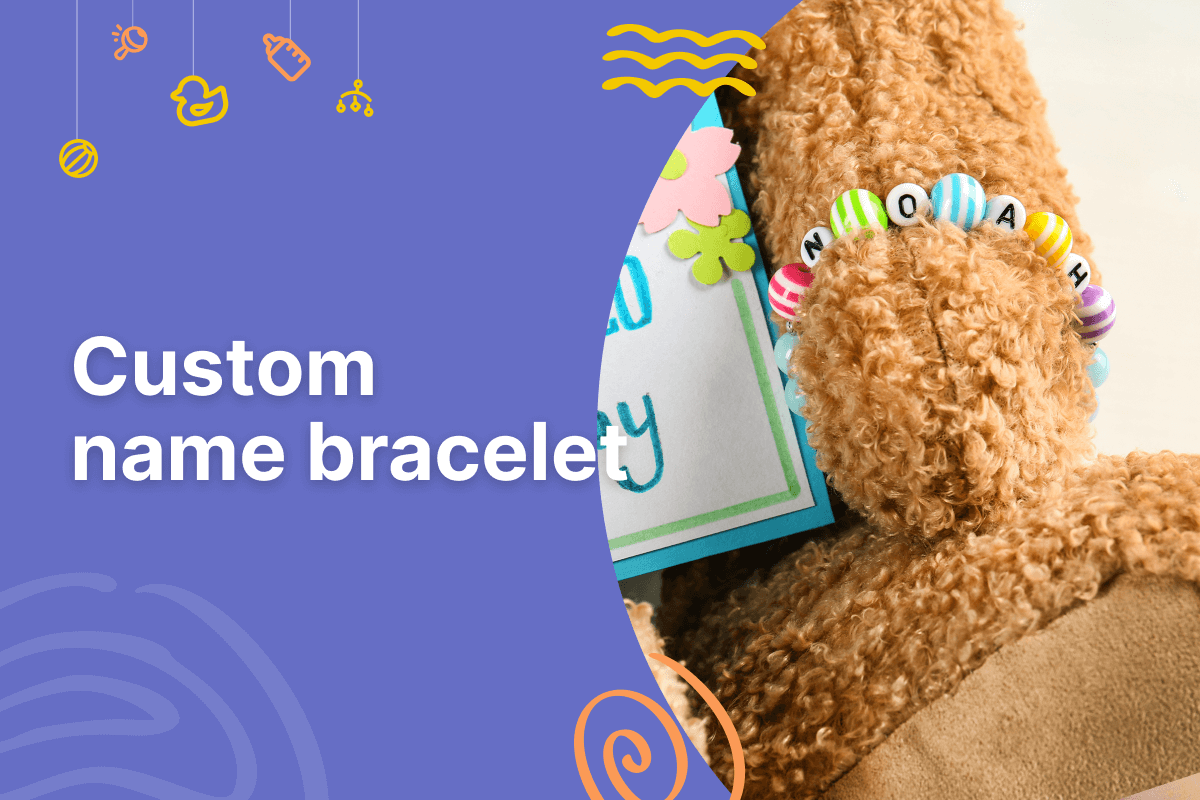 Mark the joyous arrival of the baby with a keepsake personalised jewelry piece that will be treasured for a lifetime. This special piece can be engraved with the baby's name or initials, adding a heartfelt touch to create a truly unique and meaningful memento.
8. Personalised Baby Blanket
Wrap your little one in a soft and cozy blanket customised with their name embroidered on it. Discover a variety of delightful designs at Lovi.my, offering the perfect blend of comfort and personalisation.
9. Baby Milestone Cards
Commemorate each precious moment with beautifully designed milestone cards that capture important milestones in your baby's journey. Explore a range of charming options available at Notonbyraja.com, ensuring you never miss a memorable milestone.
10. Customised Name Puzzle
Gift a captivating wooden puzzle personalised with the baby's name, creating a unique and educational playtime experience. Blissbies offers the opportunity to order this adorable and personalised keepsake that will bring hours of fun and learning.
11. Baby Memory Book
Cherish special memories and milestones with a beautifully designed memory book. This thoughtfully crafted book allows parents to capture and preserve precious moments, creating a timeless keepsake that will be treasured for years to come.
12. Themed Nursery Wall Art
Add a touch of whimsy and charm to the newborn's room with fun and captivating nursery prints available at Etsy. These themed wall art pieces create a delightful atmosphere that sparks imagination and enhances the nursery's decor.
13. Sleep Soothing Projector
Create a calming bedtime routine with a sleep soothing projector that provides gentle sound effects and visuals. Brands like Fisher-Price and VTech offer popular options that can be found on Lazada or Shopee, providing a soothing and peaceful ambiance for both baby and parents during nighttime routines.
14. Personalised Photo Album
Treasure your baby's memories with a personalised photo album from Photobook Malaysia. This sentimental gift enables parents to create a unique album, filled with precious photographs and cherished moments, preserving them in a beautiful and personalised format.
15. Musical Mobile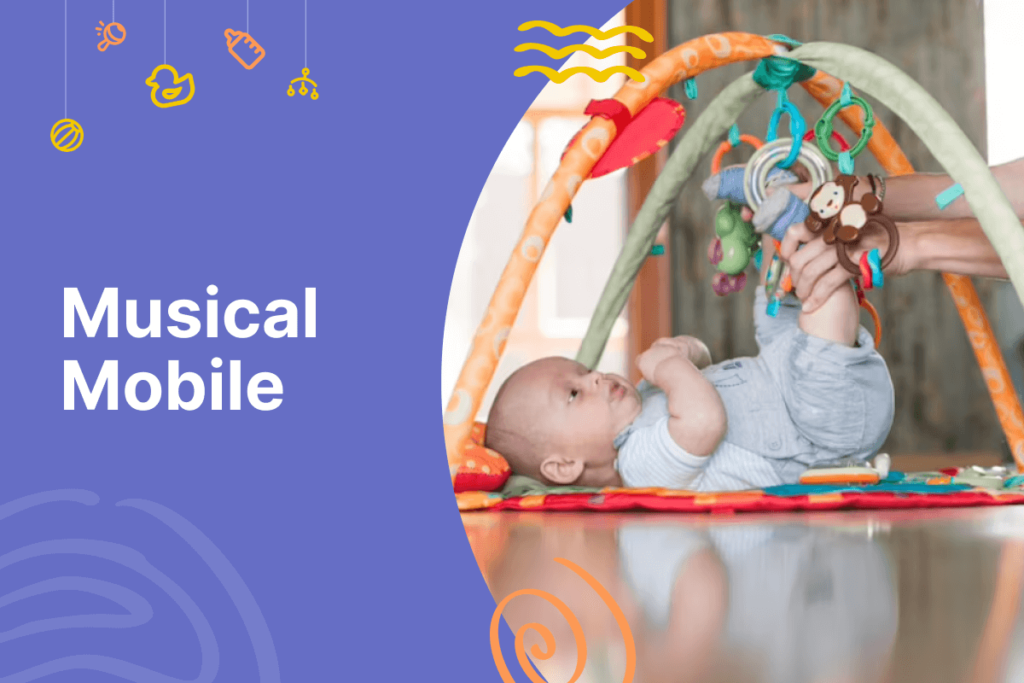 Create a soothing environment for your baby with a nursery mobile that plays calming melodies. Brands like Tiny Love and Lamaze offer a variety of options that can be found on Lazada or Shopee, captivating your baby's attention and providing visual stimulation for a serene sleep or playtime experience.
16. Play Gym Set
Encourage your baby's developmental growth with a vibrant and colorful play gym set from Fisher-Price. Available through online retailers like Lazada, these interactive play gyms provide a stimulating environment for your baby to explore and develop their motor skills.
17. Organic Baby Clothing Set
Embrace sustainability and choose a high-quality organic cotton clothing set from MaryamBayam.my. These sets are specially designed for sensitive little ones, providing ultimate comfort and peace of mind knowing that the clothing is made from natural and gentle materials.
18. Customised Name Plate for Nursery Door
Add a personal touch to your baby's nursery door with an engraved name plate. Etsy offers a wide selection of custom options, allowing you to create a unique and personalised addition to your baby's special space.
19. Stroller Organiser Bag
Help parents stay organised while on the go with a convenient stroller organiser bag like Skip Hop's Grab & Go Stroller Organiser, available at Happikiddo.com.my. These spacious bags provide compartments to keep essentials within reach, making outings with the baby a breeze.
Opt for a trendy and spacious diaper bag backpack from sites like Lequeenbags.com.my. These stylish bags offer multiple compartments to organise all the baby essentials while allowing parents to carry them comfortably and in style.
21. White Noise Machine or Baby Soother Sound Spa System
Create a serene environment for your baby with a white noise machine or baby soother sound spa system. Brands like Homedics offer a variety of options that can be purchased through online stores like Lazada, providing soothing sounds to help calm and lull your baby to sleep.
22. Personalised Baby Gift Box
Create a truly memorable gift by personalising a special gift box with the baby's name or initials. Inside, you can include a variety of carefully selected items such as cozy blankets, adorable clothing, and charming accessories, all tailored to make the little one feel extra special.
23. Baby Keepsake Box
Create a treasure trove of memories with a beautifully designed baby keepsake box. This special box is perfect for storing precious mementos like first locks of hair, baby teeth, photographs, and other sentimental items that capture the milestones and moments of the baby's journey.
24. Baby's First Year Milestone Gift Box
Celebrate the baby's journey through their first year with a specially designed gift box. Inside, you'll find milestone cards to capture memorable moments, a memory book to document the baby's growth, and keepsake items to cherish those precious memories for a lifetime.
25. Baby Clothing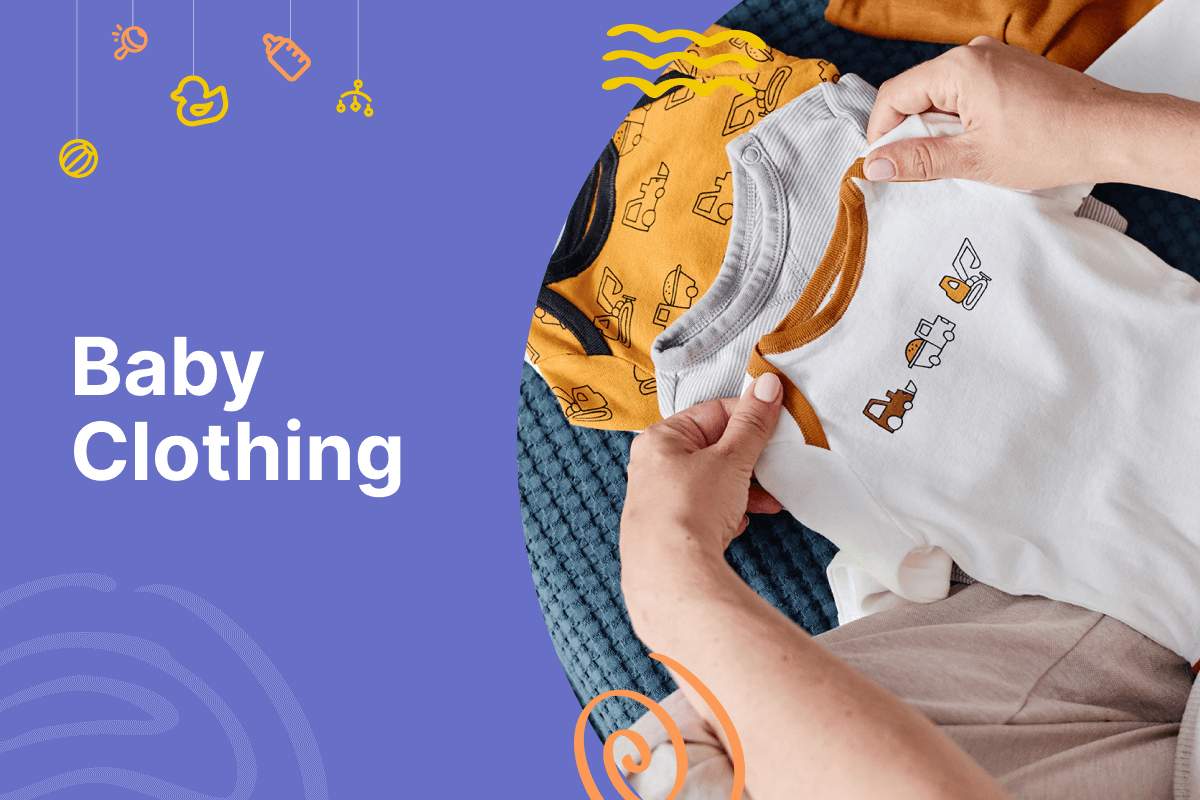 Spoil the newborn with a fashionable assortment of baby clothing presented in an elegant gift hamper. From cute onesies and cozy rompers to adorable hats and booties, this hamper offers a stylish and practical collection that will keep the baby comfortable and oh-so-adorable.
Create a timeless keepsake with a personalised baby photo album. Fill its pages with precious photographs, adding heartfelt captions and notes to document the baby's journey, creating a treasured memento that will be cherished by the family for years to come.
27. Baby Travel Essentials Kit
Prepare parents for their adventures with a comprehensive travel kit designed for convenience. This kit includes a spacious and stylish diaper bag, a convenient changing mat, travel-sized toiletries, and accessories, ensuring that parents can confidently embark on outings with the baby.
28. Baby Developmental Play Mat
Stimulate your baby's senses and promote their cognitive and motor skills with a developmental play mat. These mats often feature colorful patterns, textures, and hanging toys to engage the baby's visual, auditory, and tactile senses. Perfect for tummy time and playtime, a developmental play mat provides a safe and engaging space for your little one to explore and learn.
Enhance your baby's playtime with a baby activity center that offers a variety of interactive features and toys. These centers typically include spinning toys, buttons to push, lights, sounds, and more, encouraging your baby's curiosity, hand-eye coordination, and fine motor skills. With adjustable heights and a secure design, a baby activity center provides a fun and engaging environment for your little one to play and discover.
30. Baby Blankets and Swaddles
When selecting a baby gift hamper, consider opting for hampers that feature cozy blankets or swaddle sets. These items provide both comfort and practicality for newborns and their parents. Soft and snug baby blankets not only keep the little one warm but also provide a sense of security.
31. Baby Toy Gift Box
Put together a box filled with age-appropriate toys for the baby, such as rattles, soft plush toys, teething rings, and sensory toys. Choose toys that are safe and stimulating for the little one.
32. Baby Feeding Set
Put together a gift set that includes baby feeding essentials like bottles, bibs, silicone spoons, and a bottle brush. You can also include a baby food recipe book or organic baby food pouches.
33. Baby Memory Keepsake Box
A memory keepsake box is a wonderful gift to help parents preserve and organize cherished mementos like the baby's first tooth, hospital bracelet, and other sentimental items.
34. Baby Teething Necklace
A teething necklace is not only a fashionable accessory for moms but also a safe and soothing teething toy for the baby to chew on.
35. Baby Pacifier and Clip Set
A pacifier and clip set not only keeps the pacifier within reach but also adds a stylish touch to the baby's outfit.
36. Baby Name Sign for Nursery
A custom name sign for the nursery adds a personalized and decorative element to the baby's room.
15 Best Baby & Newborn Hamper Ideas
1. Bath Hamper Baby Gift Set
Immerse yourself in a luxurious bath time experience with this indulgent hamper. Complete with baby bath products and a soft towel, it guarantees a delightful and soothing bathing routine that will leave your little one feeling refreshed, content, and ready for cozy moments ahead.
2. Baby Care Set
Delight in pampering the baby's delicate skin with a collection of natural and hypoallergenic baby care products. From gentle shampoo and body wash to soothing lotion and protective diaper cream, this set offers tailored care to meet their specific needs, ensuring a nurturing and comforting experience for your little one.
3. Baby Gift Cards
When you're uncertain about the specific preferences or needs of the new parents, a gift card to a baby store or an online retailer can be an incredibly convenient choice. This option allows the parents to choose the items they require for their baby, ensuring that they get exactly what they need.
4. Bathtime Skincare Set and Bath Toy
Make bathtime a soothing experience with a skincare set from trusted brands like Mustela, paired with a cute and engaging bath toy. Find these delightful combinations at Mothercare Malaysia or online retailers such as Lazada, ensuring a joyful and refreshing bathtime routine for your little one.
5. Diaper Cake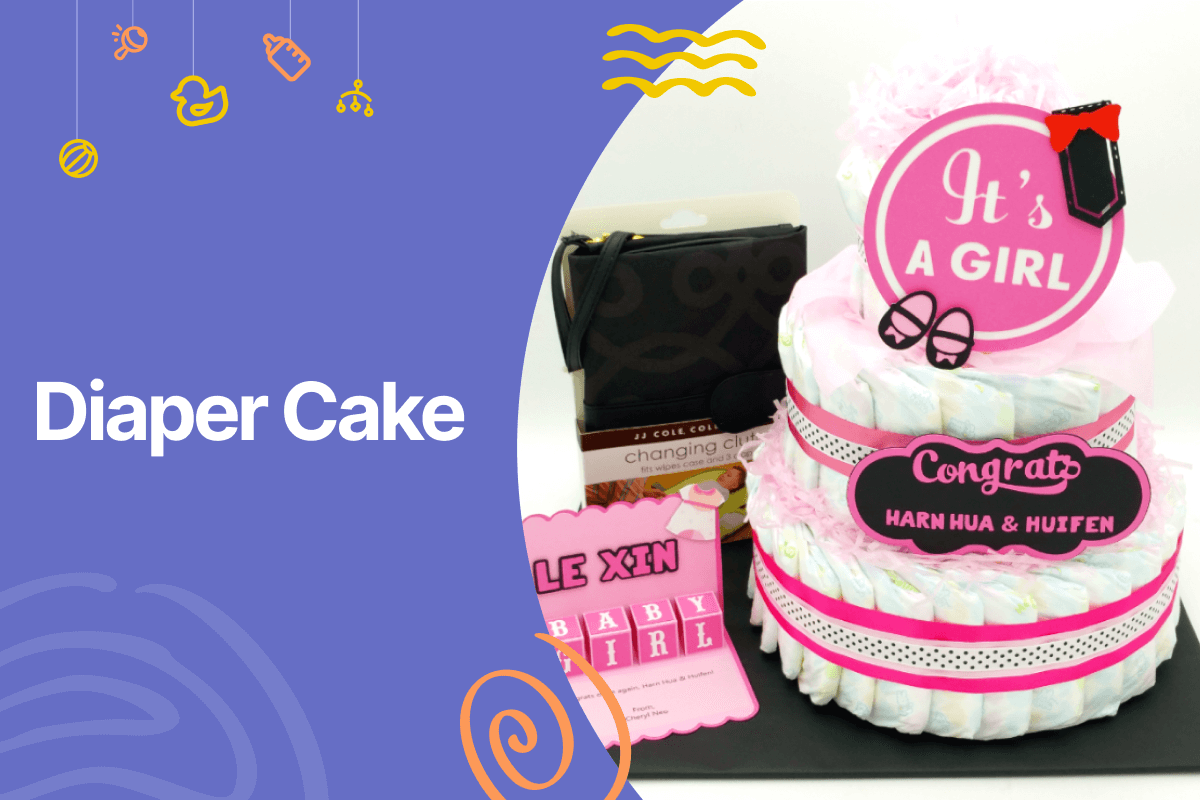 Combine creativity and practicality with a diaper cake, available in various themes and designs at Happydiapercakes.my. These stunning creations not only make a delightful centerpiece for baby showers but also provide essential diapers and other baby items, making it a truly thoughtful and functional gift.
6. Classic Storybooks Collection
Foster a love for reading from an early age by selecting timeless children's classics from Blissbies. This curated collection of classic storybooks offers enchanting tales that will captivate young hearts and minds, creating cherished moments of reading together.
7. Newborn Apparel and Accessories Set
Dress the little one in style with fashionable clothing sets complete with matching accessories like shoes or bibs. Kikoandbabykiko.com.my offers a range of adorable options to ensure your baby is stylishly outfitted from head to toe.
8. Swaddle Sack Sets
Embrace your baby in comfort with lightweight swaddling sack sets made from breathable fabrics. These sets provide a snug and secure environment for your sleeping baby, promoting better sleep. Find a variety of options at online retailers like babysbouncerstore.com.my, ensuring your little one stays cozy and content.
9. Deluxe Baby Gift Hamper
Treat the new bundle of joy and their parents to a luxurious gift hamper filled with an assortment of essential items. From organic clothing and soft toys to skincare products designed for delicate baby skin, this hamper offers a delightful combination of style, comfort, and practicality.
Show your commitment to natural and gentle care with an organic baby gift set. This thoughtful collection includes organic cleansers, lotions, and diapers made from safe and eco-friendly materials, providing the utmost comfort and care for the baby's sensitive skin.
11. Newborn Essentials Hamper
Give new parents a head start with a practical newborn essential hamper. This comprehensive package includes diapers, wipes, clothing, feeding accessories, and more, ensuring that they have all the essentials they need to care for their little one in those early days.
12. Baby Toy Gift Basket
Ignite the baby's curiosity and development with a delightful gift basket filled with age-appropriate toys, rattles, and plush animals. This basket of joy will provide endless entertainment and stimulate the baby's senses, fostering growth and exploration.
13. Baby Spa Gift Set
Treat the baby to a luxurious spa-like experience with a baby spa gift set. Complete with gentle skincare products, a soft bathrobe, and soothing music, this set creates a serene and calming atmosphere, allowing the baby to relax, unwind, and enjoy a pampering session.
14. Baby Grooming Kit
A baby grooming kit is a practical gift that includes essential grooming items like baby nail clippers, scissors, hairbrush, and a soft comb. It helps parents keep their baby clean and comfortable.
15. Baby Sock Bouquet
A baby sock bouquet creatively arranges baby socks into a bouquet shape, making it both adorable and practical for keeping the baby's feet warm.
16. Baby Photography Session
One of the most heartwarming and cherished gifts you can offer to new parents is the opportunity to arrange a professional newborn photography session. These sessions capture the precious and fleeting moments of a baby's early days, preserving memories that will last a lifetime.
Best baby & newborn gift vendors in Malaysia
The online store is a dedicated shop to offer different sets of toys (for newborn babies). The founder of the company established the shop upon personal experience. When their first baby was born, they got many gifts, hampers, and soft toys. However, the newborn baby gift included a set of toys that will help them educate their child. From there, they want to pass on that gesture and help other newborn parents. It is a trustworthy shop that offers high-quality baby gift products at affordable prices.
Mamours
Mamours offers an extensive range of baby and maternity products, making it a one-stop-shop for parents and expecting mothers. Their products are carefully selected to ensure quality and safety. They cater to customers within Malaysia, with varying shipping fees based on the order and location. Online orders can be made through their website.
Happikiddo
Happikiddo is a comprehensive baby and kids store offering a wide range of products from feeding essentials to toys and clothing. They strive to provide everything a parent might need in one convenient place. They ship to Malaysia and internationally, with shipping fees varying. Orders can be placed online via their website.
Little Baby Shop
Little Baby Shop is an online store based in Malaysia that offers a wide range of baby products. From baby gear, feeding essentials, toys, to clothing, they carry items from trusted brands to ensure the best quality for your little ones.
Baby Dash
Baby Dash is a go-to online shop for busy parents. They offer a wide range of baby supplies and products, from diapers to baby food. Their goal is to provide convenience to parents by offering fast delivery and easy online shopping. They cater to customers within Malaysia, with shipping fees that vary.
Tiny Tapir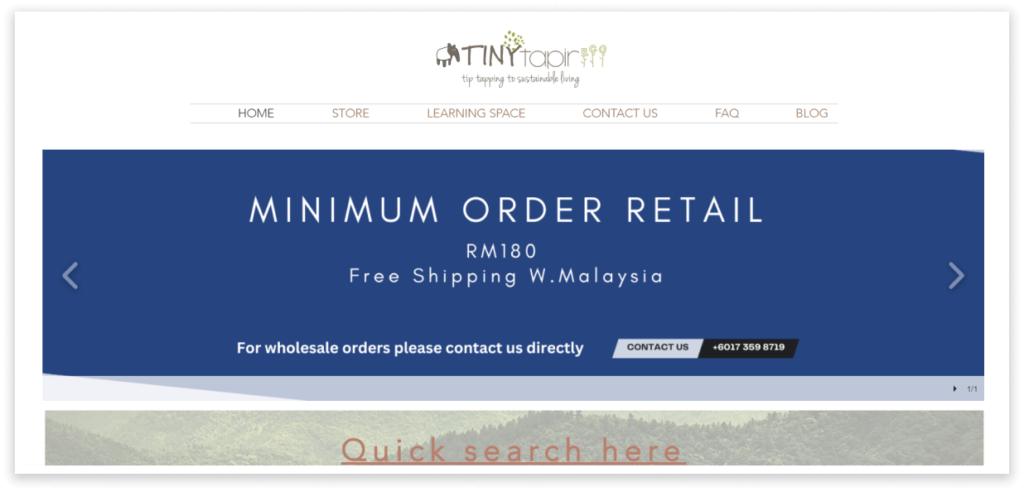 Tiny Tapir offers eco-friendly baby products, providing parents with sustainable options for their little ones. Their offerings include cloth diapers, baby carriers, and more, all designed with the environment in mind. They cater to customers in Malaysia and internationally, with shipping fees varying. Orders can be made online through their website.
My Lovely Baby
My Lovely Baby is a store specialising in baby clothing and accessories. Their items are carefully selected for quality and style, ensuring your little ones are always looking their best. They cater primarily to customers in Malaysia, with varying shipping fees. Orders can be placed online through their website.
Little Whiz Kids
Little Whiz Kids offers a range of educational toys and books to promote learning and development in children. Their products are designed to be both educational and entertaining, making learning fun for your little ones. They cater to customers in Malaysia and internationally, with varying shipping fees. Orders can be made online through their website.
Sweet Peas Kid's Boutique
Sweet Peas Kid's Boutique is a children's clothing and accessories store. They offer a variety of trendy and comfortable items that kids will love. They cater to customers within Malaysia, with varying shipping fees. Orders can be made online through their website.
Mom's Care
Mom's Care provides a wide range of baby and maternity products, making it a one-stop-shop for parents and expecting mothers. They prioritise quality and safety in their offerings. They cater to customers within Malaysia and internationally, with varying shipping fees. Orders can be made online through their website.
Babyland SS2
Babyland SS2 offers a variety of baby products, from feeding essentials to toys and clothing. They are committed to providing parents with everything they need for their little ones. They cater to customers within Malaysia, with varying shipping fees. Orders can be made online through their website.
Applecrumby & Fish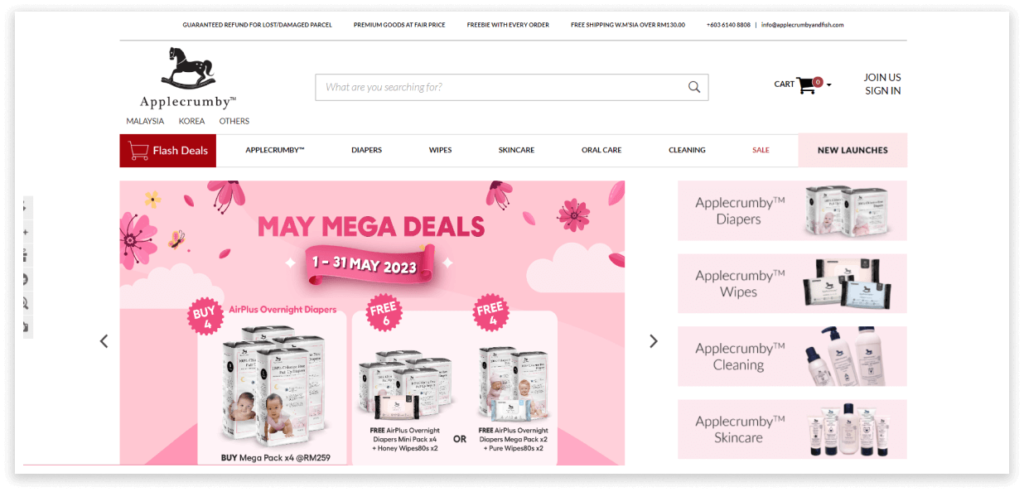 Applecrumby & Fish specialises in organic and chemical-free baby products. They offer a range of items from diapers to skincare, all designed with your baby's sensitive skin in mind. They cater to customers in Malaysia and internationally, with varying shipping fees. Orders can be made online through their website.
MumChecked
MumChecked is a store providing a wide range of baby and maternity essentials. Their mission is to make parenting easier by offering high-quality, reliable products. They cater to customers in Malaysia, with varying shipping fees based on the order and location. Online orders can be made through their website.
Hello Joy
Your go-to destination for heartwarming baby gift sets in Malaysia. We are dedicated to making the journey into parenthood even more special by offering a thoughtfully curated collection of baby gift sets that capture the essence of love, care, and celebration.
Little Diary
Little Diary is your trusted partner in celebrating the journey of parenthood in Malaysia. With a deep understanding of the joys and challenges of raising a child, we are dedicated to bringing you a world of carefully curated baby essentials and delightful gifts.
Granny Doris
Granny Doris is your trusted source for exquisite newborn hamper gift sets in Malaysia. With a legacy rooted in love and tradition, we are dedicated to helping you celebrate the arrival of a precious new life in style and grace.
My Baby Photography
Capturing your baby's journey through professional photography is a heartwarming means of tracking their growth and preserving cherished memories that you'll fondly revisit in the years to come. Don't wait any longer; seize the opportunity to create lasting keepsakes of your little one's most precious moments.
This vendor presents a truly unique and special baby gift option with their Baby's Treasure Wooden Gift Box. These carefully curated boxes serve not just as a gift, but as a heartfelt symbol of love and celebration for a new life. Each wooden box is filled with a variety of high-quality baby essentials, chosen for their practicality and charm.
In conclusion, Malaysia offers a wide array of options for the best baby gifts and newborn gifts that are sure to delight both parents and their precious little ones. From luxurious baby gift to personalised keepsakes, practical essentials, and engaging toys, there is something for every taste and preference.
These thoughtfully curated gifts celebrate the joyous arrival of a baby while providing comfort, convenience, and lasting memories. Whether you're searching for a unique and personalised gift or a comprehensive set of newborn essentials, the top 45 baby gifts and newborn gifts in Malaysia have you covered. Embrace the joy of giving and choose the perfect gift to welcome the newest addition to the family with love and warmth.