You just got a new notification about the good news that your friend's newborn baby has been discharged from the hospital safely. Beyond a shadow of a doubt, you'll start to decide what you should get for your friend's baby as you'll be meeting her in just a few days.
And one thing you know certainly, you do not want to buy her baby another set of ordinary clothes because everyone is going to get one. Right?
Whether you are welcoming a little champ into your family or even a friend's family, a nice baby hamper gift set is always an ideal way to congrats those exciting and proud parents! Curated with fascinating accessories, these boxes are great for welcoming the angel into this world.
But How Can You Choose The Best Set of Baby Gifts In Malaysia?
Well, it can be a tricky and daunting task, even if you have experienced the phases of having a baby.
While it's necessary to buy a gift according to the taste of their parents, you will also have to consider giving something that is pretty functional and practical. Meanwhile, you also need to consider the best baby hamper websites, like Blissbies, that can help you in finding that one PERFECT gift.
Sometimes, it becomes super tricky and an ordeal to choose one product from a huge stock of markets. To save you from this frustration, we did extensive research and made a list of innovative brands that curate top-notch baby hampers in Malaysia at reasonable costs.
So, just relieve your burden now and scroll down to crack some amazing ideas about baby hampers;
How Do You Pick a Newborn Hamper in Malaysia?
People face a lot of issues while picking up a newborn hamper in Malaysia as most of them are not sure what size of clothes or shoes in the hampers they should choose, how to check the product quality, and what will suit the babies.
Here are the things you need to consider while picking up the hamper:
First, determine the baby's gender and select the design accordingly.
See the quality of the items used in the hamper by checking out its design.
It must be newborn-safe to avoid harm.
It's better to consider one with essential items that can be included in the hamper gift.
Never pick up fancy hampers with sharp objects that can hurt the baby.
Lastly, keep your budget in mind. Look for a quality product that you can buy without breaking the bank.
The items in the hamper should be reliable and durable.
Now that you have explored how you can choose the best-of-all product for the little champ, let's unfold the types of gifts and their unique functionality;
There are different types of gifts to choose from, and deciding which one to consider is no less than a hard nut to crack. For never-ending joy for the baby, we have compiled various interesting types of gifts.
Without any further ado, let's have a look:
1) Baby toys
This type of hamper include can include different interesting stuff, including a Jungle Fun Cloth Book, a teething toy, colourful stacking cups, or a comforter.
2) Baby clothes & essential items
Singlets, beanies, booties, socks, and rompers can be a perfect gift for your friend's loving child. We cannot miss out on cute little outfits and dresses when talking about clothing. Try looking for soft stuff, as comfort matters a lot.
3) Mum Care package
Don't know what to buy for the baby? No worries! Buy some exciting gifts for new moms of the newly born baby. You can opt for the essential oil, all-natural nipple cream, designer teething necklace, bath soak, and nice merino socks.
4) Story Books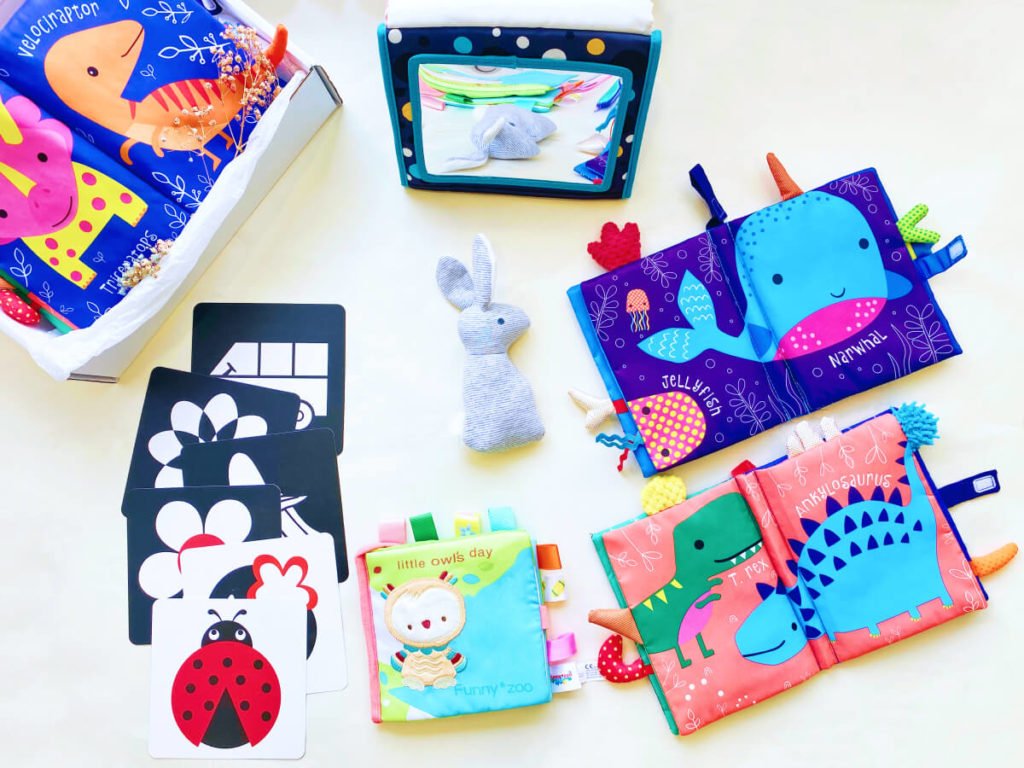 Books are always a valuable and ideal gift as they last forever in your heart. Like a card, they also convey feelings of emotion and sentiment. A colour book package encourages life-long eagerness to read and relax the mind and soul.
5) Baby Basic Kit
Looking for an all-in-one package? Just grab the Baby Basics Kit, which includes almost everything parents need to tackle the common newly born woes, including Dinosaur Fun Cloth Book, Cute Rabbit Rattle, High Contrast Colourful Cards, etc. This type of gift will absolutely make the parents happy.
You can get your baby gift delivered with Blissbies if you want something really special for toddlers. Some essential aspects should always be considered while buying newborn baby gifts. To learn more, just read on!
Things To Note When Buying Newborn Baby Gifts
Below are the things to note when buying newborn baby gifts:
Always avoid fancy packaging, & focus on the usefulness & quality of the gift – so that your money can be worthwhile for both baby and parents.
Consider buying toys because they always need to entertain and sometimes distract their little babies with new cool toys.
Avoid products that are just beneficial for the first few months, such as clothes for newborns 0-3 months as babies grow fast. Instead, go for something unique and decent that can last longer as babies grow quickly.
Choose toys that can help toddlers to develop learning and a great interest in education, like Montessori toys. Such toys can be useful to make babies learn everything better.
Moving on, let's dig into the best reliable, and most trustworthy newborn hamper shops that you can blindly trust and buy beautiful stuff for the Lil champs;
Best Newborn Hamper Shops In Malaysia
Our first pick, Blissbies, is one of the most fun baby hamper shop in Malaysia. They curate meaningful newborn hampers & gifts in Malaysia to support the new journey of parents by providing carefully tested products. Their all-inclusive set boxes are delivered in a cute kraft box that will absolutely surprise your friend.
All in all, gifts from Blissbies offer all sorts of pregnancy products, baby care, & more. If you place your order on their website for the first time, they will give you some amazing perks and discounts, too. So, what are you waiting for?
Just go and grab their ultimate baby hampers now to get a chance to avail 10% discount, enjoy the FIRST10 coupon code, and thank us later!
Little Diary is another reliable brand that has been producing quality products for babies, from napkins to toiletries and fashion to toys, as well as outstanding baby hampers. Their toys are selected efficiently with the best materials. So, just consider this company to buy different gifts for baby showers and other events now!
At Tots & All, they value quality, reasonably-priced baby items. With the goal of guaranteeing that every child gets the best possible items, they are committed to offering comfortable and drop-dead gorgeous items. Moreover, they give you a golden chance to customize the baby hampers according to your liking.
This company has been in business for many years and has made a great reputation so far. You can choose super cool baby hamper Malaysia from Flory Gift for the baby showers, as all of their clothes are sized for newly born to 3 months old toddlers. Go and grab their baby hampers deals now and have a pleasing experience!
Looking for something classy? Just hold on! Bloom House offers personalized luxury products with fascinating flowers for your cute babies in Malaysia. They produce the most adorable collection of practical and cute baby gifts for the Mummy and Newborn Baby. Each item in their hampers is wrapped in nice tissue paper & presented in the box with a beautiful hand-tied bow.
Baby Be You is the perfect company to look out for if you are searching for baby hampers to give on Baby's arrival. Their hampers are packed with different types of clothes and accessories a newborn would need. To make the feel of a gift more personal, this brand approves requests to write the gift card with the desired messages.
Known for aesthetic baby products, Hello Joy is an authentic baby brand in Malaysia. They have a classy collection of innovative items. All of their products come in neat packaging with stylish designs and functionality. Why are you still confused? Don't think anymore, and put your hands into their inclusive hampers.
If the baby is born in the winter season, baby hampers always make an awe-inspiring gift. The blankets included in their sets are very cosy and warm and help the baby sleep better as well. Their parents would be really thankful to you for giving them this masterpiece. Overall, Gift Hampers Malaysia is a good consideration.
Send your congratulation on the arrival of the newborn child and exciting parents with the outstanding baby stuff by EKSA Creative. Their gift hampers will help you translate your emotions and thoughts to your loved ones with the combination of charming accessories and other goods. The gifts they offer can absolutely do wonders and help people brighten up the day.
Newborn baby gifts offered in Flower Chimp consist of a premium hampers collection of baby shower gifts from nice sets from baby accessories, clothes, toys, learning materials, shoes, baby care products, and more. Their hampers are always delivered in marvelous presentations with super creative arrangements. Never miss out on their latest collection, folks!
Giftr is a best-seller hamper brand based in Malaysia. Despite its popularity, they have 18 available variations, so you do not need to be tense about giving similar things to other relatives at all. This set is best to choose from as it has a cute pair of shoes, nice creams, cozy socks, and much more. What else a baby needs to look adorable? It's an entire package!
At Silverbells, they understand the importance of gifts, and their team is always inspired to produce innovative ideas and new designs. All of their products are created from quality fabrics that are gentle on the skin of babies. So, what are you waiting for? They are just one click away!
Conclusion
That's all, folks! In this guide, we have covered the 12 ultimate best baby hampers in Malaysia. Every brand and company on our list is worth-considering if you want quality products on the go.
However, if you don't want to compromise on the quality at any cost, just opt for Blissbies baby hampers, as it offers high-end hampers with fun stuff included at a super amazing 10% discount.
So, which of the above-mentioned hamper brands are you going to choose? Let us know in the comment section!
Sedang mencari hadiah bayi? Lihat set hadiah bayi kami di Malaysia.