Chinese New Year (CNY), with its riot of colors, sounds, and flavors, holds a special place in the hearts of Malaysians. It's a time when bustling cities and tranquil villages alike come alive in celebration of a new beginning, a time of unity, joy, and, of course, the warm tradition of gift-giving. This festival is more than just an annual celebration—it's a vibrant piece of the cultural mosaic that makes Malaysia truly unique.
Gift-giving during Chinese New Year is an age-old practice, deeply intertwined with customs, symbolism, and respect. It's a tradition that extends far beyond mere formalities or obligation. This ritual of presenting hampers and gifts is a gesture steeped in love, goodwill, and heartfelt wishes for prosperity, health, and success. Each gift is a token of appreciation, a nod to enduring relationships, and a shared hope for a brighter tomorrow.
The Cultural Significance of Gift-Giving during Chinese New Year
Unraveling the Symbolism
Gift-giving is an integral part of CNY celebrations. It's a practice that symbolizes respect, love, and wish for prosperity and luck in the coming year. The gifts are often packaged beautifully, which brings us to our next point: the importance of hampers.
The Role of Hampers
Hampers are essentially gift baskets filled with a variety of items. Each component carries a specific meaning, bringing together a wealth of wishes for the recipient. Their contents vary widely, reflecting different facets of fortune, health, and happiness.
What to Consider When Choosing a CNY Hamper & Gift
The Gift's Significance
Certain gifts carry particular symbolism in Chinese culture. For instance, oranges signify wealth and luck, while sweets represent a sweet life. Be mindful of such nuances when choosing your hamper.
Cultural Sensitivities
Chinese New Year is a traditional and culturally significant holiday. It's essential to choose a hamper and gift that aligns with Chinese customs and traditions. Look for items that symbolize good luck, prosperity, and happiness, such as oranges, tangerines, dried fruits, tea, candies, or traditional Chinese snacks.
Recipient's Preferences
Consider the recipient's tastes, preferences, and dietary restrictions. Ensure that the hamper and gift items are suitable for their dietary needs and preferences. For example, if they have any allergies or dietary restrictions, make sure the items are free from those allergens or meet their dietary requirements.
Quality of Items
Check the quality of the items included in the hamper. It's important to choose high-quality products that reflect your thoughtfulness and convey the significance of the occasion. Look for reputable brands or well-known suppliers for food items and ensure that the overall presentation of the hamper is visually appealing.
Packaging and Presentation
The presentation of the hamper plays a significant role in creating a positive impression. Opt for hampers that come in attractive packaging, such as decorative boxes or baskets. The packaging should be festive and visually appealing, featuring traditional Chinese New Year colors like red and gold.
Price Range
Set a budget for your CNY hamper and gift. There is a wide range of options available at different price points, so consider your budget while choosing the hamper. It's possible to find well-curated and thoughtful gifts within your preferred price range.
Personal Touch
Consider adding a personal touch to the gift to make it more meaningful. You can include a handwritten note or a personalized greeting card conveying your well wishes for the recipient. Personalization adds an extra level of thoughtfulness and shows that you have taken the time to make the gift special.
Delivery Logistics
If you are sending the hamper to someone, consider the logistics of delivery. Ensure that the delivery service is reliable and will deliver the gift on time. Check the delivery charges and policies to avoid any unexpected costs or delays.
Cultural Appropriateness
Be mindful of cultural appropriateness when selecting a CNY hamper and gift. Avoid items that may be considered inappropriate or offensive in Chinese culture. Familiarize yourself with Chinese customs and traditions to make sure your gift is respectful and well-received.
Best CNY Hamper & Gift Ideas in Malaysia
Chinese New Year, one of the most significant holidays in Malaysia, is marked by vibrant celebrations and the exchange of gifts. If you're pondering over what to gift your loved ones or business associates this year, worry not! Here are some diverse CNY hamper and gift ideas that you can consider.
Traditional Chinese Delicacies Hamper
Source from Buro247
A hamper brimming with traditional Chinese delicacies like dried mushrooms, bird's nest, abalone, sea cucumber, and premium Chinese tea is a classic and well-appreciated choice. The items symbolise abundance, good health, and prosperity, making it a perfect gift for this festive season.
Gourmet Food Hamper
A gourmet food hamper with a selection of international delicacies can be an impressive gift. Consider including items such as truffle oil, gourmet chocolates, artisanal cheeses, and imported wines to make it truly special.
Superfoods Basket
Source from Sunshine Kelly
A basket filled with superfoods like quinoa, chia seeds, almonds, dried blueberries, and organic honey can be a thoughtful gift, symbolizing your wishes for the recipient's health and well-being in the coming year.
Spa Essentials Hamper
A hamper filled with spa essentials like scented candles, bath salts, essential oils, and luxurious body lotions can offer a relaxing and rejuvenating experience, making it a unique and cherished gift.
Specialty Tea Set
Source from Klook
For tea enthusiasts, a hand-picked tea set with a selection of fine teas can be a warm and thoughtful gift. Complement the teas with a beautiful teapot or cups to complete the set.
Luxury Chocolate Hampers
If you're looking to impress, a luxury chocolate hamper could be the perfect choice. It could include a range of gourmet chocolates from dark to white, truffles, chocolate-covered nuts, and exotic flavoured chocolates. This sweet indulgence is sure to please the recipient.
Premium Liquor Hampers
Source from Florigift
A hamper featuring a selection of premium liquors can be a sophisticated gift for a wine or spirit enthusiast. Include a mix of red and white wines, aged whiskey, or a refined bottle of sake. Pair these with gourmet cheeses, high-quality chocolates or crystal wine glasses for an added touch.
Tea and Coffee Hampers
Tea and coffee hampers are excellent for those who enjoy a good brew. Include a variety of fine teas, like oolong, green, white, and herbal tea. For coffee lovers, consider adding different gourmet coffee beans from around the world. You can complement this with a set of beautiful tea cups or a French press for coffee.
Vegan or Gluten-Free Hampers
A hamper filled with vegan or gluten-free treats can be a thoughtful choice for those with dietary restrictions. These could include gluten-free snacks, organic fruits, vegan chocolates, and plant-based gourmet items.
Luxury Beauty Hampers
For those who love pampering themselves, a hamper filled with luxury beauty products can be an excellent choice. This could include high-end skin care products, perfumes, body scrubs, facial masks, and organic cosmetics.
Exotic Fruit Baskets
An exotic fruit basket filled with a variety of fresh fruits like dragon fruit, kiwi, passion fruit, berries, and other seasonal fruits can be a refreshing and healthy gift choice. It symbolizes your wishes for the recipient's health and well-being in the upcoming year.
Best CNY hamper & gift vendors in Malaysia
Sunshine Online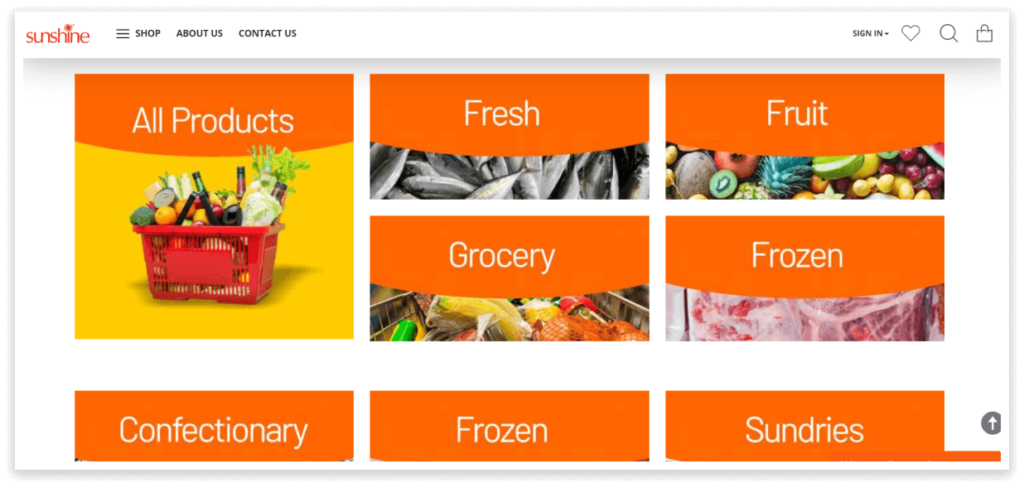 Sunshine Online is a leading supermarket and department store chain in Malaysia, renowned for offering a vast range of quality products. They provide seamless online shopping experiences, ensuring convenience, affordability, and customer satisfaction at your fingertips.
Eu Yan Sang
Eu Yan Sang is a respected traditional Chinese medicine provider in Malaysia, deeply rooted in holistic wellness. With a heritage spanning over a century, they offer a diverse array of health products, supplements, and herbal remedies, embodying a fusion of time-honored wisdom and modern sensibilities.
JinYeYe
Jin Ye Ye is a premium gift shop in Malaysia, specializing in festive hampers, corporate gifts, and baby full moon gift boxes. They emphasize creativity and cultural appreciation in their beautifully curated collections, making every occasion memorable with their thoughtful and meaningful offerings.
FloryGift
FloryGift is a distinguished online gift shop in Malaysia, known for its exquisite range of hampers and flower arrangements. They specialize in creating memorable gifting experiences for occasions like Chinese New Year, birthdays, corporate events, and more, all with a touch of elegance and personalization.
JDX
JDX is a dynamic online platform in Malaysia, offering a comprehensive selection of lifestyle products, including electronics, fashion, home essentials, and more. With a commitment to quality and affordability, JDX strives to enhance customer experiences through convenient, one-stop online shopping.
Famous Amos
Famous Amos is a beloved confectionery brand in Malaysia, known for its delectable, freshly baked cookies. With a variety of flavors and packaging options, their offerings make perfect gifts for any occasion. Famous Amos continues to charm taste buds while embodying the joy of giving.
Bloomthis
BloomThis is Malaysia's premier online florist, specializing in meticulously handcrafted floral arrangements for every occasion. Combining fresh, sustainably-sourced blooms with innovative designs, BloomThis delivers not just flowers, but unforgettable moments and emotions, right to your doorstep.
Hamper Malaysia
Hamper Malaysia is a trusted online provider of high-quality hampers and gift baskets, ideal for all occasions. With a focus on elegance, variety, and customer satisfaction, they offer a seamless shopping experience, ensuring your thoughtful gestures are delivered with utmost care and professionalism.
Flower Advisor
FlowerAdvisor is a prominent online florist in Malaysia, dedicated to delivering beautiful and premium quality flower arrangements, hampers, and gifts. With a wide international network and a commitment to customer satisfaction, they cater to your gifting needs, ensuring your emotions are conveyed, anytime, anywhere.
MBG Fruit Shop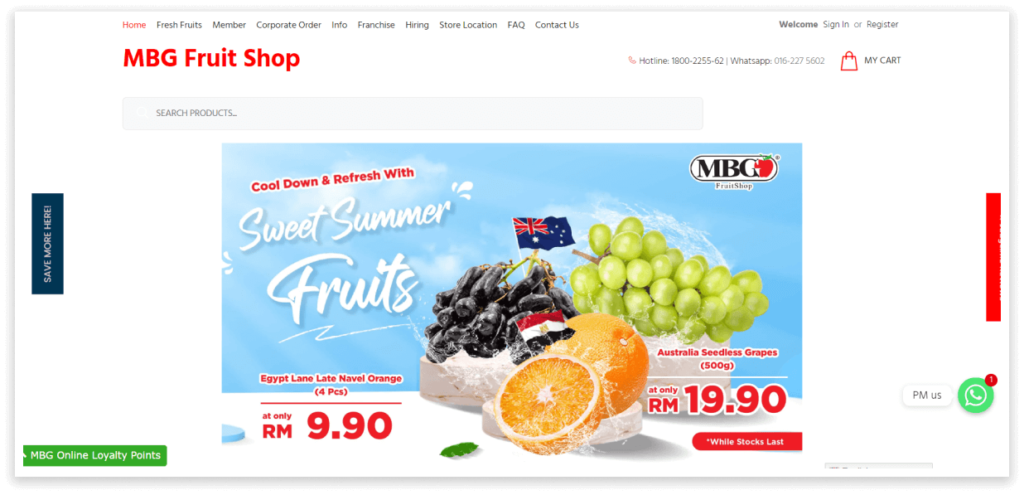 MBG Fruit Shop is Malaysia's leading fresh fruit retailer, offering a wide variety of quality, nutritious fruits both in-store and online. Committed to promoting a healthier lifestyle, MBG provides conveniently packaged fruit baskets and hampers, making healthy gifting a delightful experience.
Kinohimits
Kinohimitsu is a leading wellness brand in Malaysia, offering a wide array of high-quality health and beauty products. Inspired by nature and backed by science, Kinohimitsu provides innovative solutions for well-being, vitality, and radiant beauty, helping customers to live life to the fullest.
Hamper2u
Hamper2U is a dedicated online store in Malaysia, specializing in meticulously crafted hampers and gift baskets for every occasion. Their wide selection, quality products, and attention to detail ensure each hamper conveys your sentiments perfectly, making gifting a joyous experience.
Giftr
Giftr is an online marketplace in Malaysia that provides a vast array of thoughtful and unique gifts for all life's celebrations. They specialize in beautifully curated gift boxes, hampers, and personalised items, making it easier than ever to express your sentiments and create memorable moments.
One Gift Gallery
OneGift is a premier online gifting store in Malaysia that offers a diverse selection of beautifully designed hampers and gifts. With a commitment to quality, creativity, and customization, OneGift ensures every gift creates a lasting impression, whether for personal celebrations or corporate events.
Hamper World
Hamper World is a leading online hamper store in Malaysia that excels in providing carefully curated gift hampers for all occasions. Their offerings encompass a wide variety of quality products and are designed with an eye for detail, ensuring each gift delivers joy and satisfaction.
The practice of giving a Chinese New Year (CNY) hamper or gift is an enduring tradition that not only reflects respect and goodwill, but also serves as a heartwarming expression of unity and togetherness. This custom, deeply rooted in cultural symbolism, transcends the physicality of the gift itself to become a shared moment of joy, appreciation, and mutual hopes for prosperity and luck in the coming year.
Therefore, as you navigate through the diverse array of hampers and gifts available for the upcoming Chinese New Year celebrations in Malaysia, we hope this comprehensive guide serves as a useful companion. We aim to assist you in identifying gifts that not only comply with cultural nuances but also align with the unique tastes and personalities of your recipients.
Blissbies offers a comprehensive package to cater to your baby's changing needs every month. Their gift box includes everything you could want for your child up to 12 months old, such as books, rattle toys, stacking cups, non-tearable cloth books, vision cards, and bathing toys.
Easily find everything you need for your baby's entertainment and development on their platform at blissbies.com/my/.