Choosing the perfect corporate gift in Malaysia can often feel like a challenge. With rich cultural traditions influencing the world of corporate gifting, it's important to make the right impression. In a diverse and vibrant country like Malaysia, where cultural nuances are highly regarded, selecting the ideal corporate gift becomes even more significant.
This blog post will help you navigate through 25 thoughtful and unique corporate gift ideas guaranteed to impress your clients and employees. Whether you're looking to express gratitude, celebrate a successful partnership, or simply show appreciation to your dedicated team, these gift ideas encompass a wide range of options that are both meaningful and memorable.
Eco-Friendly Gifts:
Premium Halal Food Hampers
These hampers are a delightful combination of premium, locally-sourced halal snacks, chocolates, and gourmet treats, thoughtfully packaged in environmentally-friendly materials. They not only showcase your commitment to sustainability but also your appreciation for good taste.
Reusable Drinkware
Reusable drinkware such as stainless steel water bottles or bamboo travel mugs not only reduce single-use plastic waste but also make practical and eco-conscious gifts for clients and employees on the go.
Wooden Gifts
Wooden gifts, which can range from coasters and cutting boards to desk organisers, add a touch of natural beauty to any workspace. They are not only environmentally friendly but also exude a sense of warmth and craftsmanship.
Eco-Friendly Tote Bags
These reusable tote bags, often made from sustainable materials, are not only eco-friendly but also versatile. They are perfect for shopping, carrying essentials, and reducing plastic bag usage, making them a practical and environmentally-conscious choice.
Practical Gifts:
Customised Leather Notebooks
These high-quality leather-bound notebooks are perfect for keeping notes, ideas, and important information organised during meetings or daily tasks. Customisation adds a personal touch that elevates their practicality.
Stationery Sets
Stationery sets, comprising pens, notebooks, and other office essentials, are both functional and stylish. They help recipients stay organised and make a professional impression.
USB Flash Drives
Customised with your company's logo and preloaded with relevant content, USB flash drives are practical tools for storing and sharing digital information. They are compact, versatile, and always in demand.
Personalised Gifts:
Keychains and Holders
Personalised keychains and holders are practical and easy to customise. They serve as constant reminders of your brand or the special occasion you're celebrating.
Name Card Holders
These sleek and professional accessories not only keep business cards organised but also make networking easier. Personalisation adds a touch of class and shows attention to detail.
Customised Office and Desk Sets
Office and desk sets, including items like pen holders, desk organisers, and mousepads, can be customised with names or company logos, creating a cohesive and personalised workspace.
Premium Leather Wallets
High-quality leather wallets, engraved or embossed with initials or names, are both stylish and practical gifts that make a lasting impression.
Personalised Wine and Spirits
Customised wine or spirits bottles with labels featuring your message or branding add a touch of sophistication to celebrations and special occasions.
Personalised Desk Accessories
Items like engraved paperweights or personalised desk plaques enhance the recipient's workspace, adding a touch of professionalism and personalisation.
Personalised Mugs
Customised mugs with names, messages, or company logos are practical and sentimental gifts that are used daily, keeping your brand or sentiment top of mind.
Health and Wellness Gifts:
Lumbar Support Pillows
Promote comfort and well-being with lumbar support pillows that provide relief and ergonomic support, particularly during long hours of work.
Tea Leaves Set
Encourage relaxation and mindfulness with a set of premium tea leaves and accessories, promoting a healthier lifestyle and self-care.
Healthy Snack Platters
Gift baskets filled with wholesome snacks like nuts, dried fruits, and granola bars are perfect for those who prioritise health-conscious choices.
Gourmet Gift Baskets
Curated assortments of gourmet chocolates, artisanal cheeses, and fine wines offer a delightful balance between indulgence and wellness.
Wellness and Spa Vouchers
Give the gift of relaxation and self-care with spa and wellness vouchers, allowing recipients to unwind and rejuvenate.
Aesthetic Gift Boxes:
Local-Inspired Gift Bundles
These bundles feature locally-sourced products and treats, celebrating Malaysia's culture and flavors while supporting local artisans and businesses.
Traditional Wooden Pen Holders
Handcrafted from local woods, these pen holders are not only functional but also a testament to Malaysia's craftsmanship and heritage.
Premium Tea Leaves Set
A selection of premium Malaysian teas, presented in an aesthetically pleasing gift box, offers a taste of the country's rich tea traditions.
Travel-Themed Gifts:
Travel Pillows
Compact and comfortable travel pillows make long journeys more enjoyable and are perfect for clients or employees who frequently travel for business or leisure.
Customised Tumblers
Personalised travel tumblers keep beverages hot or cold on the go while prominently displaying your company's logo or a special message.
Umbrella
A high-quality, compact umbrella with your branding provides shelter from the rain while subtly promoting your business, making it a practical and promotional gift.
The Value Of Corporate Gifting
Corporate gifting holds significant value in business relationships. It is a way to show appreciation and foster stronger connections with employees, customers, and potential clients.
By exchanging thoughtful gifts, businesses can create a positive impression and initiate meaningful conversations. In fact, studies have shown that corporate gifting can enhance brand loyalty and contribute to business growth.
Top Corporate Gifts Suppliers in Malaysia
YV Marketing
To uphold our position as a top-tier corporate premium gifts provider in Malaysia, we continually embark on a journey of discovery, seeking out the latest promotional gift ideas infused with innovative concepts, designs, and trends to meet the evolving needs of our esteemed clients.
Gifts Depot
You'll be amazed by the wide range of business door gifts we offer, encompassing high-quality advertising gifts, novelty items, superior corporate gifts, and even simple giveaway items and goodie bags. A prominent premium gift and corporate gifts supplier in Malaysia, serves as both a stockist and a dealer/retailer in promotional gifts.
IT Gifts Marketing
Our objective is to consistently surpass our competitors by offering innovative products, swift delivery services, and exceptional value. We are dedicated to expanding our business through operational excellence, delivering superior customer experiences, fostering product innovation, and providing outstanding value. Our unwavering pursuit of excellence drives every aspect of our operations.
U.Design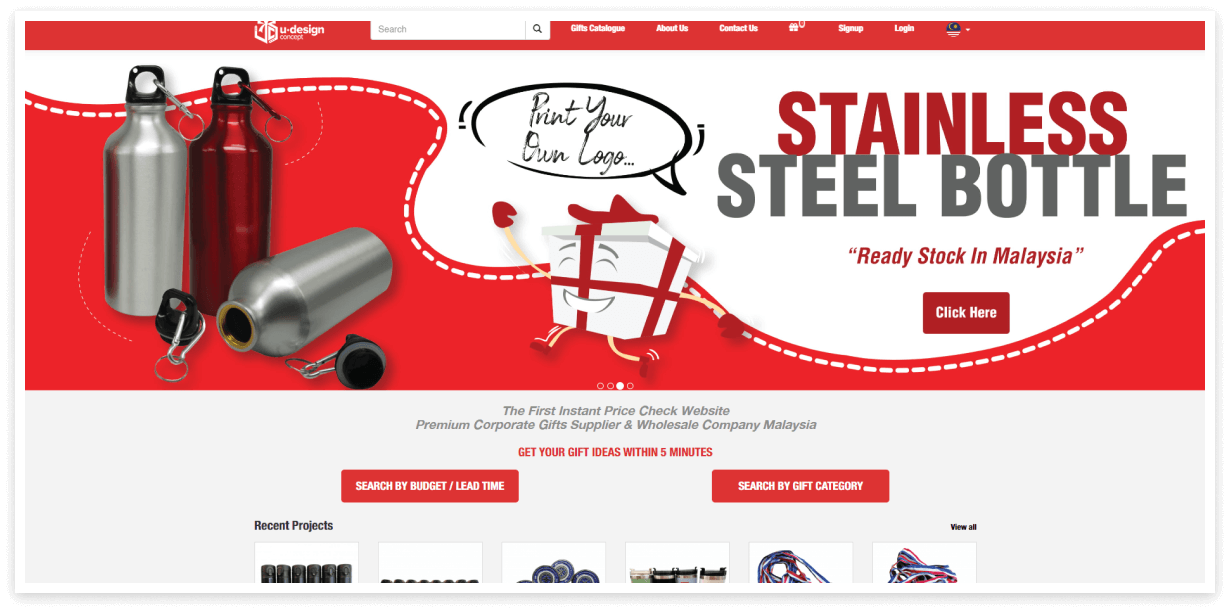 We understand the power of increased brand awareness in enhancing a brand's presence. With our expertise and creative approach to corporate gifts and event merchandising, we aim to elevate the standard, going beyond just fostering brand affinity. In 2019, we expanded our operations to serve clients in Singapore, Cambodia, and Thailand, further extending our reach and impact.
Seven Gifts
As the most reliable source for branded solutions in Malaysia, we collaborate closely with you to create tailored marketing solutions that perfectly align with your brand's requirements. Our extensive range includes high-quality corporate gifts and premium promotional items, with new additions made regularly to ensure that you have access to the latest selection.
JR Premium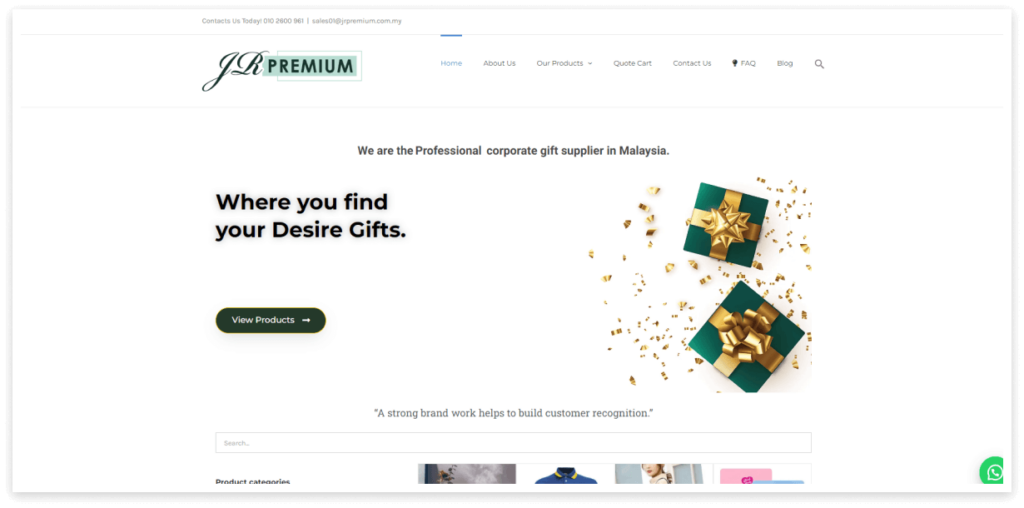 We cater to both our corporate clients and the general public by offering a wide array of promotional and premium corporate gifts at highly competitive prices. In our role as a corporate gift supplier in Malaysia and premium gift supplier, we specialize in designing, manufacturing, and delivering a unique selection of promotional items, advertising gifts, corporate gifts, and leather products, all tailored to meet our customers' specific requirements and preferences.
All Corporate Gifts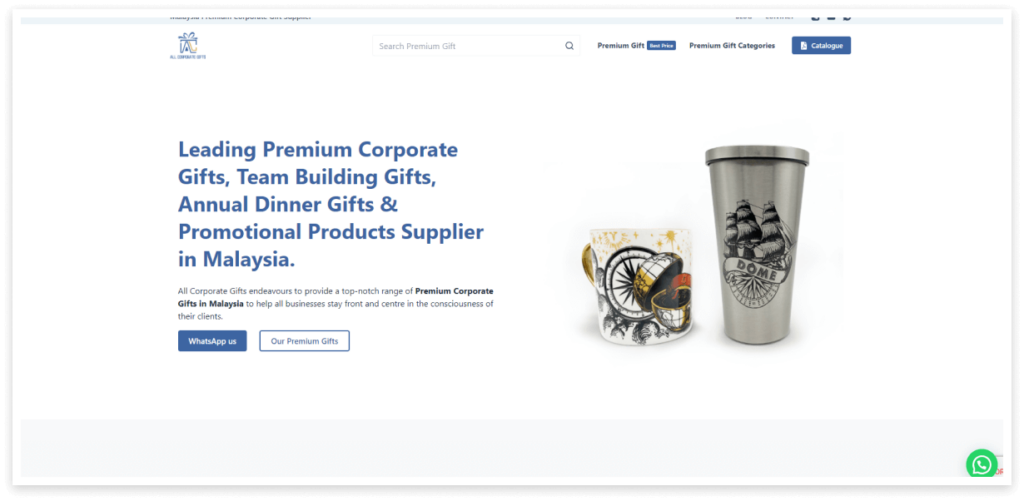 At All Corporate Gifts, our mission is to offer an exceptional selection of premium corporate gifts in Malaysia, ensuring that businesses can maintain a prominent presence in the minds of their valued clients.
Galaxy
PremiumGift.my is an offering from Galaxy Meridian Sdn Bhd, a company with expertise in customized corporate gifts in Malaysia. This service serves as a comprehensive solution for businesses seeking to personalize their corporate gifts, operating under the trading name of the company.
Greenworks
GreenWorks stands as one of Malaysia's foremost suppliers of corporate gifts, premium gifts, and branded promotional merchandise. Our commitment lies in becoming a leading provider of eco-friendly promotional merchandise. With a vast selection of over 2,000 branded products, our diverse range of offerings and creative ideas ensures that you discover optimal solutions to streamline and enhance your branding efforts.
Unique Gifts
While custom-made gifts are often a popular choice among friends, family members, and loved ones, personalized corporate gifts can also be a thoughtful way to express gratitude to a new client for selecting your company or to demonstrate appreciation for your dedicated employees, motivating and reinforcing the value of their contributions.
Choosing The Right Gift For Clients Or Employees
Consideration and thoughtfulness are key when choosing the right gift for your clients or employees. One important factor to keep in mind is that the gift should reflect your company's goals and values, while also increasing brand awareness. For clients and partners, personalized executive gifts, custom gift hampers, or exquisite wine can make a lasting impression. However, don't forget about your employees – creative corporate gifting ideas can help build strong relationships with them as well.
Remembering To Stay Within Budget – Consider the cost of each gift item and how many gifts you need to purchase. It may be helpful to research different suppliers and compare prices before making a decision. Remember, thoughtful corporate gifts don't have to break the bank – there are plenty of affordable options that will still make a lasting impression.
The Best Corporate Gift And Premium Gift Supplier In Malaysia – Online platforms provide a vast selection, allowing you to compare offerings and scrutinize customer feedback, while local suppliers offer a more personalized touch. In your quest for the ideal supplier, consider factors like product range, quality assurance, timely delivery, customer reviews, ethical practices, pricing transparency, and customization options.
Conclusion
In conclusion, choosing the right corporate gift in Malaysia is crucial for showing appreciation and building strong relationships with clients and employees. It is important to consider thoughtful and practical gifts that can be enjoyed by a wide range of recipients.
By staying within budget and working with a reputable corporate gift supplier, businesses can make a lasting impression through their choice of gifts.
FAQs
1. What are some of the best corporate gift ideas in Malaysia?
In Malaysia, you can find a variety of best corporate gifts ranging from luxury items to customised offerings perfect for impressing employees.
2. Can I get personalised or customised corporate gifts in Malaysia?
Yes, many providers offer customised corporate gifts tailored to your needs in Malaysia which adds a personal touch making them the ideal giveaway items.
3. Where could one get luxury corporate gift ideas for employees based in Malaysia?
There are numerous vendors offering a range of luxury corporate gift ideas suitable for employees, aimed at leaving an impression while showcasing appreciation and recognition.
4. Are these Corporate Gift Ideas appreciated by Employees in Malaysia?
Absolutely! Thoughtful and well-selected Corporate Gifts not only impress but also foster goodwill among employees within a Malaysian Corporates setting.