Are you on a quest to find the most exquisite preserved flowers in Malaysia? This country is renowned for its vibrant and unique floral diversity, including the iconic Rafflesia flower.
Our comprehensive guide will unveil the beauty of long-lasting blooms, their charm and why they have become such popular gifts. So, ready yourself to delve into a world encapsulated by preserved petals!
Key Takeaways
Preserved flowers in Malaysia undergo a unique preservation process using glycerine, water, and stabilizers to maintain their softness and vibrant colors.
Some popular preserved flower arrangements in Malaysia include the Isabella (Bell Jar), Ocean Jar, Dandelion Garden, Rosalie, Lavender Garden, Maneki-neko Basket, Valentina, and Andrea.
The Isabella (Bell Jar) is an exquisite preserved flower arrangement that offers an enduring alternative to conventional flowers with its timeless beauty.
The Ocean Jar is a piece of oceanic art encapsulated in an elegant jar and is versatile for various occasions like weddings or birthdays.
What are Preserved Flowers?
Preserved flowers are real flowers that have undergone a special process to maintain their beauty and freshness for an extended period of time.
Definition
Preserved flowers are natural blooms at their peak, meticulously selected for their exceptional beauty. They're 100% real and have endured a high-tech preservation process to keep them looking gorgeous for longer. This method involves freezing the flower at its most vibrant stage, creating an everlasting display of nature's artistry.
Despite being cut from their stems, these preserved treasures maintain their lush appeal because they've undergone advanced preservation technology. This technique not only safeguards their stunning allure but also significantly prolongs their lifespan.
Process of Preservation
This technical process allows the preserved flowers to retain their softness and vibrant colours, making them virtually indistinguishable from fresh flowers.
In contrast to drying techniques which strip blooms of their natural vibrancy and pliability, this high-tech preservation method utilises careful dehydration followed by rehydration with the preserving solution.
With meticulous attention at every step of the way, it ensures our preserved roses in Malaysia remain stunningly beautiful.
Optimal conditions are necessary throughout this delicate process to ensure top-quality results. Preserved flowers need particular care too: exposure to sunlight or excessive moisture can cause discolouration or fading over time.
Where to Buy Preserved and Dried Flowers in Singapore
Whether you're organizing a special occasion or looking to enhance your living area with timeless elegance, make sure to consider these reputable florists when seeking preserved and dried flowers in Malaysia.
Blissbies
Blissbies is a Malaysia-based business specializing in exquisitely preserved flower arrangements. Their creations are a testament to elegance and everlasting beauty, making them perfect gifts for special occasions and timeless keepsakes.
Flowerchimp
Preserved flowers make for an ideal gift to convey your everlasting love and appreciation – they are stunning, elegant, and enduring! Our collection of preserved roses and gift sets offers the perfect option for gifting on occasions such as Valentine's Day, anniversaries, birthdays, or any special day worth celebrating.
Hobby Florist
At HobbyFloristKL, our dedication revolves around providing the utmost in floral arrangements and gifts, complemented by a service that is both welcoming and efficient. Every single one of our blossoms undergoes a meticulous selection process, personally chosen by our floral designers during their visits to our trusted nurseries and gardens.
Floristika
With minimal upkeep and a timeless allure, preserved flowers make a stunning home decor choice, eliminating the need for ongoing care. Whether you prefer pink, blue, yellow, green, or any other color, our assortment of preserved flowers encompasses a wide array of sizes and shapes.
Giftr
Discover distinctive preserved flowers at Giftr! Our selection of preserved blooms caters to a wide range of occasions, be it weddings, birthdays, anniversaries, or retirement celebrations. Our offerings include dried bouquets, flowers in glass, flower boxes, flower music boxes, and more. We provide both same-day and nationwide delivery services.
Summer Pots
Preserved flowers endure for a decade, offering an alternative to the fleeting beauty of fresh blooms. Consider the gift of everlasting charm. Embrace the enduring allure of preserved flowers and make memories that last a lifetime.
Twenty Degrees
Indulge in the timeless elegance of our 100% naturally preserved and dried flowers, each meticulously handcrafted by our talented designers. These exquisite floral creations are not only a feast for the eyes but also a testament to nature's enduring beauty, as they retain their allure for years to come. When you seek to convey profound and long-lasting admiration, there's no better choice than these preserved and dried blossoms, which serve as a symbol of your unwavering appreciation and affection.
The Florist Market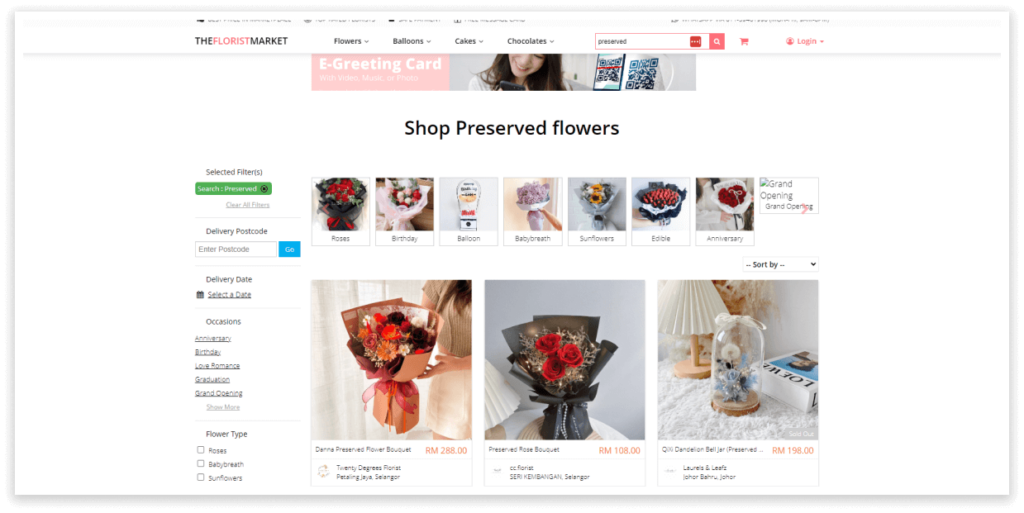 At TheFloristMarket, we offer an extensive array of flower options curated by a collective of skilled florists. We streamline your flower shopping experience by bringing together these talented artisans in one convenient platform, where you can easily explore trending floral designs, saving you precious time.
Lavieflo
Our preserved flowers are sourced from 100% natural blossoms, carefully selected at their peak. Cultivated with utmost precision using nature's purest elements such as soil, water, and sunlight, from seed to plant, they provide you with the essence of organic beauty at its absolute best.
50Gram
Embrace the opportunity to communicate your everlasting love to those cherished individuals who hold a special place in your heart through the eloquent language of preserved flowers. These meticulously crafted floral wonders serve as a timeless testament to the enduring bond you share, allowing your sentiments to resonate beautifully over the years.
PS Floral Atelier
At PS Floral Atelier, we believe that every moment deserves to be adorned with the splendor of nature's creations. Our exquisite range of preserved blooms, from roses to hydrangeas and beyond, allows you to enjoy the captivating allure of flowers in all their glory, without worrying about wilting or fading.
Everyday Flowers
Bloom This
Experience the timeless elegance of naturally preserved roses and dried flowers presented in exquisite gift boxes. Crafted by skilled artisans, it's the ultimate expression of enduring admiration. Enjoy the convenience of free same-day delivery in KL & Selangor
Popular Preserved Flower Arrangements
Baby's Breath – Universally adored, Baby's Breath is celebrated for its delicate allure and timeless symbol of everlasting love. When incorporated into floral designs, this popular filler creates an enchanting ambiance. Its classic white variety signifies unity and spirituality, making it a top preference among wedding planners seeking preserved flowers in Singapore.
Roses – With their enduring elegance, preserved roses are renowned for their timeless beauty. In Singapore, vibrant crimson roses stand out as a favored choice in preserved flower bouquets, infusing any arrangement with a touch of everlasting romance.
Gerbera Daisies – Gerbera daisies are unmistakable in preserved flower displays, thanks to their vivid and captivating hues. Available in an array of colors such as red, orange, white, pink, and golden yellow, each shade carries a unique significance. Yellow Gerbera daisies symbolize happiness, joy, cheerfulness, and innocence, while the pink ones convey feelings of gratitude and appreciation.
Cotton Flowers – Making waves in Singapore's preservation scene, cotton flowers are celebrated for their natural, fluffy appearance and enduring charm. These dried flowers infuse any space with a serene, calming ambiance.
Amaranth – Preserved dried amaranth flowers are a popular choice for vertical flower arrangements in Singapore. These exquisite blooms can be suspended or draped from the base of a vase or container, adding a distinctive and eye-catching element to any floral display. Their unique presence elevates the aesthetic appeal of any arrangement.
Lavender – Lavender is prized for its soothing fragrance and timeless beauty. Preserved lavender sprigs not only add a lovely aroma to your space but also bring a touch of rustic elegance to floral arrangements.
Hydrangeas – Preserved hydrangeas are known for their lush, full blooms and a variety of captivating colors. These enduring flowers can serve as a focal point in preserved flower arrangements, offering a sense of abundance and charm.
Eucalyptus – Eucalyptus leaves and branches are cherished for their natural fragrance and subtle, earthy tones. Incorporating preserved eucalyptus into your floral designs can infuse them with a refreshing and invigorating scent.
Peonies – Preserved peonies capture the romantic and luxurious essence of this beloved flower. Their soft, layered petals and subtle fragrance make them a sought-after choice for creating preserved flower bouquets and arrangements.
Orchids – Orchids are synonymous with exotic beauty and grace. Preserved orchids retain their intricate shapes and vibrant colors, making them an ideal choice for adding a touch of sophistication to preserved floral designs.
Sunflowers – Known for their bright and cheerful disposition, preserved sunflowers bring a burst of positivity to any space. Their vibrant yellow hues symbolize happiness and optimism, making them a popular choice for preserved flower arrangements.
Ferns – Preserved ferns offer a touch of nature's elegance with their delicate fronds. They can be used to add texture and a sense of organic beauty to preserved flower displays.
These diverse options allow you to create a wide range of preserved flower arrangements, each with its own unique charm and symbolism.
Benefits of Preserved Flowers
Preserved flowers offer long-lasting beauty, easy maintenance, and are suitable for any occasion.
Long-lasting beauty
Preserved flowers offer the allure of long-lasting beauty that can grace your space for years to come. Through a meticulous preservation process, these blooms retain their fresh appearance and vibrant colors, making them a truly enchanting sight.
With proper care and storage, preserved flowers can last up to several years, allowing you to enjoy their elegance without worrying about wilting or fading. Whether it's for home decoration or special occasions, the enduring beauty of preserved flowers adds a touch of elegance that will captivate your senses.
Suitable for all occasions
Preserved flowers are a versatile choice that is suitable for all occasions. Whether it's a birthday, anniversary, wedding, or celebration of any kind, preserved flowers add beauty and elegance to any event.
Their vibrant colors and lifelike appearance make them the perfect gift to express love, gratitude, or congratulations. No matter the occasion, preserved flower arrangements provide a lasting symbol of affection and thoughtfulness.
Low maintenance
Preserved flowers are the perfect choice for those seeking low maintenance floral arrangements. Unlike fresh flowers, preserved flowers do not require watering or pruning to stay beautiful.
They can retain their vibrant colors and delicate appearance without any regular care. This makes them ideal for busy individuals or those who may not have a green thumb but still want to enjoy the beauty of flowers in their home or office.
Environmentally friendly
Preserved flowers are a great choice for those who want to be more environmentally friendly. Unlike fresh cut flowers, preserved flowers have a lower carbon footprint because they don't require water or light to maintain their appearance.
This means that preserved flowers contribute less to carbon emissions and help reduce the overall environmental impact. By opting for preserved flowers, you can still enjoy the beauty of blooms while supporting sustainability efforts in Malaysia.
How to Choose the Best Preserved Flowers
Consider the occasion and recipient's taste for a truly meaningful gift that will last. Read on to discover more tips for choosing the finest preserved flowers in Malaysia.
Check for quality and authenticity – When choosing the best preserved flowers in Malaysia, it is important to check for quality and authenticity. Look for flowers that have been made from natural, high-quality floral breeds using state-of-the-art technology. These flowers undergo a high-tech preservation process to retain their beauty and extend their lifespan. Make sure to examine the flowers closely to ensure that they are well-preserved and free from any signs of decay or damage.
Consider the occasion and recipient's taste – When choosing the best-preserved flowers, it's important to consider the occasion and recipient's taste. Whether you're celebrating a birthday, anniversary, or expressing sympathy, selecting preserved flowers that align with the event is crucial.
Conclusion
Experience the enchantment of preserved flowers in Malaysia, a world where natural beauty endures through time. These remarkable botanical wonders offer a unique blend of enduring elegance, minimal upkeep, and an extensive array of versatile arrangements, making them the quintessential choice for any occasion.
Delve into the realm of preserved flowers, where the allure of nature remains eternally vibrant. Unlike their fresh counterparts, preserved flowers possess the remarkable ability to retain their exquisite beauty for an extended period. This means you can enjoy the splendor of these blossoms long after traditional flowers have wilted away, creating a lasting impression and a continuous source of joy.
FAQs
1. What are preserved flowers in Malaysia?
Preserved flowers in Malaysia are real blooms treated with a plant-based, biodegradable preservation fluid to maintain their natural beauty over time.
2. Where can I find these preserved flowers in Penang?
You can find premium quality preserved flower selections at several local florists across the region of Penang.
3. How long do preserved flowers last in glass containers?
Typically, when placed under optimal conditions and encased within glass vessels, preserved flowers can retain their freshness for months or even years.
4. Are there any special care instructions for those looking to purchase them?
While they don't need water or sunlight like regular blooms, it's best to keep your pristine petals away from direct sunlight, heat sources or high humidity environments for ideal longevity.