Children are natural explorers, and indoor playgrounds offer them a safe and exciting space to unleash their creativity and energy. In this guide, we will introduce you to the top 9 indoor playgrounds in Kuala Lumpur, as well as share tips for choosing the perfect play space for your little ones. Let's dive in!
Making the Most of Your Visit to an Indoor Playground
To ensure that your child has a fun and memorable experience at an indoor playground, consider the following tips:
Plan Your Visit
Visit during off-peak hours to avoid crowds and long waiting times
Check the playground's operating hours and special events before your visit
Allocate enough time for your child to fully explore and enjoy the playground
Dress Appropriately
Dress your child in comfortable, easy-to-move-in clothing
Bring socks or non-slip footwear, as many playgrounds require them for safety reasons
Avoid bringing accessories or loose items that could pose a safety hazard
Bring Snacks and Hydration
Pack healthy snacks and water to keep your child energized and hydrated during playtime
Check the playground's food policy, as some may not allow outside food and beverages
Take breaks to ensure your child stays nourished and rested
Supervise and Engage with Your Child
Keep an eye on your child to ensure their safety and well-being
Encourage your child to try new activities and challenges
Participate in play with your child to create a bonding experience
Follow Playground Rules and Etiquette
Abide by the playground's rules to ensure a safe and enjoyable environment for all visitors
Teach your child to respect other children's personal space and belongings
Report any unsafe behavior or hazards to the playground staff
By following these tips, you can ensure a positive and enjoyable experience for your child at any indoor playground in Kuala Lumpur.
Exploring Kuala Lumpur's Indoor Playground Scene
Kuala Lumpur's diverse selection of indoor playgrounds offers something for every child, from thrilling adventure parks to cozy and interactive play spaces. As a parent, it's essential to stay informed about new playgrounds, events, and promotions to provide your child with a variety of play experiences.
Join parent groups, subscribe to playground newsletters, and follow their social media channels to stay up-to-date with the latest happenings in Kuala Lumpur's indoor playground scene.
The Impact of Indoor Playgrounds on Child Development
Indoor playgrounds not only provide a fun and engaging environment for children but also contribute significantly to their overall development. Regular visits to indoor playgrounds can help children build essential physical, cognitive, social, and emotional skills that will benefit them throughout their lives.
By choosing the right indoor playgrounds and ensuring your child's safety and well-being, you can contribute positively to your child's growth and development.
With this comprehensive guide to the best indoor playgrounds in Kuala Lumpur, you are now equipped to choose the perfect play space for your child. Go ahead and explore the exciting world of indoor playgrounds, and watch your child thrive in these fun and enriching environments!
Top Indoor Playgrounds in Kuala Lumpur
KidZania Kuala Lumpur
KidZania is an interactive city designed for children, where they can learn and play through various role-playing activities. The indoor playground encourages children to develop essential life skills and explore future careers in a fun and engaging environment.
Berjaya Times Square Theme Park
Located in the heart of Kuala Lumpur, Berjaya Times Square Theme Park is an exciting indoor amusement park that offers a variety of thrilling rides and attractions for both kids and adults.
District 21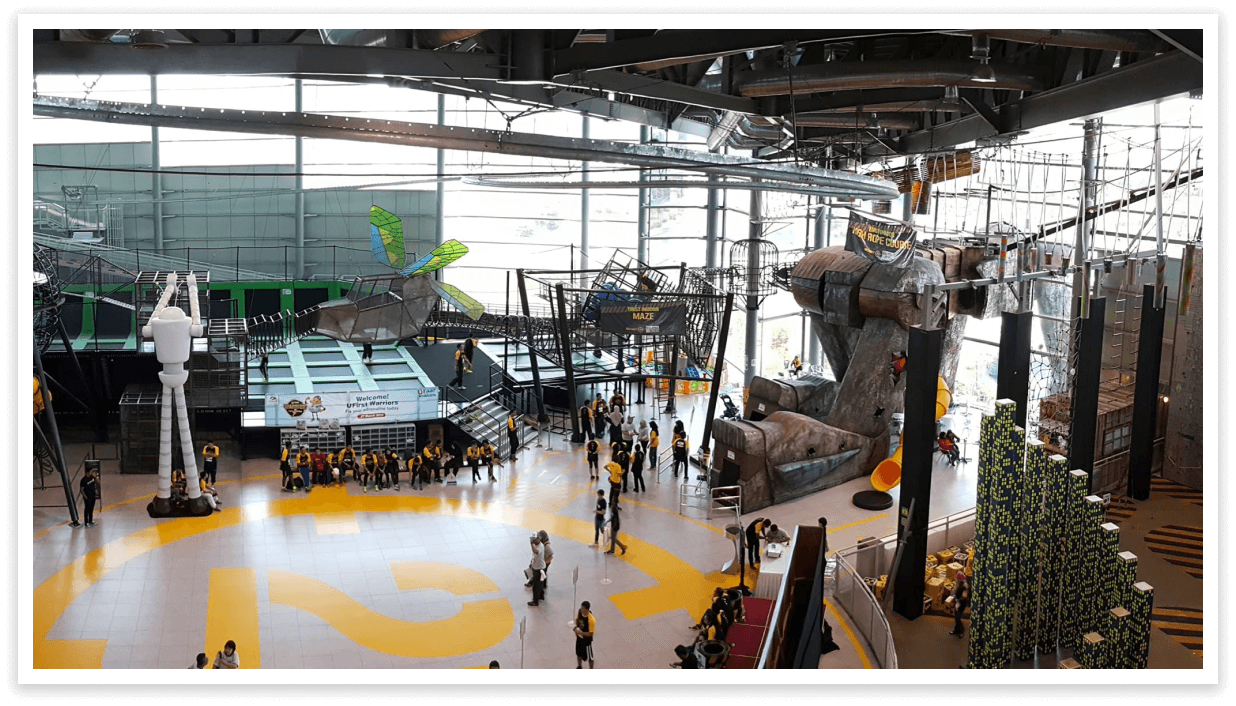 District 21 is an adventure-themed indoor playground that combines obstacle courses, climbing walls, and a variety of other thrilling activities to challenge and entertain kids and adults alike.
Jump Street Trampoline Park
Jump Street Trampoline Park is a massive indoor trampoline arena that offers endless bouncing fun and exciting activities for children and adults of all ages.
SuperPark Malaysia
SuperPark Malaysia is an all-in-one indoor activity park that features a wide range of sports, games, and adventure activities suitable for the whole family.
The Parenthood Playland
The Parenthood Playland is a family-friendly indoor playground that offers a variety of fun and educational activities for children up to 12 years old.
Molly Fantasy
Molly Fantasy is an indoor amusement park that offers a wide range of arcade games, rides, and attractions for children of all ages.
Dreamworld Playland
Dreamworld Playland is an indoor playground that offers a variety of fun and engaging activities, including slides, climbing structures, and imaginative play areas for children up to 12 years old.
Jungle Gym
Jungle Gym is a jungle-themed indoor playground that offers a wide range of play equipment, including slides, climbing structures, and a ball pit, suitable for children up to 12 years old.
Tips for Choosing the Perfect Indoor Playground
Safety Considerations
Inspect the play equipment and surfaces for any hazards
Ensure staff supervision is available
Check for appropriate safety certifications
Age-Appropriate Activities
Verify the age range for the playground and its attractions
Look for a variety of activities that cater to different age groups
Hygiene and Cleanliness
Observe the overall cleanliness of the playground
Check if hand sanitizer stations are available
Ask about the frequency of cleaning and sanitizing play equipment
Cost and Value for Money
Compare entrance fees and membership packages
Look for promotions or special offers
Ensure the variety of activities justifies the cost
Accessibility and Location
Verify the ease of access via public transportation or parking availability
Consider the proximity to other amenities such as food and beverage outlets
Benefits of Indoor Playgrounds
Physical Development
Improved motor skills
Enhanced strength and coordination
Cognitive Development
Problem-solving and decision-making skills
Creativity and imagination
Social and Emotional Development
Building friendships and social skills
Boosting self-confidence and independence
Kuala Lumpur offers a fantastic selection of indoor playgrounds that cater to a wide range of interests and age groups. With this guide, you can find the perfect play space for your child, ensuring a fun and enriching experience. So, go ahead and explore these exciting playgrounds with your little ones!
Frequently Asked Questions
1. What should I look for when choosing an indoor playground for my child?
Consider safety, age-appropriate activities, hygiene and cleanliness, cost, and location when selecting an indoor playground.
2. Are indoor playgrounds suitable for toddlers?
Yes, many indoor playgrounds in Kuala Lumpur have dedicated areas and activities specifically designed for toddlers.
3. How much does it cost to visit an indoor playground in Kuala Lumpur?
Prices vary depending on the playground and its offerings. Typically, entrance fees range from RM20 to RM50 per child.
4. Are there any indoor playgrounds in Kuala Lumpur that offer group discounts or special packages?
Yes, many indoor playgrounds offer group discounts, birthday party packages, and memberships for frequent visitors.
5. How long can my child play at an indoor playground?
Most indoor playgrounds have no time limit on play, but some may have specific time slots or charge extra fees for extended playtime.