Welcoming a baby into the world is an incredibly special moment, and finding the perfect gift to celebrate this occasion can be both joyful and overwhelming. With so many options available in Singapore, you might find yourself spoilt for choice when looking for newborn gifts that truly stand out.
In this comprehensive guide, we'll walk you through how to select the best baby gifts in Singapore by considering factors such as budget, functionality, personalisation options, and more.
We'll also introduce you to some fabulous local vendors who offer unique and memorable creations suitable for every taste – from charming onesies adorned with adorable graphics to customised birth announcement pillows guaranteed to earn a place of honour on any nursery wall.
How To Pick The Best Baby Gifts In Singapore
Choosing the perfect baby gift in Singapore can be a daunting task due to the vast array of options available, but with careful consideration of practicality, personalisation, and utilizing relevant keywords, you can find a remarkable gift that will bring joy to both the baby and their parents.
Consider practicality
Focus on gifts that serve a functional purpose such as clothing essentials, swaddles, and age-appropriate toys.
Personalisation adds a special touch
Look for personalised items like embroidered blankets with the baby's name or initials, engraved memory boxes, or keepsake ornaments to mark important milestones.
Utilise relevant keywords for easy searching
Search locally using keywords like "baby gifts [location]" or explore online options by searching for "newborn gifts near me" to find suitable options.
Consider a gift concierge for expert assistance
If feeling overwhelmed or short on time, consider enlisting the services of a gift concierge who can help find the perfect present.
39 best ideas for baby gifts & newborn gifts
To help parents looking for the perfect baby and newborn gift in Singapore, we have compiled a list of 39 creative ideas to make your shopping experience easier and more enjoyable. These ideas cater to different budgets, themes, and needs while still providing unique and memorable presents.
1. Personalised onesies
Dressing your newborn in a fashionable and cozy onesie, personalised with a custom message or design, is a fantastic option for their everyday clothing. This combination of style and comfort ensures that your little one stays both trendy and snug throughout the day, making it a delightful choice for their wardrobe.
2. Luxurious baby spa baby gift
Pamper a new mom and her precious bundle of joy with a lavish baby spa baby gift brimming with essential bath products and soothing aromatherapy items. This indulgent gift is a perfect way to create a serene and relaxing experience for both mother and baby, ensuring moments of pure bliss and tranquility.
3. Plush toy set
Soft and cuddly plush toys in a range of adorable animal shapes are perfect companions for the baby during playtime, ensuring hours of entertainment and snuggles.
4. Organic cotton clothing set
For the utmost comfort on delicate newborn skin, opt for environmentally-friendly clothing crafted from organic cotton, providing a soft and gentle touch.
5. Baby book gift set
Nurture a love for reading early on with a thoughtfully curated collection of engaging books specially designed to captivate and stimulate babies' senses and curiosity.
6. Memory book
Capture precious moments and milestones with a beautiful memory book, allowing parents to document and cherish their child's growth journey with heartfelt memories and photos.
7. Bath time essentials kit
Make bath time a delightful experience with a bundle of bathtime essentials such as hypoallergenic soap, shampoo, soft washcloths, and cozy hooded towels, ensuring a clean and soothing experience for the little one.
8. Custom name necklace/bracelet
Celebrate the baby's arrival with a keepsake personalised jewelry piece, engraved with their name or initials, to be cherished for years to come.
9. Wooden toy box filled with age-appropriate toys
Keep playtime tidy and enjoyable with an easy-to-organise wooden toy box, filled with age-appropriate toys that promote the child's development and learning.
10. Swaddle gift set
Wrap the baby in comfort and style with a collection of soft muslin swaddles adorned with adorable designs, providing a cozy cocoon for peaceful naps.
11. Diaper cake
Add a touch of practicality and creativity to the nursery with a decorative centerpiece crafted from diapers, artfully arranged around essential baby items like bottles and feeding utensils.
12. Milestone blanket photo prop set
Capture the precious growth milestones with monthly photoshoots using a trendy milestone blanket, creating stunning backdrops for those Instagram-worthy baby pictures that will be treasured forever.
13. Baby skincare essentials
Curate a luxurious baby gift filled with an array of gentle skincare products specially designed to keep the baby's delicate skin safe and nourished. From mild baby washes to hypoallergenic lotions and soothing balms, each item is carefully selected to provide a nurturing experience and protect the baby's precious skin from harsh chemicals.
14. Personalised storybook
Ignite the baby's imagination and create a treasured keepsake by designing a one-of-a-kind storybook where the newborn takes center stage as the main character. This personalised literary adventure will make bedtime stories even more special and engaging, fostering a love for reading and instilling a sense of wonder in the little one's early years.
15. Teething jewelry for mom
Introducing a stylish and functional accessory for new moms, these teething necklaces are not only fashion-forward but also serve a practical purpose. Designed with safe materials and textures for babies to chew on during teething discomfort, these necklaces offer soothing relief while adding a touch of sophistication to any outfit, making them a must-have for fashion-conscious moms.
16. Premium diaper bag
Stay organised and on-trend with a high-quality diaper bag that combines ample storage space, well-structured compartments, and a stylish design suitable for both moms and dads. This versatile bag ensures all essential items are easily accessible, from diapers and wipes to bottles and extra clothing, making outings with the baby a breeze while maintaining a fashionable appearance.
17. Handprint and footprint frame set
Preserve the fleeting moments of infancy with a heartwarming keepsake display frame, allowing parents to capture the baby's tiny handprints and footprints. Whether using ink or clay, these cherished imprints can be elegantly showcased, serving as a timeless reminder of those precious early years and the remarkable growth and development experienced by the little one.
18. Music box with lullabies
Create a serene and soothing environment in the nursery with an exquisite music box. Playing enchanting lullabies, this elegant piece adds a touch of charm to the baby's sleep routine. With its melodic tunes filling the air, the music box creates a calming atmosphere, helping the baby relax and drift into a peaceful slumber, making it a delightful addition to their bedtime rituals.
19. Mealtime gift set
Equip new parents for feeding adventures with a vibrant and practical set of bibs, utensils, sippy cups, and bowls. Featuring playful patterns and colors, these items not only make mealtime more enjoyable and engaging for the baby but also aid in developing their motor skills and self-feeding abilities. The durable and easy-to-clean materials ensure long-lasting use and make these feeding essentials a delightful addition to the baby's dining experience.
20. 3D casting kit
Create timeless keepsakes with this DIY casting kit, capturing baby's hands or feet in detailed molds that parents will treasure forever, preserving the memories of their little one's early years.
21. Play gym/activity mat package
Encourage developmental milestones through sensory play with an interactive playset featuring hanging toys, stimulating the baby's gross motor skills and providing hours of engaging fun.
22. Newborn photography gift card/voucher
Give new parents the gift of professional photography with a session dedicated to capturing the precious moments of their baby's early life, creating cherished memories to be cherished for generations.
23. Bath Time Baby Gift
Indulge in a complete bath time experience with this baby gift, including baby bath products and a soft towel, ensuring a fun and relaxing bathing routine that will leave the baby feeling fresh and content.
24. Designer Baby Shoes
Elevate the baby's style with a pair of designer baby shoes crafted from soft and baby-friendly materials, adding a touch of fashion-forward flair to their little wardrobe while prioritising comfort.
25. Baby Care Products Set
Pamper the baby's sensitive skin with a set of natural and hypoallergenic baby care products, including shampoo, body wash, lotion, and diaper cream, providing gentle care tailored to their specific needs.
26. Baby's First Teddy Bear
Introduce a soft and hypoallergenic plush teddy bear as the baby's first cuddly friend, offering comfort, companionship, and a sense of security during nap time and playtime.
27. Baby Photo Frame
Display a cherished picture of the baby in a beautifully crafted photo frame, creating a sentimental centerpiece for the nursery or living room, celebrating the joy and love that the little one brings to the family.
28. Musical Mobile for Baby Crib
Enhance the baby's sleep routine with a charming musical mobile, easily attached to the crib and playing soothing melodies to lull the baby into a peaceful slumber, while the delightful hanging toys provide visual stimulation and entertainment.
29. Baby Food Maker
Make meal preparation a breeze with a versatile kitchen appliance that steams, blends, defrosts, and reheats baby food, catering to parents who prioritise homemade meals for their little one. This all-in-one solution saves time and ensures nutritious options are readily available.
30. Baby's First Year Milestone Cards
Create lasting memories with a set of milestone cards designed to capture every special moment and development during your baby's first year. From first smiles to first steps, these cards serve as a charming keepsake for parents to cherish as their child grows.
31. Baby Gym
Promote your baby's motor skills and sensory development with an interactive baby gym featuring an assortment of hanging toys and a soft play mat. The engaging design encourages exploration, reaching, and grasping, fostering cognitive and physical development in a fun and stimulating way.
32. Baby Car Seat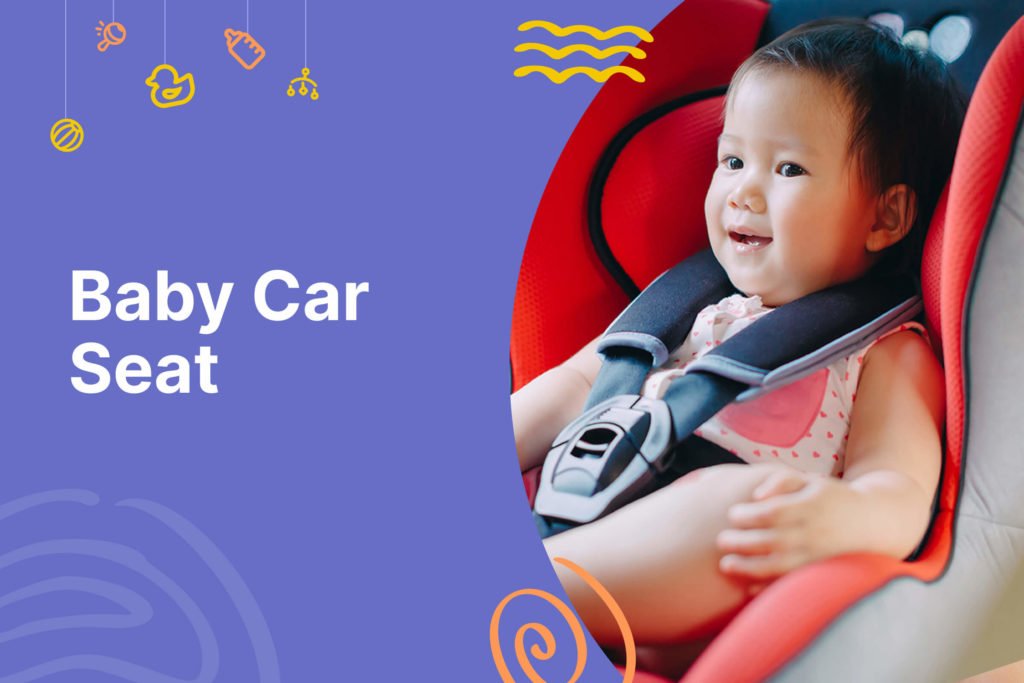 Prioritise safety during travel with a secure and comfortable baby car seat that meets the highest safety standards. This essential accessory provides peace of mind for families who frequently venture out on car journeys, ensuring the utmost protection for their little one.
33. Baby Monitor
Stay connected with your baby at all times with a reliable baby monitor equipped with high-quality video and audio capabilities. This invaluable device allows parents to keep a watchful eye and listen to their baby's sounds even when they are in a different room, providing reassurance and convenience.
34. Baby's First Cutlery Set
Introduce your baby to independent feeding with a cute and practical cutlery set specially designed for their small hands. These child-friendly utensils facilitate self-feeding and encourage the development of fine motor skills as your baby begins to explore a variety of solid foods.
35. Baby High Chair
Create comfortable and enjoyable feeding experiences with a sturdy and adjustable high chair that can adapt to your baby's growth. With its ergonomic design and easy-to-clean features, this essential piece of furniture ensures mealtime is a pleasant and hassle-free experience for both baby and parent.
36. Baby Walker
Support your baby's early steps with an interactive baby walker that offers stability and entertainment. The engaging toys and interactive features stimulate curiosity and help develop balance and coordination as your baby takes their first confident strides.
37. Baby Stroller
Navigate the world with ease using a lightweight and compact stroller that combines functionality and maneuverability. Whether taking a leisurely stroll in the park or embarking on shopping adventures, this convenient travel companion offers comfort and convenience for both parent and baby.
38. Baby Carrier
Keep your baby close and your hands-free with a comfortable and adjustable baby carrier. From newborns to toddlers, this versatile accessory allows for easy bonding, soothing, and multitasking while providing a secure and cozy environment for your little one.
39. Baby Diaper Bag
Stay stylish and organised on-the-go with a spacious diaper bag featuring multiple compartments. This chic accessory ensures that all your baby essentials, from diapers and wipes to bottles and clothing, are neatly organised and easily accessible, making outings with your little one a seamless and fashionable affair.
40. Baby Bedtime Hamper
Assemble a hamper focused on promoting a peaceful bedtime routine for the baby. Include items like a soft baby blanket, a sleep sack, a bedtime storybook, and a soothing nightlight or sleep sound machine.
41. Baby Nature Explorer Hamper
Create a hamper that encourages the baby's curiosity about nature. Include items such as a baby carrier or sling for outdoor adventures, a nature-themed baby book, a plush animal toy, a small plant or succulent, and a baby-sized sun hat or sunglasses.
42. Baby Fitness and Yoga Hamper
Curate a hamper that promotes baby fitness and yoga. Include items like a baby-sized yoga mat, baby-friendly exercise videos or guides, soft exercise balls, and baby-friendly exercise bands. You can also include a baby-friendly water bottle and a cute workout outfit.
43. Baby Language Learning Hamper
Put together a hamper that introduces the baby to different languages and cultures. Include items such as bilingual board books, flashcards with words from different languages, a baby-friendly world map or globe, and a set of baby-friendly musical instruments from different cultures. You can also include a CD or USB with nursery rhymes in different languages.
44. Baby Sensory Play Hamper
Encourage sensory development with a hamper filled with stimulating items. Include soft textured toys, sensory balls, baby-safe mirrors, and a variety of fabrics with different textures for the baby to explore.
45. Baby Eco-Friendly Hamper
Promote eco-consciousness from a young age with an eco-friendly hamper. Include organic baby clothing, reusable cloth diapers, baby-safe bamboo utensils, and a small potted plant for teaching the importance of sustainability.
46. Baby Fashionista Hamper
Elevate the baby's style with a fashion-forward hamper that includes trendy baby clothing, baby-sized sunglasses, and a baby-sized fashion magazine with adorable baby fashion tips and ideas.
Best baby & newborn gift vendors in Singapore
Raph & Remy
Raph&Remy offers a delightful selection of organic baby clothes, swaddles, and gift sets perfect for welcoming a new baby. Their collection features soft and gentle fabrics, ensuring utmost comfort for little ones. From adorable onesies and rompers to stylish accessories, Raph&Remy combines quality craftsmanship with sustainable materials to provide parents with eco-friendly options for their precious little bundles of joy.
Noel Gifts
Noel Gifts specialises in personalised gifts, including customised newborn gifts, teddy bears, and bottles. They pride themselves on creating unique and thoughtful presents that are tailored to the recipient. With an array of options to choose from, you can add a personal touch to your gift by including the baby's name or initials. Noel Gifts strives to make each gift extra special and memorable, making it the perfect choice for celebrating the arrival of a new baby.
The online store is a dedicated shop to offer different sets of toys (for newborn babies). The founder of the company established the shop upon personal experience. When their first baby was born, they got many gifts, hampers, and soft toys. However, the newborn baby gift included a set of toys that will help them educate their child. From there, they want to pass on that gesture and help other newborn parents. It is a trustworthy shop that offers high-quality baby gift products at affordable prices.
Nuzzlings.sg
Nuzzlings.sg offers a wide selection of cute and cozy blankets, bibs, and onesies for babies, along with adorable gift sets perfect for new parents. Their products are crafted with care, ensuring both comfort and style for little ones. Whether you're looking for a practical gift or a charming keepsake, Nuzzlings.sg has something to suit every taste. With their attention to detail and commitment to quality, their products are sure to bring smiles to both babies and parents alike.
Le Petit Society
Le Petit Society is an online boutique that offers a charming selection of children's clothing, accessories, and lifestyle products. With a focus on quality and style, their collection features adorable and comfortable pieces for babies and kids. From trendy outfits and cozy sleepwear to playful accessories and thoughtful gifts, Le Petit Society provides a range of options to suit different tastes and occasions. Whether you're looking for everyday essentials or special occasion attire, Le Petit Society offers a delightful shopping experience for parents and their little ones.
Diaper Cakes Singapore
Diaper Cakes Singapore creates beautiful diaper cakes made up of quality baby products that serve as both decorative pieces and functional gifts. These carefully crafted arrangements are a delightful alternative to traditional baby gifts, featuring a tiered design made from diapers and adorned with an assortment of baby essentials. From onesies and bibs to plush toys and bath products, each diaper cake is thoughtfully curated to provide practical items for new parents while adding a touch of whimsy elegance to any baby shower or newborn celebration.
Little Flower Hut
Little Flower Hut provides flower arrangements paired with baby essentials that make an excellent present for mothers in recovery or to celebrate a new arrival. Their creative floral designs incorporate baby items such as diapers, onesies, and blankets, combining the beauty of flowers with practical and adorable baby products. Each arrangement is carefully handcrafted to create a stunning visual display while also providing useful items for the new parents. Little Flower Hut aims to bring joy and warmth to any new family with their thoughtful and creative gift options.
Angel Florist
Angel Florist offers affordable baby hampers to welcome newborns into the world, featuring items like plush toys, clothing sets, and diaper bags. These beautifully curated hampers are designed to provide new parents with essential baby products while adding a touch of luxury. Angel Florist's attention to detail and commitment to quality ensures that each hamper is meticulously put together, making it a wonderful gift for celebrating the arrival of a new baby.
Little Baby
At Little Baby, you can find a diverse selection of baby products suitable for various needs and preferences. From diapers and clothing to feeding accessories and nursery furniture, they strive to cater to all aspects of a baby's care and well-being. Whether you are a new parent or looking for the perfect gift for a baby shower, Little Baby offers a comprehensive range of options to meet your requirements.
Joytots
At Joy Tots, you can find an extensive selection of toys that cater to various preferences and developmental stages. From educational toys that foster learning and creativity to fun-filled playsets and games, they strive to offer something for every child. Whether you're looking for engaging puzzles, imaginative role-play toys, or outdoor play equipment, Joy Tots aims to provide a comprehensive collection to meet your child's playtime needs.
My Baby Gift
My Baby Gift specialises in customising hampers based on personal preference or occasion, but they also offer various ready-to-purchase bundles featuring luxurious skincare products from brands like Mustela and Burt's Bees Baby.
Blushing Confetti
Blushing Confetti features a range of stylish baby milestone cards, nursery printables, and customised name tags that make an excellent addition to any gift hamper or nursery decor. Their beautifully designed cards capture important moments and milestones in a baby's life, allowing parents to document and cherish precious memories.
Pupsik Studio
Pupsik Studio stocks high-quality essentials such as baby carriers, nursing pillows, and bibs that offer both functionality and a quality design aesthetic while providing maximum comfort for both parents and babies. Their products are carefully curated from trusted brands known for their commitment to safety and comfort.
Simply Hamper
At Simply Hamper, you can explore a diverse selection of hampers carefully crafted to cater to different tastes and preferences. Whether you're looking for a gourmet food hamper, a luxurious spa hamper, or a baby shower hamper, they have an array of options to suit every occasion and recipient. Each hamper is thoughtfully assembled with high-quality products, ensuring a memorable gifting experience.
Lovingly Signed
Lovingly Signed is a renowned vendor specialising in personalised gifts that add a touch of uniqueness and thoughtfulness to your special moments. With a commitment to creating memorable keepsakes, Lovingly Signed offers a wide range of personalised gift options to celebrate and cherish life's milestones.
Chalk and Chakras
Chalk & Chakras is a unique online boutique that offers a curated collection of conscious products for children and families. Their story is rooted in the belief that children's well-being can be nurtured through mindful and sustainable choices. With a focus on ethically sourced and eco-friendly items, Chalk & Chakras aims to inspire conscious parenting and create a positive impact on the planet.
Final Words
In conclusion, when it comes to finding the best ideas for baby gifts and newborn gifts in Singapore, there is a wide range of vendors and options to choose from. Each vendor brings its unique offerings and specialises in different types of gifts, ensuring that there is something for every parent and baby.
Whether you're celebrating the arrival of a new baby, attending a baby shower, or simply wanting to surprise new parents, these vendors offer a diverse range of options to suit every taste and preference. From practical essentials to stylish and unique gifts, you can find the perfect baby gifts and newborn gifts in Singapore.
So, explore the options, consider the preferences of the parents, and choose a gift that will bring joy and convenience to the new family. Celebrate this precious moment and make memories that will last a lifetime with the best baby gifts and newborn gifts available in Singapore.