The experience of becoming a parent is incredible. And planning a baby shower in Singapore is sure to be a top to-do list to celebrate, where your friends, family, and close relatives will come to shower with gifts for the new parents.
To let visitors know the baby's gender, the baby shower program is often held four to six weeks before the estimated due date. If you are, what could be the best gift you give to celebrate the moment? If you are looking for a reliable online store to buy baby shower gifts, consider Blissbies.
Most people need clarification in selecting an ideal baby shower gift. If you need to learn what can be the best baby shower gift, don't worry. We will help you out. We have put together 56 ideas for Singapore's best baby shower gifts.
We hope you enjoy reading it! With this article's help, we hope you can select a gift that everyone will appreciate.
How do you pick the best baby shower gifts in Singapore for your loved one?
It is a wonderful opportunity to show loved ones great love and support whenever a new baby is welcomed into the world. Personalized baby shower gifts demonstrate additional thought and care, and they are more likely to be kept as a keepsake in the family.
But choosing a perfect baby shower gift takes work. There are a number of problems arise when you try to buy baby shower gifts in Singapore:
A lot of options
Not sure what the parents will like
Product Quality
Whether it is baby or mommy fit
Want to avoid repeatable purchases by the parents
You have no idea what kind of gift you have to choose for the baby shower program
You don't know where to buy
If a family member or a close friend is expecting a child, you will want to select the most beautiful and useful baby shower gift you can find. Besides, you have to make sure the parents should appreciate the gift.
Traditionally, baby clothes and nappies have been the most popular baby gifts, but these days, expectant mothers appreciate learning about new products that will make their lives easier. But if you want to select something special, here are a few things you should keep in mind.
Newborn safe: The most important part of selecting a baby shower is ensuring the gift is safe for the baby. Before selecting a gift, check the build-in material of the product is safe for the child.
Take into account gender: When choosing the patterns and colours for your baby's gifts, you may want to consider whether the parents-to-be are expecting a boy or a girl if they already know the gender of their child. It will help you to select between baby boy gifts and baby girl gifts.
Affordable: You can only go up to your budget while choosing a gift. You must select the best gift that is quality and within your budget.
Good Quality: No one will appreciate your gift if it does not last long. Buy a quality product that will sustain you for years.
Useful for the parents and babies: Make sure the gift is useful for the parents and babies. The couple will appreciate it if you give functional baby shower gifts.
Able to be used for a while, rather than fancy only: Give the new parents a present they will be able to use for many years to come. Rather than selecting something fancy, give them something that they use for a while. Keep these in mind while selecting the best baby gifts.
Inquire about the registry: A baby shower registry or wish list is a convenient way to find out what the parents-to-be require, what they desire, and how they prefer their items to be presented. If the couple has made a registry, you can take help from that to select newborn baby gifts.
56 ideas for best baby shower gifts in Singapore
1. Mum Care Gifts
Baby showers are occasions not only to celebrate the impending addition of a new family member but also to celebrate the expectant parents. Why not choose a present tailored specifically to the expectant mother while you're out shopping for baby shower gifts?
During pregnancy, a moisturizing lotion or oil can be a nice treat, making it an excellent gift for first-time mothers to receive at baby showers.
A first-time mother who is still adjusting to the ongoing changes to her body or wants to be able to nurse her child easily and comfortably may find that post-pregnancy dress very helpful in managing their current situation.
Besides, you can give them skin care products. Mum care products can be an ideal choice for new mum gifts in Singapore. You can choose a variety of mum care products from Blissbies.
If you are looking for the best gift for a baby shower occasion, consider buying a hamper. Most Singapore parents appreciate the baby hamper as a newborn baby shower gift. There are so many hampers available to choose from. But make sure you choose a hamper that is ideal for a baby.
Besides, you have to make sure all the items in the hamper are useful for the babies. In that case, you can choose the ideal hampers from Blissbies.
3. Portable Changing Mat
A portable changing mat is one of the best baby shower gifts you can give in Singapore. It is a must-have for any parent on the go and makes a great addition to any diaper bag. A portable changing mat is a mat that can be easily folded and carried with you wherever you go. It is usually made of waterproof material, making it an ideal gift for a baby shower program.
4. Custom Wooden Name Blocks
Another great gift idea for a baby shower is custom engraved wooden name blocks. These blocks are a unique and personal way to celebrate the arrival of a new baby. Each block is made from high-quality wood and can be engraved with the baby's name or initials. Not only are they thoughtful keepsakes, but they also make for a beautiful and stylish addition to any nursery. These blocks are sure to be cherished by both the parents and the child for years to come.
5. Swaddle
Swaddling is a common method of soothing and comforting a young child before bedtime. To prevent suffocation, only their body should be wrapped, not their neck or head. It's not uncommon for swaddles to be given as part of a baby shower gift registry. Choose a swaddle that will keep the upcoming baby warm and snug, but don't skimp on comfort.
6. Stroller Organiser Bag
A stroller organizer bag is one of the best baby shower gifts you can give a new mom in Singapore. It's a must-have for any mom who wants to keep her baby's things organized and within reach while on the go. There are many styles and designs of stroller organizer bags available, so you can find one that fits the new mom's lifestyle and needs.
Some features to look for include:
Insulated pockets for bottles or snacks
A place to store diapers and wipes
A zip-top closure to keep everything securely in place
A strap that attaches the bag to the stroller handle for easy carrying
Giving a new mom a stroller organizer bag is a thoughtful way to help her keep her baby's things organized and within reach while she's on the go.
7. Baby Comforter
Baby blankets are among the best baby shower gift ideas that expectant parents in Singapore will undoubtedly find beneficial. They aid in calming the infant and make sleep training much simpler! Award-winning baby bedding with velcro paws that can cling onto objects like soothers and teethers is the Sleepytot Big Bunny Baby Comforter.
These products can also aid in calming the infant. With the ability to accompany their child from birth, new parents will greatly appreciate this baby shower gift idea.
8. Baby Books
It's never too early to begin building your child's tiny library! In Singapore, classic children's books or board books make wonderful baby shower presents in addition to entertaining, educational toys. Children will adore interactive novels, such as those with textures.
Besides, waffles are also a great gift as a baby shower gift. It allows the parents to captivate their young loved ones with the rabbit rattle while they read stories about dinosaurs and sea creatures from the fabric book. You can buy quality crafted waffles from Blissblies.
9. Baby Carrier
There are a few things to consider when purchasing a baby carrier. The most important factor is comfort, both for you and your baby. You'll also want to ensure the carrier is durable and easy to use. Here are a few of the best baby carriers available in Singapore: baby Wraps Wrap is made from soft, stretchy fabric that is comfortable for you and your baby.
It's also easy to use and can easily adjust to fit different body types. You can select a wide range of baby carriers from the pupsikstudio online store.
10. Baby Car Seat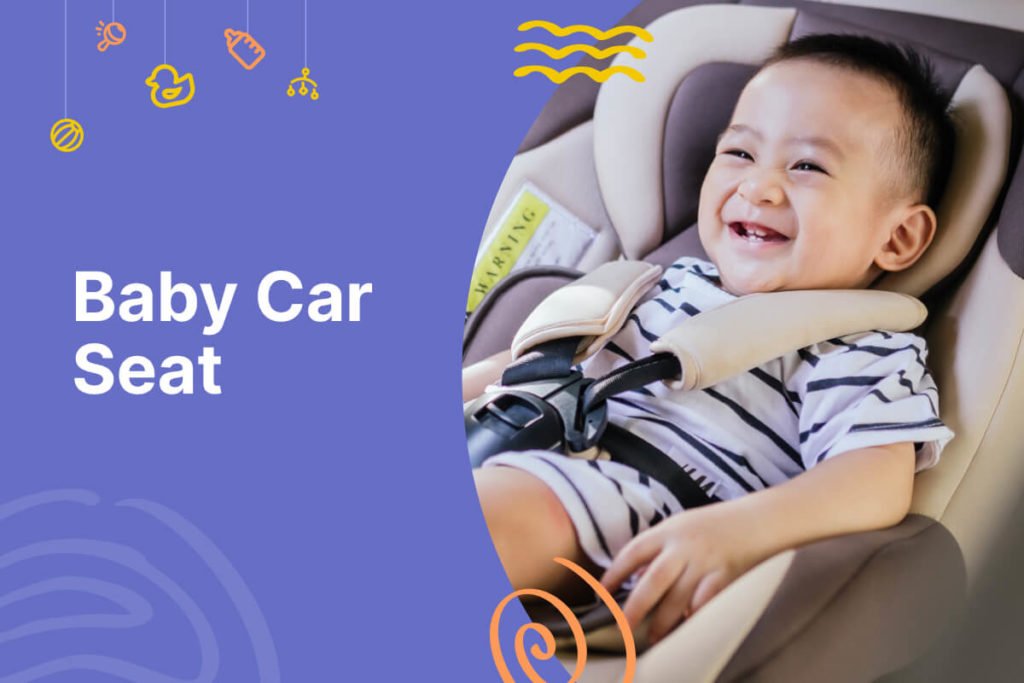 A baby car seat is one of the best gifts you can give to a new parent. It is an essential item that will keep their baby safe while driving. There are many different car seats available, so choosing one appropriate for the child's age and weight is important. When choosing a car seat, it is important to consider the available safety features.
11. Baby Monitor
There are so many different baby monitors available on the market these days. Knowing which is the best for your needs can take time and effort. If you are looking for the best baby monitor for your home in Singapore, here are some things to keep in mind.
First, consider what type of monitor you need. There are two main types of baby monitors: audio and video. Audio monitors allow you to hear your baby, while video monitors also let you see your baby.
12. Baby First-year Photo Frame
Consider giving the Baby First Year Photo Frame to first-time parents in Singapore as a baby shower present. As they observe their precious jewel develop with each passing month, new parents would adore documenting each milestone. There are also many blank areas for parents to record notes about their child's development.
But the possibility of leaving a hand and foot impression is what we adore most about this baby shower present suggestion. The baby photo frame is a wonderful method for parents to reminisce about the joy and excitement their child brought into their lives.
13. Travel Crib
Babies can sleep well even when they are away from home with the help of this portable Crib. The Joie Allura Travel Crib is straightforward to fold. The cot can be folded with only one push and easily fit in a large suitcase. We also appreciate that this travel cot contains a bassinet that can be removed, making it ideal for use as the child ages. This will undoubtedly be a wonderful baby shower present for Singapore's new parents!
Baby Montessori toys are ideal gifts for baby shower gifts. If you don't know the gender of the upcoming child, then Montessori toys can be a great choice. The toys can be used for baby boy gifts and baby girl gifts.
The materials of the toys are completely safe for the children. Blissblies offer the most versatile and quality Montessori toys in Singapore.
15. Baby Knee Pads
Babies like crawling and discovering everything there is to see, but it is best to purchase knee protectors to shield their knees from scratches and bruises. The best baby shower gift for new parents in Singapore is the Sunday Hug Baby Knee Pads, which can be purchased from the Sunday Hug Official Store.
16. Nursing Pillow
Nursing pillows will be useful if the expectant mother plans to breastfeed! While breastfeeding, the infant can rest on it, reducing stress on the mother's shoulders and back.
For a baby shower present suggestion in Singapore, we suggest this My Brest Friend Baby Nursing Pillow, available in the Baby Kingdom Official Store. It will make nursing sessions more comfortable for new mothers.
17. Baby Gift Set
Consider gifting a beautifully curated baby gift set that includes essential items for the newborn. It can include items like baby clothes, bibs, blankets, mittens, socks, and a soft toy. Look for sets made from organic materials for an eco-friendly touch.
18. Baby Diaper Cake
Diaper cakes make for a practical and visually appealing gift. These are arrangements of diapers stacked and shaped like a cake, often decorated with baby essentials such as pacifiers, socks, and baby wash. They serve as both a decorative centerpiece and a useful gift.
19. Personalized Baby Keepsakes
Opt for personalized baby keepsakes such as customized photo frames, baby handprint kits, or engraved baby name or birthdate jewelry. These sentimental gifts can be cherished for years to come and hold a special place in the parents' hearts.
20. Baby Care Subscription Box
Surprise the parents-to-be with a subscription box specifically designed for baby care products. These boxes often include a selection of baby essentials such as diapers, wipes, baby skincare products, and feeding accessories. The convenience of having these items delivered regularly can be a great relief for new parents.
21. Baby Spa Experience
Treat the parents-to-be and their little one to a baby spa experience. Look for a reputable baby spa in Singapore that offers gentle massages, hydrotherapy sessions, and soothing activities for babies. This unique and relaxing gift will provide a memorable and enjoyable experience for the whole family.
22. Baby Grooming Kit
A baby grooming kit is a practical and essential gift that assists the parents in maintaining their baby's hygiene. The kit typically includes baby nail clippers, soft hairbrushes, safety scissors, and a nasal aspirator. These grooming tools ensure that the baby stays clean and comfortable, making it a valuable addition to the parents' baby care arsenal.
23. Baby Food Maker
A baby food maker or steamer/blender combo is a fantastic gift for parents who prefer to make homemade baby food. This versatile appliance allows them to prepare fresh and nutritious meals for their little one easily. The ability to control ingredients and flavors ensures that the baby gets a wholesome and personalized diet as they start solids.
24. Gift Cards or Vouchers
If you're unsure about specific items or the parents' preferences, consider giving gift cards or vouchers for baby stores. This allows the parents-to-be to choose what they need or desire for their baby, ensuring they get something truly useful and appreciated.
25. Baby High Chair
A baby high chair is a practical gift that becomes an essential item once the baby starts solid foods. Look for a high chair with adjustable height and a comfortable, secure design. Some high chairs also come with removable trays and easy-to-clean materials, making mealtime a breeze for the parents.
26. Bedtime Hamper
This bundle is thoughtfully curated to ensure a serene bedtime experience for your baby. It comprises a cozy baby sleeping bag, enchanting bedtime storybooks, and a soothing night light, all aimed at creating a comforting and peaceful sleep environment for your little bundle of joy.
27. Newborn Bodysuit
For fashion-forward and eco-conscious moms, the Babygrow Bodysuit is an indispensable wardrobe staple. Meticulously designed with a perfect blend of style and sustainability, it ensures that dressing your little ones is both delightful and environmentally friendly.
28. Baby Outdoor Adventure Hamper
With these must-haves, you can embark on exciting journeys with your little one, making unforgettable memories together in the great outdoors. A perfect baby shower gift for new moms.
29. Baby DIY Handprint/Footprint Kit
Introducing a cherished keepsake complete with a baby-safe ink pad and frames, allowing you to capture and preserve those precious handprints and footprints forever.
30. Baby Massage Set
One of the best baby shower gifts you can give to new moms. Help promote relaxation and bonding between the baby and parents with a baby massage set. It usually includes baby-safe massage oils and a guide for gentle massage techniques.
31. Diaper Bag Backpack
A practical and stylish diaper bag backpack is an essential for parents on the go. Look for one with multiple compartments and insulated pockets to keep baby essentials organized and easily accessible.
32. Baby Teething Toys
Provide relief during teething with safe and soothing teething toys made from non-toxic materials. Look for textured designs that are easy for the baby to hold and chew on. New mom and her baby will surely love this baby shower gift.
33. Baby Car Mirror
Another baby shower gift idea is a baby car mirror. A rear-facing baby car mirror allows parents to keep an eye on their little one while driving, providing them with peace of mind during car journeys.
34. Baby First Aid Kit
Gift the parents a well-equipped baby first aid kit with essential items like a digital thermometer, nasal aspirator, band-aids, and baby-safe medication.
35. Baby Monthly Milestone Stickers
These cute stickers can be placed on the baby's onesies to mark each monthly milestone. They make for adorable photo keepsakes.
36. Baby Travel System
If you're looking for a larger group gift, consider contributing to a baby travel system that includes a stroller, car seat, and travel accessories.
37. Baby Night Light Projector
A night light projector that displays soothing images and plays gentle lullabies can create a calming bedtime routine for the baby.
38. Baby Waterproof Bibs
These practical bibs help keep the baby's clothes clean during mealtime and are easy to clean after use. This is by far one of the best baby shower gifts out there.
39. Baby Socks and Booties Set
Choose a set of adorable and cozy baby socks and booties that will keep the little one's feet warm and snug.
40. Baby High Chair
A sturdy and adjustable high chair is a useful gift for when the baby is ready for solid foods and family mealtimes.
41. Baby Gym or Playmat
Stimulate the baby's senses and development with a colorful and interactive baby gym or playmat. It provides a safe and enjoyable space for the baby to play and explore.
42. Baby Noise Machine
A portable baby noise machine can help create a soothing environment and drown out unwanted noises, aiding in the baby's sleep.
43. Baby Onesies
Onesies often feature convenient snap closures at the crotch area, making diaper changes a breeze without requiring the baby to fully undress. This feature is especially helpful during those frequent diaper-changing moments.
44. Baby Sunscreen
Protect the baby's delicate skin from harmful UV rays with a gentle and baby-safe sunscreen.
45. Baby Proofing Kit
A comprehensive baby proofing kit with safety essentials like cabinet locks, edge guards, and electrical outlet covers helps create a safe home environment.
46. Baby Playpen
A safe and comfortable baby playpen offers a secure space for the baby to play and explore, especially when the parents need a moment of rest.
47. Baby Carrier Rain Cover
For parents who love outdoor adventures, a baby carrier rain cover protects the baby from unpredictable weather conditions.
48. Baby Bathrobe and Towel Set
Wrap the baby in a soft and adorable bathrobe and towel set after bath time for cozy comfort.
49. Baby Travel Bed
A portable baby travel bed or a baby travel cot ensures a safe and familiar sleeping space for the baby when away from home.
50. Baby Food Storage Containers
Opt for reusable and BPA-free baby food storage containers to store homemade baby food.
51. Baby Tummy Time Mat
A comfortable and padded tummy time mat encourages the baby to strengthen their neck and upper body muscles.
52. Baby Bath Toys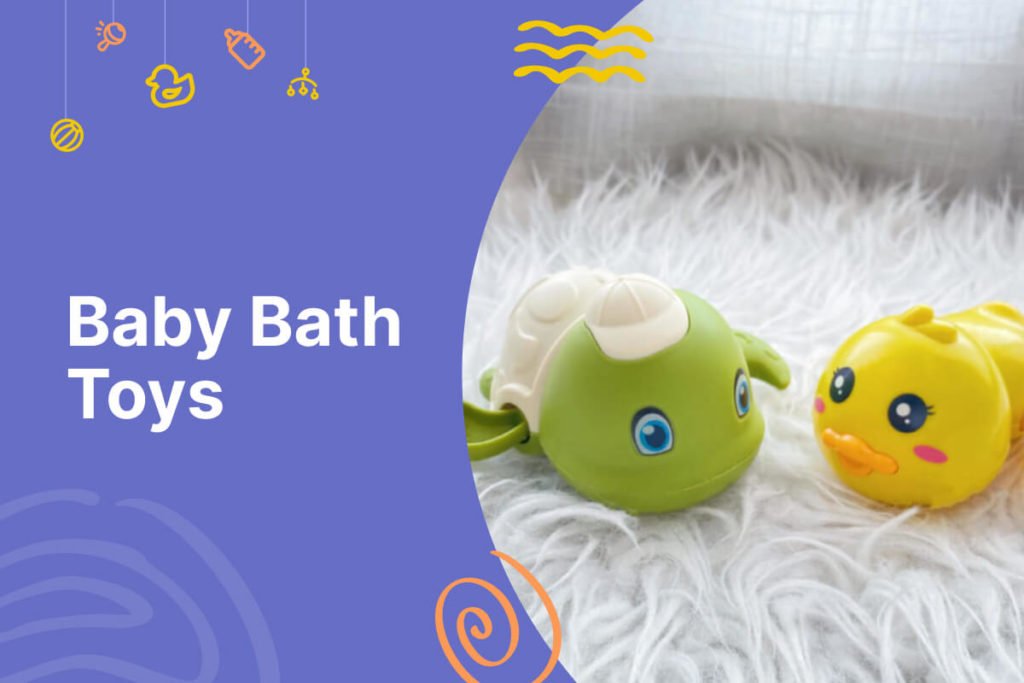 Ideal for pool days, baby swim toys are designed to help your babies enjoy their bath time.
53. Baby Pacifier Clips
Keep pacifiers clean and within reach with cute and practical pacifier clips that attach to the baby's clothing.
54. Baby Bathtub
A specially designed baby bathtub with a contoured shape and slip-resistant surface makes bath time safer and more enjoyable.
55. Baby Drying Rack for Bottles
An efficient drying rack for baby bottles and accessories keeps everything organized and hygienic.
56. Baby Food Freezer Trays
These trays with individual compartments allow parents to freeze and store homemade baby food in convenient portions.
Best baby shower gift vendors in Singapore
The online store is a dedicated shop to offer different sets of toys (for newborn babies). The founder of the company established the shop upon personal experience. When their first baby was born, they got many gifts, hampers and soft toys. However, the newborn baby gift included a set of toys that will help them educate their child. From there, they want to pass on that gesture and help other newborn parents. It is a trustworthy shop that offers high-quality baby gift products at affordable prices.
Use discount code FIRST10 during checkout to get 10% off today.
| | |
| --- | --- |
| Gift type | Educational & learning toys |
| Gift price | S$35.00-$79.00+ |
| How to order | Via website |
| Ships to which country | Singapore & Malaysia |
| Shipping fee | Shipping fee is free for Singapore and Malaysia |
Celine and Jeff discovered Happie Diapers while looking for the best diaper for their baby. Happie Diapers' product and service offerings have grown over time.
| | |
| --- | --- |
| Gift type | Baby diapers, baby carriers, new mom gifts, etc |
| Gift price | S$4-$75 |
| How to order | Via website, facebook page |
| Ships to which country | Everywhere in Singapore |
| Shipping fee | Free for Singapore if your order is above $80 |
Mumpreneur Valene was motivated to create the Reusable Silicone Coloring & Dining placemat after observing that children in today's world spend a lot of time in front of screens and have less interaction with their parents during mealtimes. This placemat is designed to both entertain children and encourage interaction between children and their parents.
| | |
| --- | --- |
| Gift type | Baby surprise box, special design mats etc |
| Gift price | S$9-$25 |
| How to order | Via website |
| Ships to which country | All over Singapore and internationally |
| Shipping fee | Shipping fee is free for Singapore For express delivery $12For for other countries it depending on your location |
Pupsik is the most popular online store in Singapore that sells toys, and goods for children and infants. They want to make your experience as a parent simpler and more enjoyable by providing you with an extensive product selection at affordable pricing. You will get a wide range of baby gifts here:
| | |
| --- | --- |
| Gift type | Baby comforter, travel crib, nursing pillows etc |
| Gift price | S$32-$44 |
| How to order | Via website |
| Ships to which country | Singapore. |
| Shipping fee | Orders <= S$60 fee S$4.90 *Orders > S$60 charge is free |
Liron (mother of four children) is the woman behind the creation of MyBabyGift Premium Baby Hampers. The company is based in Singapore. It was founded with the goal of establishing a one-of-a-kind online baby gift store that would be exclusively devoted to the distribution of opulent personalized baby hampers and gift sets to newborns as well as the parents of these children.
| | |
| --- | --- |
| Baby Shower Gift name | Personalized baby gift hampers |
| Baby Shower Gift price | The price depends according to your requirements |
| How to order | Via website, email info@mybabygift.com.sg or by phone +65 98339818 |
| Ships to which country | Singapore, Australia, China, Hong Kong SAR, Indonesia, Malaysia, Philippines & Thailand |
| Shipping fee | The delivery charge will depend on your location |
Motherswork is a popular baby and maternity store in Singapore. They have multiple locations and offer a wide range of baby products, including clothing, strollers, nursery furniture, and toys.
| | |
| --- | --- |
| Gift type | Varieties of items for kids and babies |
| Gift price | Varies |
| How to order | via website |
| Ships to which country | Singapore |
| Shipping fee | Free Delivery above $60 |
The Elly Store is known for its cute and whimsical baby and children's clothing. They offer a range of adorable outfits, accessories, and gifts for babies and toddlers.
| | |
| --- | --- |
| Gift type | Varieties of items for kids and babies |
| Gift price | Varies |
| How to order | via website |
| Ships to which country | Singapore and international – specific range of items only |
| Shipping fee | FREE shipping via standard courier in Singapore with every S$100 purchased |
First Few Years is a one-stop destination for baby essentials. They have a vast selection of baby products, including feeding accessories, diapering supplies, safety gear, and developmental toys.
| | |
| --- | --- |
| Gift type | Varieties of items for kids and babies |
| Gift price | Varies |
| How to order | via website |
| Ships to which country | Singapore |
| Shipping fee | Free Delivery Above $60 |
| | |
| --- | --- |
| Gift type | Varieties of items for kids and babies |
| Gift price | Varies |
| How to order | via website |
| Ships to which country | Singapore |
| Shipping fee | Next day delivery for $60 |
Baby Kingdom is a well-known baby store in Singapore that offers a wide range of baby products and gifts. They have both physical stores and an online presence, providing convenience for shoppers.
| | |
| --- | --- |
| Gift type | Varieties of items for kids and babies |
| Gift price | Varies |
| How to order | via website |
| Ships to which country | Singapore |
| Shipping fee | Free shipping for orders over $60 |
Final Words
When you know that your loved ones are arranging a baby shower party for their upcoming child, you want to buy the most adorable gift for them. But selecting the right gift within the budget is not easy for most of us. Hope the article will be helpful for you in choosing the right gift for a baby shower program. Make sure you select a gift that is useful for both babies and parents.
If you are looking for the best affordable online store to get baby shower gifts Singapore, you should consider Blissbies. If you are buying your first gift from Blissbies, use FIRST 10 coupon code to get a 10% discount.
Get the best quality baby shower gifts at a reasonable price.