Are you invited to a baby's birthday or baby shower? Want to bring something special which makes beautiful memory for your loved ones? But you are confused about where to go in Singapore to buy baby hampers. No worries!
Whether you're a close friend or a close relative, you may feel confused to see many choices available and what parents will like most, as well as the product quality, sizes of shoes, and clothes in newborn baby gifts. And so, you always need to pick good quality baby gifts for your loved one.
We know it can be difficult to choose baby gifts from the wide variety available. They should be safe from choking, ingesting-, and dropping. Keep in mind that the baby gift you choose for the kid should be safe and helpful to their development, especially their brain.
Don't have much time to go to the market to get a baby hamper in Singapore? Just stop here! You can buy newborn baby gifts from Blissbies which offers many options for your toddlers. To celebrate the new addition of a baby to your family, it's the best time to get a fascinating present for the little baby.
We have compiled a list to help you when you have limited time to take a baby gift. So without any future ado, let's get started;
How Do You Pick a Newborn Hamper in Singapore?
Finding the perfect newborn baby hamper Singapore that includes everything on your wish list is not as easy as stealing candy from a baby, especially if you want to give a present that is meaningful and useful for the new parents and their baby.
Below are the proper criteria that can be helpful for you while choosing the hamper:
Safety and Quality: The safety and quality of the items in the hamper should be the top priority. Look for reputable brands and products that meet safety standards, especially for baby essentials like clothing, toys, and skincare items.
Age-Appropriateness: Make sure the items in the hamper are suitable for newborns. Newborns have specific needs, so opt for products designed for their age group.
Essential Items: Focus on hampers that include essential items for newborn care, such as diapers, baby wipes, baby clothing, receiving blankets, and grooming essentials.
Practicality: Choose a hamper with practical items that will be useful for new parents. Consider including items like feeding bottles, pacifiers, burp cloths, and baby care products.
Personalization: A personalized touch adds sentimental value to the gift. Look for hampers that allow you to include the baby's name or initials on some items, like blankets or onesies.
Theme and Presentation: Consider the theme and presentation of the hamper. Themes like baby animals, floral designs, or pastel colors are often popular choices for newborn hampers. Additionally, a well-presented hamper makes for an attractive gift.
Delivery Options: Check the delivery options and costs if you're ordering the hamper online. Ensure it can be delivered to the recipient's location in Singapore in a timely manner.
Reviews and Recommendations: Before making a decision, read reviews and recommendations from other customers. Look for feedback on the quality of the products, customer service, and overall satisfaction.
Now that you know how to pick the perfect newborn baby gifts for the little champion, let's explain the various types of gifts and each one's specific use;
Baby Hamper in Singapore: Types of gifts you may pick
Many people would assume that baby hampers just need the basics, like clothing, pampers and food, but there are. Actually, there are a lot of varieties of baby hampers available. Also, many types of gift baskets are available for baby girl gifts as well as baby boy gifts with their own unique combination of items and theme that is likely to be perfect for the bundle of happiness you are welcoming.
Here we have mentioned some types of suitable gifts below;
#1 Baby Toys
There are many interesting baby toys that you can pick, such as a rattle, cloth book, teething toy or a soft comforter, wind chimes, etc.
#2 Baby Clothes
Rompers, beanies and booties, little dresses, singlets, and woolly socks are good options for the newborn baby gift. There are many options available when you choose outfits for a little one, but it is important to look at soft stuff because comfort matters for the baby.
#3 Mum Care Items
Gifts that help new mothers get some relaxation and pampering are always valued. Therefore, you can buy amazing gifts for new moms, such as a bath soak, essential oils, merino socks, a designer teething necklace, and all-natural nipple cream, which is the most important thing for a mum while taking care of her newborn.
#4 Story Books
Storybooks are always a perfect and valuable gift for a newborn baby. It is a wonderful way of boosting their senses and preparing them for future learning. Even if he or she doesn't know the words, you're reading to them.
#5 Baby Care items
In search of a complete package? Simply pick up the Baby care items, which contain everything that new parents require, such as the best baby shower gift, lotion, powder, nail clipper, diapers, clothes, raping sheets, etc.
#6 Organic Baby Essentials Hamper
A thoughtful gift filled with organic baby clothing, diapers, skincare products, and toys made from natural materials, ensuring a gentle and safe start for the little one.
#7 Newborn Care Package
This hamper includes all the essentials a new parent needs, such as baby bottles, pacifiers, bibs, receiving blankets, and grooming kits, making it a practical and helpful gift.
#8 Baby Spa Hamper
Pamper the baby with a selection of baby spa products, including baby oil, lotion, shampoo, and bath toys, providing a relaxing and soothing bath time experience.
#9 Personalized Keepsake Hamper
Create a lasting memory with personalized baby items like a name-embroidered blanket, onesie, or baby pillow, making it a unique and cherished gift.
#10 Luxury Baby Gift Set
Curate a premium hamper with high-quality baby products, such as designer clothing, plush toys, and skincare products, perfect for a touch of luxury.
#11 Baby and Mommy Wellness Hamper
Show care for both the baby and the new mom by including postpartum care products, nutritious snacks, and relaxing spa items in the hamper.
#12 Musical Mobile Hamper
Keep the baby entertained and soothed with a musical mobile that hangs above the crib, along with a selection of soft toys and baby rattles.
#13 Organic Baby Food Hamper
Introduce the baby to healthy eating from the start with a variety of organic baby food jars, snacks, and teething biscuits.
#14 Adorable Onesies Hamper
Gather a collection of cute and comfortable onesies in various designs and sizes, ensuring the baby stays stylish and cozy.
#15 Baby's First Year Milestones Hamper
Mark each month of the baby's first year with milestone cards, along with age-appropriate toys and clothing for each stage of development.
#16 Personalised Plush Toys
Its versatile design makes it ideal for both teething and cuddling, making it a cherished and practical addition to your baby's nursery or playtime.
#17 Product: Personalised Baby Blanket
Wrap your baby in warmth and comfort with enchanting baby blanket, perfect for cuddles, playtime, or keeping them snug during nap time in the enchanted world of adorable giraffes.
#18 Sleeping Bags
Ensure your baby's peaceful slumber with these cozy and safe sleeping bags. Moms can enjoy peace of mind knowing their little one is snug and protected throughout the night, making bedtime a breeze.
#19 Diaper Cake
A delightful diaper cake, creatively shaped with layers of diapers and adorned with charming baby items and toys, makes for a unique and practical baby shower centerpiece or gift.
#20 Personalised Comforter
The comforter can be personalised with your baby's name, making it a treasured keepsake that adds a personal touch to their comfort and snuggle time.
#21 Bedtime Hamper
Filled with essentials for a peaceful bedtime routine, this bundle includes a baby sleeping bag, captivating bedtime storybooks, and a comforting night light to create a soothing sleep environment for your little one.
#22 Personalised Bodysuit
The Personalized Babygrow Bodysuit is a must-have wardrobe essential for fashion-forward and environmentally conscious mothers. Crafted with style and sustainability in mind, it allows moms to dress their little ones in comfort and personalized charm.
#23 Baby Outdoor Adventure Hamper
For adventurous parents, include baby outdoor essentials like a baby carrier backpack, sun hat, and a picnic blanket.
#24 Baby DIY Handprint/Footprint Kit
A keepsake hamper with a baby-safe ink pad and frames to create precious handprints and footprints.
#25 Personalised Organic Cotton Bibs
Keep your little one clean and stylish with these eco-friendly bibs made from 100% organic cotton. Add a special touch by customizing the bibs with your baby's name or a cute design.
#26 Baby Foodie Hamper
Introduce your baby to the world of flavors with a baby foodie hamper that includes organic baby food pouches, baby-friendly utensils, and a recipe book for homemade baby meals.
#27 Baby Sock Bouquet
Instead of traditional flowers, surprise new parents with a bouquet made of baby socks. It's a practical and cute gift that will come in handy.
#28 Personalised Baby Robe
Wrap your baby in luxury with a personalised baby robe made from soft and cozy fabric. It's perfect for keeping your little one warm and comfortable.
#29 Baby Travel Essentials Kit
For on-the-go parents, a baby travel essentials kit with items like a diaper bag, travel-sized baby toiletries, and a portable changing pad is a thoughtful gift.
#30 Baby Music and Lullaby Hamper
Create a soothing atmosphere for your baby with a hamper that includes a selection of calming lullaby CDs, soft toys, and a musical mobile for the crib.
#31 Personalised Baby Growth Chart
Track your baby's growth with a personalised baby growth chart that can be hung in the nursery. It's a decorative and functional addition to the baby's room.
#32 Baby First Aid Kit
Ensure the safety of the baby with a first aid kit designed specifically for infants. It includes essential items for minor emergencies and peace of mind for parents.
#33 Baby Grooming Kit
A grooming kit with baby-safe grooming essentials like nail clippers, a hairbrush, and a baby-friendly thermometer. It's a practical gift for new parents.
#34 Baby Bedding Sets
Baby bedding sets are carefully curated gift collections that typically include essential items like crib sheets, soft baby blankets, and crib bumpers.
#35 Baby Food Maker
A baby food maker is a thoughtful and practical gift for parents who prioritize making their own homemade baby food.
#36 Baby Play Gym
A baby play gym is an engaging and educational gift designed to stimulate a baby's sensory development and playtime.
Moving on, let's explore the things you should note when buying newborn baby gifts;
Things To Note When Buying Newborn Baby Gifts
There are many important things to consider while opting for newborn baby gifts;
Always choose a gift which is worthwhile for the baby's parents.
Don't buy the product by seeing fancy packaging; however, focus on the quality and usefulness.
Toys that are rich in colour are fantastic for promoting creative expression and enhancing brain capability.
Avoid baby items like clothes for 0-6 months baby because babies grow fast, and your gift may become useless.
Always try to choose Toys like a parent who is constantly looking for ways to engage and entertain their babies.
You should consider getting your baby some educational or Montessori toys, as these will help develop an interest in learning and help the baby's development.
And here's the best part comes that you might be waiting for! Our extensive list of the top-notch newborn hamper shops in Singapore is there to lighten up your burden. So, without any further ado, let's have a look;
Best Newborn Hamper Shops in Singapore
Examine the below-mentioned most reputable newborn hamper stores where you can shop with complete confidence and buy adorable items for the little champs;
The top choice in our list is Blissbiess which is one of the best cutest baby hamper stores in Singapore. To help new parents on their journey, they create thoughtful newborn hampers and presents in Singapore that has been thoroughly tested. Their complete set boxes come in an adorable kraft box that will surely be a pleasant surprise to a friend.
Blissbies has many packages like educational toys for the newest member of the family, which can be customized and filled with fun and educational items to assist parents in providing pleasure to their newborn and engaging their senses.
All in all, Blissbies offers mummy items, baby shower gifts, baby care, storybook hampers (other items included), & more. To sweeten the deal, they provide amazing bonuses and discounts to anyone who places their first order through their website.
Why are you still confused? Just go and grab one of their best baby hampers right now and use the promo code FIRST10 to get a huge discount of 10% before it's too late!
Mellow gift sets are another brand which provides modern, gorgeous as well as affordable baby hampers Singapore for newborns. As its name suggests, "mellow" offers pleasantly soft or smooth gifts without harshness. A mother of two young boys started this brand with the goal of making high-quality, trendy accessories more accessible to the public. They use only the highest quality, softest materials to create products with minimalistic, elegant designs in soft colour tones.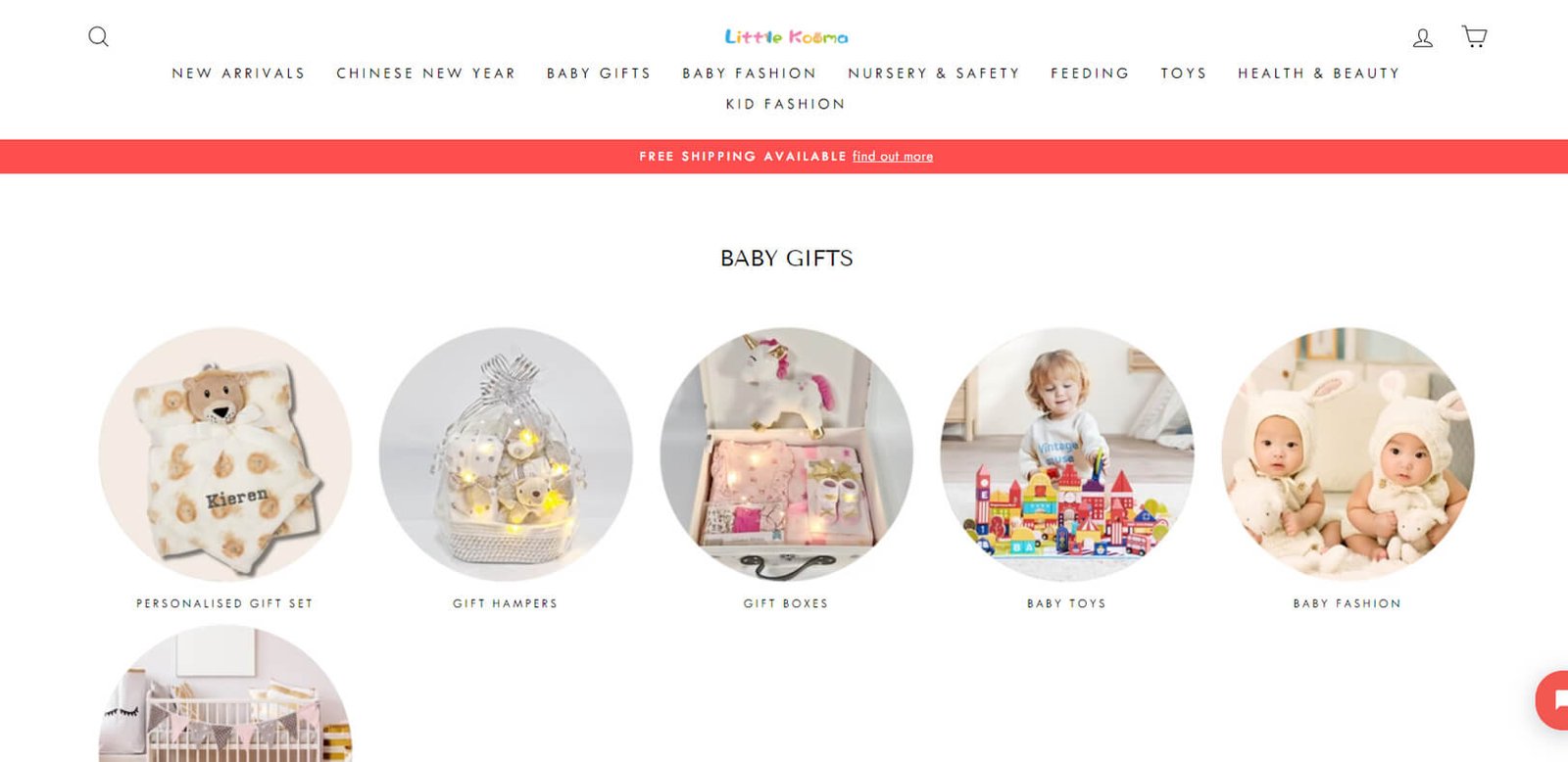 If you're looking for adorable childrenswear in Singapore, look no further than Little Kooma. The family behind this store understands the importance of making kids feel special, especially in those early years. They feature a large selection of trendy and fashionable clothing for young boys and girls, from newborns to teenagers. Doesn't it sound good?
Lovingly Signed is another trustable online store in Singapore where you can find unique, high-quality gifts from all around the world and also have products customized just for you. In addition, you can make a unique gift by choosing goods and adding personalization. Customers can choose from a variety of options and have their orders tailored to their specific preferences. They'll gift wrap everything, so it's all set for shipping.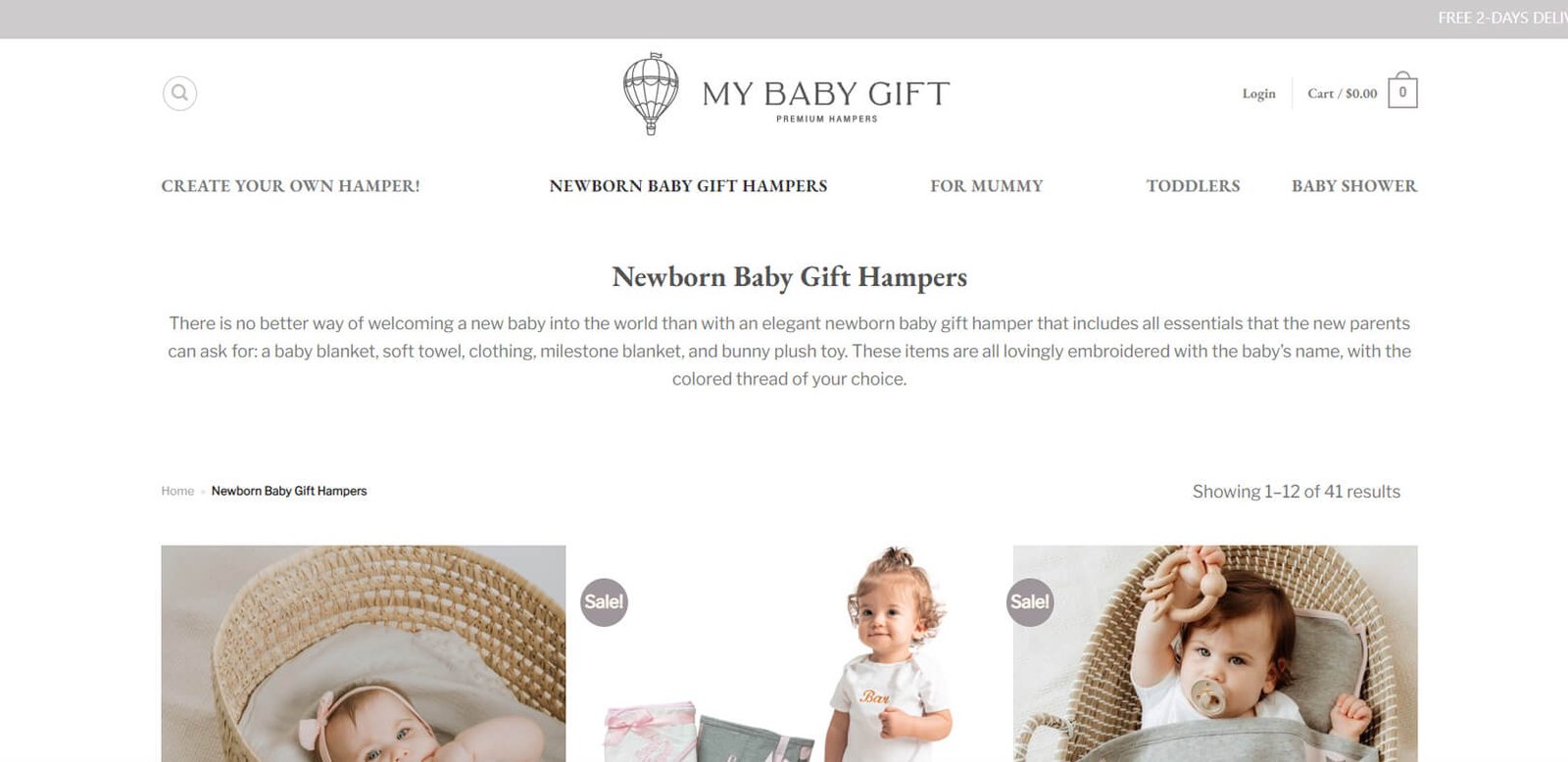 If you want to give someone a meaningful, high-quality hamper as a gift, your search is over. My Baby Gift is well-known for its exquisitely designed and aesthetically premium kid gifts and hampers, which are sure to impress moms and pamper your baby. Those who purchase at the premium store My Baby Gift can guarantee to have a pleasant and memorable experience.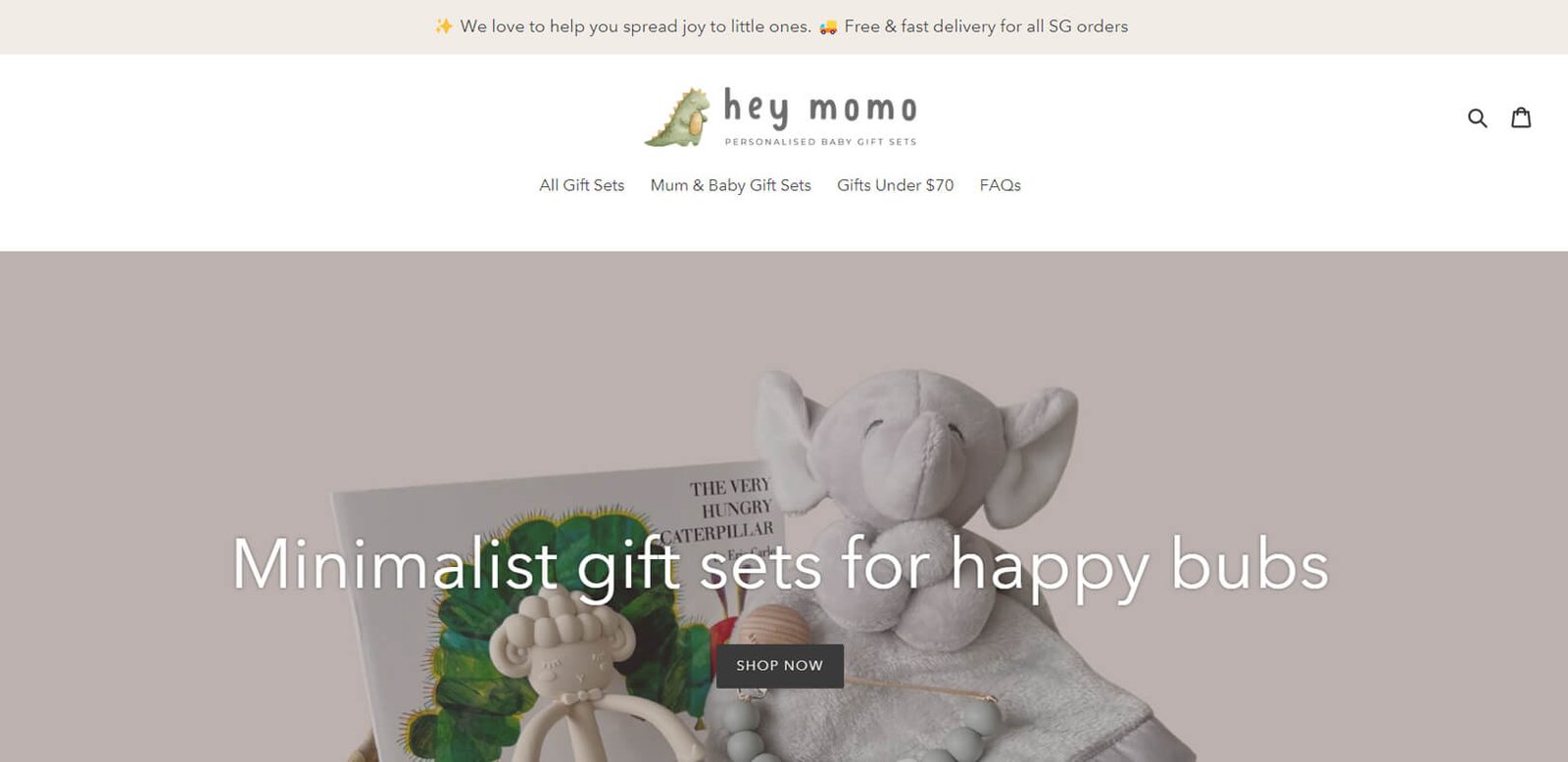 Seeking a one-of-a-kind and reasonably priced baby gift set? At Hey Momo, you may find the best gift sets for as little as $30. You won't have to look any further for the perfect gift because their unique collection of Scandinavian-inspired products contains everything you could possibly want. Baby necessities like teethers, custom pacifier clips, and wooden toys are available to calm little babies down.
Noel Gifts, based in Singapore, provides a selection of unique baby gifts that contain healthy treats, attractive goodies, plus beautiful designs. Their wide variety makes them the go-to store for baby gifts in Singapore. The baskets are divided into categories such as playmats and toys, mother's basics, items for the nursery, and travel necessities. Additionally, you can send additions like diapers, wipes, cuddly toys, hangers, and even balloons.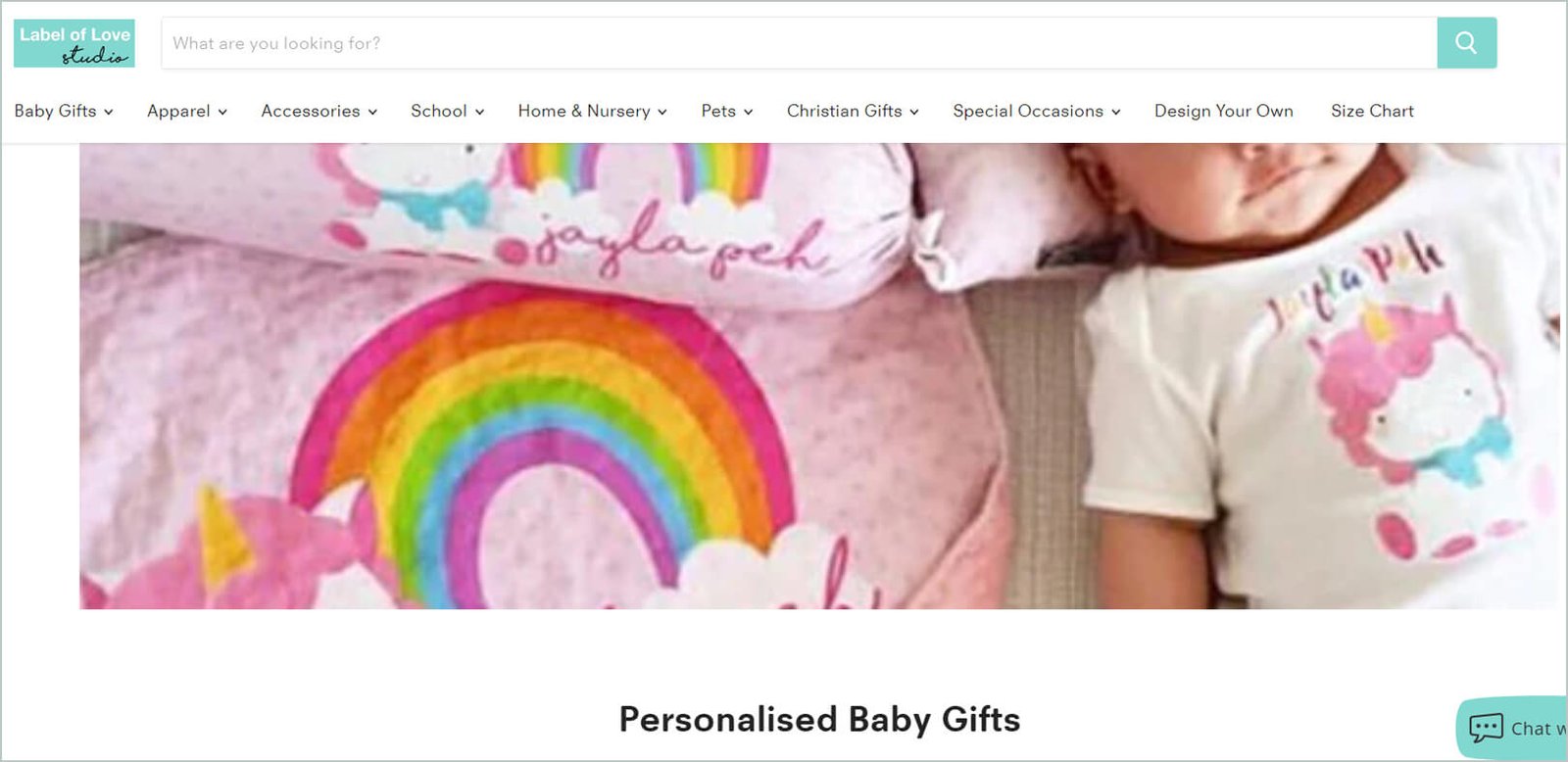 Label of Love believes baby presents can be attractive and useful at the same time. Therefore, they always ensure everything in their gifts, and diaper cakes are usable. For instance, in order to ensure that nothing is thrown away, they include a customized romper, a blanket, and diapers in every diaper cake.
If you are finding a place where you will get all necessities for babies, including bibs, washcloths, hooded bath towels, cloth books, and more, then Hatched Baby Gifts collection from Hatchery Cribs is the sweet spot for you. The best part is that they wrap everything in a beautiful gift box and include a matching gift certificate. Stunning presents can be purchased starting at just $39.90 each!
The Elly Store is an online store in Singapore where you can buy a large variety of adorable baby items with a focus on safety and usefulness. There is a wide range of products available on Zulily, from well-known brands of Baby clothes to more affordable and on-trend options. A mother's job is already challenging; she won't have time to admire her own children unless she needs to keep up with the newest parenting ideas. The Elly Store can help in this situation. Everything a pregnant woman or new mother might possibly need can be found in this store.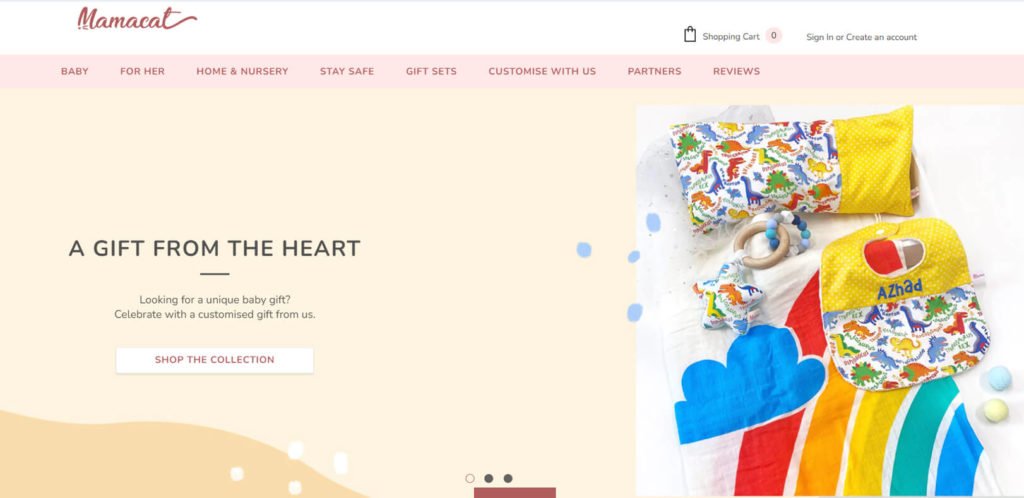 The MamaCat Store is a family-run business that was founded by a mother along with her two young daughters. They're always having so much fun making and designing things together. The company's primary goal was to achieve its original designs by using professional craftsmanship. Although it opened its doors in 2012, the store is now entirely web-based.
A company called Busy Mat makes toys that are healthy and beneficial to the environment. They think kids should be able to get their hands on non-hazardous, long-lasting toys that won't harm the environment. They saw this need, and therefore the Reusable Silicone Colouring & Dining Placemat was designed. Their colour-riched toys are great for keeping kids away from electronic devices. Furthermore, they can aid in the improvement of kids' motor abilities, spelling, and handwriting.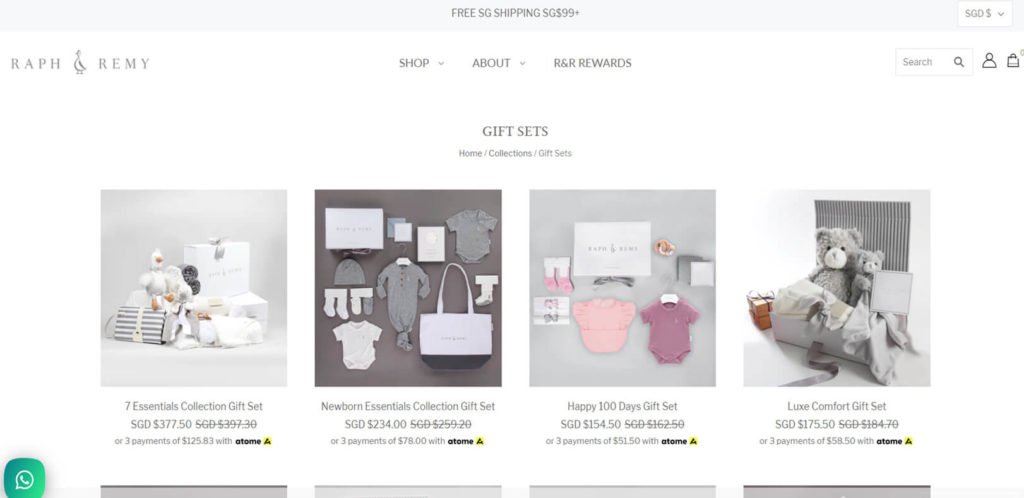 The use of bamboo is great in manufacturing trendy new products. Useful items like utensils, toilet paper, towels, and many others have been transformed from raw bamboo over years. For one, bamboo is a sustainable resource. That Raph & Remy was the first Singaporean retailer to offer bamboo baby essentials and environmental materials set them unique. Raph & Remy wants every mother and baby to feel the best care and affection. Thus, they create the best-of-all products that are environmentally friendly and risk-free.
The sea Apple is one of the well-known brands in Singapore. The Sea Apple brand takes its inspiration from the unlimited potential of the natural environment. In each of their magnetic boxes, you'll find a soft romper, a book, and a toy that is perfect for a gift. You can include baby bloomers, mittens, booties, and organic ruffled jumpsuits. All of the garments feature unique patterns on high-quality materials and are designed to provide ease of movement and a host of entertaining, wearable mini-adventures. As a parent, you'll be happy to hear that in addition to Dr Seuss books, your kiddos' favorite titles from Steiff, Plan Toys, and Green Toys can be found at this online retailer.
Lilo Natural Food Powders, winners of multiple awards for their innovative recipes, are designed to enhance the flavor of the foods you offer your family, especially your baby. They are nourishing and healthful because the recipe doesn't have any MSG, preservatives, or salt. Also, unlike many other dishes, this one contains no artificial ingredients or chemicals. Best of all, Lilo is kosher and gluten-free.
Happie Diapers is well-known for its diaper cakes, which are baby gifts beautifully shaped like cakes rather than actual cakes. They're ideal for any baby occasion, from first birthdays to baby showers. Happie Diapers is an official vendor of well-known baby carrier brands such as Tula and Ergobaby, in addition to other brands such as tokidoki and JuJuBe.
Lovingly
Lovingly Signed Personalised Baby Robes: Wrapping Little Ones in Luxury and Love. Delve into a world of personalized perfection with our exquisite collection of baby robes, designed to cocoon your little bundle of joy in warmth and affection. Every robe is a canvas for personalization, where your baby's name or initials become a work of art, making every moment even more special.
Mummy's Market
Mummy's Market is a beloved haven for all things baby and motherhood. As Singapore's premier one-stop destination for expectant and new parents, Mummy's Market offers an extensive and carefully curated selection of products that cater to the diverse needs of growing families. From pregnancy essentials and baby gear to nursery decor and parenting must-haves, Mummy's Market is more than just a marketplace; it's a trusted companion on the beautiful journey of parenthood.
Little Baby
We proudly stand as one of Singapore's rapidly expanding, largest baby stores. Our business spans both retail and distribution, and we come equipped with a wealth of experience in the market, serving as trusted retailers and distributors of top-quality baby and beauty products across the South Sea Asian region.
In this guide, we have compiled the top 15 vendors in Singapore where you can buy baby hampers. At this point, you should have a good idea of where you can get exceptional and worth-buying baby hampers in Singapore. All the brands we mentioned above have their own reputation and quality of the products. However, our recommendation for today is Blissbies, as it is a clear winner because this reputable brand provides high-quality baby hampers with a wonderful 10% discount. 
So, which one of the shops are you going to consider?