The festive season is upon us, and it's time to start hunting for the perfect Christmas gifts in Singapore! If you're on the lookout for thoughtful presents that will dazzle your loved ones, look no further.
Our comprehensive guide covers a wide range of options, catering to every age group and interest. From trendy tech gadgets to luxurious beauty products and unique experiences, there is something for everyone in this bustling island city.
So grab a cup of hot cocoa, snuggle into your favourite chair and get ready to explore our top picks for unforgettable Christmas gifts in Singapore.
Key Takeaways
Singapore offers a wide range of thoughtful and luxurious Christmas gift options for adults, including jewellery, skincare products, fashion accessories for her and personalised gifts, grooming kits, watches and accessories for him.
Kids will enjoy educational toys, board games and art and craft kits that enhance their creativity while teens prefer tech gadgets such as Bluetooth speakers or headphones to keep them entertained on-the-go.
For foodies in Singapore, gourmet gifts like indulgent food hampers or dining experiences are perfect Christmas presents. Homebodies will appreciate cosy home decor items like blankets or throw pillows while pet lovers can spoil their furry friends with high-quality pet accessories.
Top Christmas Gift Ideas in Singapore
For her, consider indulgent gifts like jewellery, skincare and beauty products, or fashionable accessories. For him, personalised gifts such as grooming kits or watches make a great choice, while friends might appreciate DIY gift baskets or customised phone cases.
Top Christmas Gifts for Her
The festive season is the perfect time to shower the special women in your life with thoughtful and luxurious gifts. Jewellery, skincare products, and fashion accessories are among the most sought-after Christmas presents for ladies in Singapore.
Jewellery
This Christmas, surprise your loved ones with the timeless elegance of jewellery. From dazzling diamond earrings to delicate gemstone necklaces, there is a piece to suit every style. Whether it's a stunning pendant for your partner or a charming bracelet for your best friend, jewellery is a gift that will be cherished for years to come.
Skincare And Beauty Products
Give the gift of self-care and radiance this holiday season with luxurious skincare and beauty products. Pamper your loved ones with indulgent moisturizers, rejuvenating face masks, and exquisite makeup sets. Help them embrace their natural beauty and glow from within as they indulge in a little extra TLC during the festive season.
Fashion Accessories
Elevate someone's style and complete their holiday ensemble with fashionable accessories. From chic handbags to statement watches and stylish scarves, there is a wide array of options to choose from. Delight your fashion-forward friends and family members with accessories that add that extra touch of glamour and sophistication to their Christmas outfits.
Top Christmas Gifts for Him
Finding the perfect Christmas gift for the men in your life can be a challenge, but these top holiday picks are sure to impress. Personalised gifts add a thoughtful touch and demonstrate your care, so consider items such as customised wallets, engraved cufflinks or monogrammed travel bags.
Personalised Gifts
Make his Christmas truly memorable with a personalised gift that showcases your thoughtfulness. Consider custom-engraved wallets, monogrammed cufflinks, or a personalized photo album capturing your special moments together. These unique and heartfelt gifts will show him just how much he means to you.
Grooming And Shaving Kits
Help him look and feel his best with grooming and shaving kits tailored to his needs. From sophisticated grooming sets to luxurious shaving creams and aftershaves, these gifts offer a touch of indulgence and refinement. Treat him to a pampering experience that enhances his grooming routine and leaves him feeling confident and refreshed.
Watches And Accessories
Add a touch of sophistication to his wrist with a stylish watch that complements his personality. Whether he prefers a classic timepiece or a modern smartwatch, there are plenty of options to suit his taste. Additionally, consider complementing his style with accessories like sleek leather wallets, elegant ties, or sophisticated sunglasses that elevate his look. These gifts will make him feel polished and dashing during the festive season.
Top Christmas Gifts for Friends
Finding the ideal Christmas gift for friends can be a fulfilling experience, and Singapore boasts an array of creative options to help you show your appreciation. Personalised gifts such as DIY gift baskets allow you to curate a collection of items that cater specifically to your friend's preferences.
DIY Gift Baskets
Get creative this Christmas by curating personalized DIY gift baskets. Fill them with an assortment of goodies like gourmet chocolates, specialty teas, scented candles, and cozy socks. Tailor each basket to the recipient's preferences, creating a thoughtful and unique gift that captures the holiday spirit.
Customized Phone Cases
Give the gift of individuality with custom-designed phone cases. Personalize them with photos, names, or meaningful quotes, allowing your loved ones to showcase their style and personality. From sleek and sophisticated to fun and whimsical designs, these customized phone cases are both practical and sentimental.
Handmade Soaps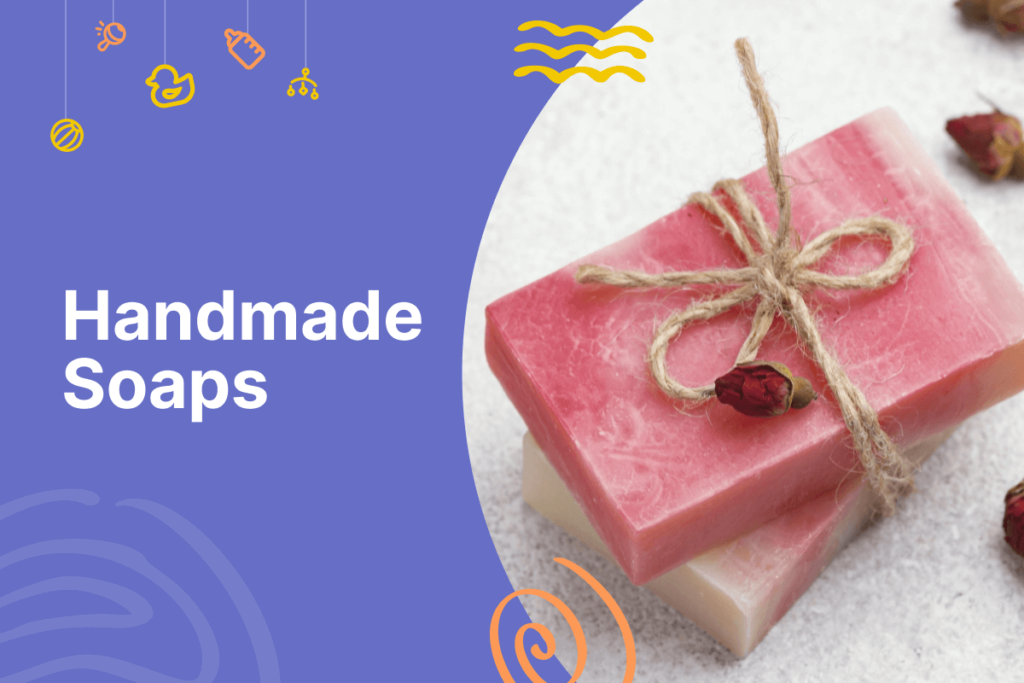 Treat your loved ones to the luxury of handmade soaps this Christmas. Infused with natural ingredients, these soaps provide a nourishing and aromatic bathing experience. Choose from an array of delightful scents and beautifully crafted designs. These handmade soaps make for a charming and indulgent gift that promotes relaxation and self-care.
Top Christmas Gifts for Colleagues
Looking for the perfect Christmas gift for your coworkers? Consider desk accessories, personalised stationery or coffee table games. These thoughtful gifts not only add a touch of style to their workspace but also show that you value them as colleagues.
Desk Accessories
Help your loved ones spruce up their workspace with stylish and functional desk accessories. From sleek pen holders to elegant desk organizers and modern desk lamps, these gifts will enhance productivity and add a touch of sophistication to their office or study area.
Personalised Stationery
Give the gift of personal touch with customised stationery. From monogrammed notebooks to personalised journals and engraved pens, these thoughtful gifts allow your loved ones to express their unique style.
Coffee Table Games
Bring joy and entertainment to their living spaces with coffee table games. From classic board games to trivia sets and puzzle books, these games are perfect for gathering family and friends for hours of fun.
Top Christmas Gifts For Kids
For kids, educational toys like STEM kits, board games for family game night and art and craft kits that enhance creativity are always a hit.
Spark curiosity and foster learning with educational toys as Christmas gifts. Choose from interactive STEM kits, building blocks, or coding robots that engage young minds. These toys make learning enjoyable and promote critical thinking, problem-solving, and creativity, ensuring a fun and educational experience for children in Singapore.
Board Games
Encourage quality time and friendly competition with board games for the whole family. From classic favorites like Monopoly and Scrabble to modern strategy games, board games offer endless entertainment during the festive season.
Art And Craft Kits
Nurture artistic talents and creativity with art and craft kits. Whether it's painting sets, DIY jewelry making, or pottery kits, these gifts inspire self-expression and provide an outlet for imagination. Watch loved ones unleash their artistic flair and create beautiful masterpieces while enjoying the holiday spirit in Singapore.
Top Christmas Gifts For Teens
Teens can be tricky to shop for, but don't worry – we've got you covered! From tech gadgets to clothing and accessories, our list of top Christmas gifts for teens has something for everyone.
Embrace the spirit of innovation with cutting-edge tech gadgets as Christmas gifts. From the latest smartphones to wireless earbuds, smartwatches, and virtual reality headsets, these gifts bring excitement and convenience to daily life.
Clothing And Accessories
Elevate their style with fashionable clothing and accessories as Christmas gifts. Choose from trendy apparel, statement accessories, or luxurious scarves and hats to keep them warm and stylish during the festive season.
Music And Entertainment Gifts
Bring joy and delight with music and entertainment gifts. From wireless speakers and headphones to music streaming subscriptions and concert tickets, these gifts cater to music lovers and entertainment enthusiasts.
Top Christmas Gifts For Couples
Spoil your loved ones with romantic gifts and experiences this festive season, from personalised items to home decor and accessories.
Romantic Gifts And Experiences
Ignite the sparks of love with romantic gifts and experiences. Surprise your partner with a candlelit dinner at a cozy restaurant, a couples' spa retreat, or a romantic getaway. For gifts, consider personalized jewelry, love letters, or a heartfelt photo album capturing your special moments together.
Add a personal touch to your gifts with customized presents. From engraved jewelry and monogrammed accessories to personalized photo frames and custom-made artwork, these gifts express your thoughtfulness.
Home Decor And Accessories
Transform their living spaces with stylish home decor and accessories. From elegant wall art and scented candles to cozy throws and decorative accents, these gifts enhance the ambiance of their homes.
Top Christmas Gifts For Pet Lovers
Spoil your furry friends this Christmas with these top picks! From luxurious pet accessories to thoughtful grooming services, there's something for every pet lover. Don't miss out on our unique gift ideas that will surely make tails wag.
Shower your furry friends with love and joy this Christmas with adorable pet accessories and delicious treats. Choose from cozy pet beds, stylish collars and leashes, interactive toys, and gourmet pet treats.
Pet Grooming Services
Treat your pets to a day of pampering and grooming with professional pet grooming services. From luxurious baths and haircuts to nail trimming and spa treatments, these services ensure that your pets look and feel their best.
Pet-Friendly Vacations
Plan a special holiday getaway with your beloved pets in Singapore. Discover pet-friendly accommodations and destinations that welcome furry companions. From beach resorts to nature retreats, enjoy quality time together while exploring new surroundings.
Tips for Choosing the Best Christmas Gifts in Singapore
Consider these tips to help you choose the best Christmas gifts in Singapore:
Christmas Gifts Vendors in Singapore
Naiise
Naiise is a curated marketplace showcasing a wide range of unique and design-led gifts. Explore their collection of home decor, fashion accessories, stationery, and more.
The AC Boutique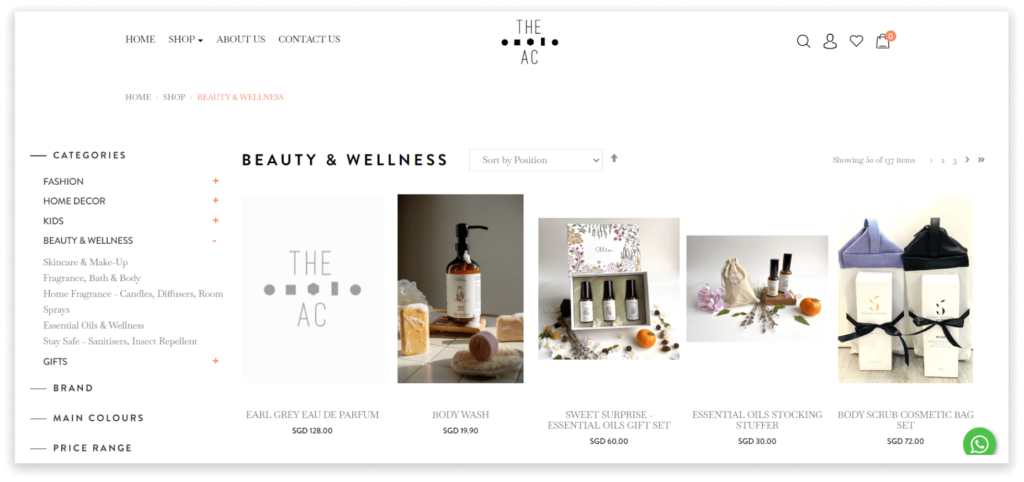 The AC Boutique sells all kinds of gifts and accessories for your home and loved ones. Choose from jewelry, monogrammed bags, and personalized home decor items.
Noel Gifts
Noel Gifts offers a wide range of festive hampers and gift sets suitable for all occasions. Explore their curated selection of gourmet hampers, flower arrangements, and wellness gifts.
The Green Collective SG
The Green Collective SG is a sustainable lifestyle store with a focus on eco-friendly and zero-waste products. Discover reusable items, natural skincare, organic food, and eco-friendly home essentials.
Crate and Barrel
Crate and Barrel offers a wide range of home furnishings and decor items. Explore their collection of stylish furniture, kitchenware, bedding, and holiday accessories.
Flower Chimp
Flower Chimp offers a variety of fresh flower bouquets, arrangements, and gifts for special occasions. Choose from beautiful blooms, gift hampers, and personalized gifts.
HipVan
HipVan is an online store offering stylish furniture, home decor, and lifestyle products. Explore their range of contemporary designs for every room in the house.
The Paper Bunny
The Paper Bunny specializes in stationery, planners, and lifestyle accessories with a touch of whimsy. Discover their collection of notebooks, planners, greeting cards, and stylish desk accessories.
Chubby Chubby
Chubby Chubby is a Singapore-based children's clothing brand offering unique and playful designs. Discover their collection of comfortable and stylish clothing for babies and kids.
Teapasar
Teapasar is a tea marketplace offering a diverse range of teas sourced from around the world. Explore their collection of specialty teas, tea accessories, and tea-related gifts.
In conclusion, finding the perfect Christmas gift in Singapore can be a breeze with our comprehensive list of top gift ideas. Whether you're shopping for adults, kids, or even pets, there's something on this list for everyone.
From personalised gifts to festive experiences around the city, the options are endless.