In the heart of Singapore, where gleaming skyscrapers blend seamlessly with age-old traditions, there's an underlying pulse of ancient wisdom that echoes the stories of the past. Feng Shui, with its storied origins and profound impact, is more than just an art; it's an intrinsic part of the city's cultural DNA, continuing to guide the lives of its inhabitants.
In this exploration, we'll unravel the enigmatic world of Feng Shui Masters in Singapore. We'll delve deep, seeking to understand how they wield their knowledge to infuse spaces with vitality and prosperity, making them resonate with the universe's harmonious chords.
Feng Shui: The Symphony of Nature and Spaces
At its core, Feng Shui, which translates to "wind and water," is a doctrine that has been nurtured over 3,000 years. It propounds that the strategic arrangement of objects and spaces can channelize the cosmos's energy, known as "qi" (articulated as "chee"). This art seeks more than aesthetic appeal; it aims to cultivate environments that emanate positivity, fortifying health, amplifying wealth, and nurturing well-being.
Guardians of This Timeless Craft
Geomancers, or the revered Feng Shui Masters, are more than mere practitioners; they are custodians of this deep-seated knowledge. Their expertise goes beyond the rudimentary. They are architects of energy, reshaping the very essence of spaces to ensure a harmonious existence. Through their guidance, homes become sanctuaries and workplaces transform into citadels of creativity and success.
How Can Feng Shui Benefit You?
Household Energies Many locals in Singapore lean on Feng Shui connoisseurs to give their homes an energetic boost. A thorough look at the home's design, furniture arrangement, and unique architectural nuances helps these specialists chart out suggestions to elevate qi circulation. This might mean shuffling around the decor, dabbling with certain hues, or bringing in a slice of nature through greenery or water elements. The outcome? Spaces that aren't just eye-catching but also brimming with peace and positive vibes.
The Business Edge In the bustling corporate scene of Singapore, every edge counts. Enter Feng Shui virtuosos, who sculpt office realms that resonate with success vibes. Spaces designed in harmony have a ripple effect – lifting spirits, sparking creativity, and pumping up the productivity meter. In a workspace radiating good qi, success isn't just possible; it's inevitable.
Real Estate Endeavors Singapore's property skyline is ever-ascending, making smart investments paramount. Feng Shui aficionados are the go-to for sizing up the vibes of potential property goldmines. Their evaluations guide buyers, turning the odds in their favor and paving the path for prosperity. Opting for properties with a qi stamp of approval means bagging not just a snug nest but also a promising financial feather in one's cap.
Holistic Living But Feng Shui isn't just about tangible treasures. It's a ticket to holistic prosperity. By decrypting one's birth blueprint, or "ba zi," these masters dish out guidance spanning careers, interpersonal ties, and health. At the heart of Feng Shui is a quest for universal balance. When your inner qi finds its groove, life's maze becomes a dance floor, ripe with chances for growth and joy.
Top Feng Shui Masters in Singapore
Imperial Harvest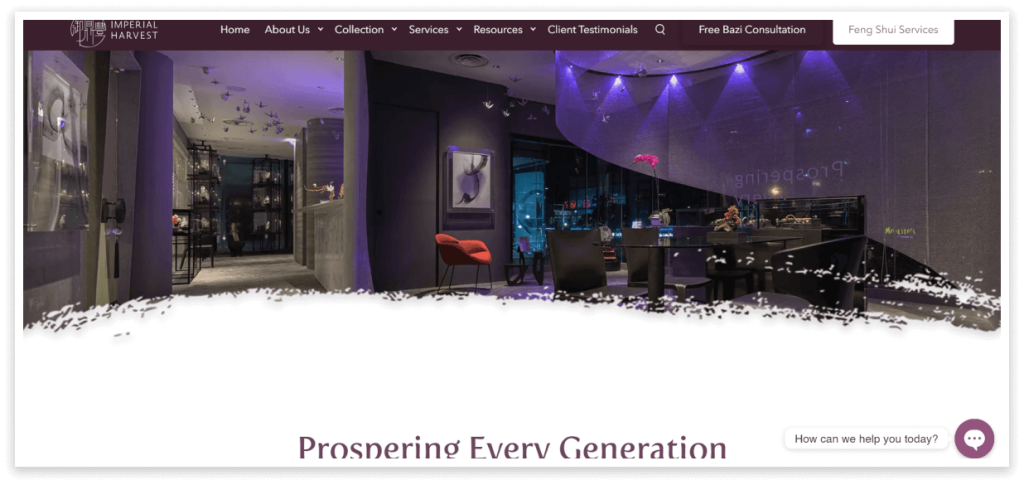 Imperial Harvest stands out as a distinguished Feng Shui master in Singapore, excelling in the realm of superior Feng Shui jadeite jewelry and elite investment-grade Imperial jadeite. With a track record exceeding ten years, they've cemented their reputation as a reliable industry leader, delivering bespoke Feng Shui solutions and refined jadeite jewelry to a global clientele.
Ju Xuan Geomancy Consultancy
Ju Xuan Geomancy Consultancy is esteemed for its dedication to age-old Feng Shui tenets. Their guidance emphasizes harmonizing energy currents in residences and workspaces to cultivate balance and prosperity. Drawing from Feng Shui's timeless knowledge, Ju Xuan Geomancy Consultancy offers actionable insights to refine living and working spaces, enriching the overall life quality of its clientele.
Ken Koh
Ken Koh stands as a distinguished Feng Shui Master in Singapore, renowned for his prowess in traditional Feng Shui methodologies. With a rich background in the discipline, Ken delivers consultations that marry age-old wisdom with modern relevance. His guidance is tailored to foster equilibrium and harmony for both individuals and enterprises, steering them to heightened success and contentment in life.
Loshi Feng Shui Consultancy
Loshi Feng Shui Consultancy, a reputed name in Singapore, champions a holistic method to infuse balance and wealth into its clients' lives. Boasting a cadre of seasoned Feng Shui maestros, Loshi excels in classical Feng Shui, Bazi assessments, and life mentorship. Their expertise extends across both residential and business realms, aiding people and enterprises in refining their surroundings for optimal well-being and achievement.
Master David Tong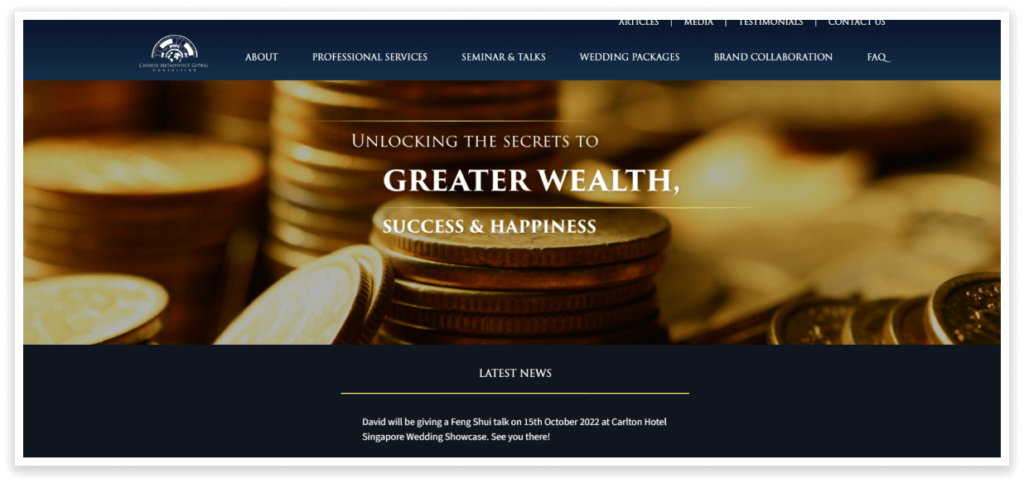 Master David Tong stands as an illustrious presence in the Feng Shui realm, lauded for his profound grasp of classical Feng Shui and Chinese metaphysics. His years of relentless exploration and application have earned him notable reverence in the sector. Clients ardently seek Master David Tong's counsel, drawn to his adeptness in unraveling Feng Shui's complexities, offering them deep-seated understanding and impactful strategies to foster balanced and affluent surroundings.
Master Jo Ching
Master Jo Ching stands out as a distinguished Feng Shui Master, celebrated for his profound expertise in Feng Shui and Bazi evaluation. His sessions offer discerning guidance, equipping clients with actionable steps to elevate their lives. With a sharp acumen in correlating personal energies with external influences, Master Jo Ching paves the way for individuals and enterprises to realize their aspirations.
GWF Feng Shui Consultancy
GWF Feng Shui Consultancy emerges as a reputable beacon in Singapore's Feng Shui landscape. Tailoring their expertise to individual needs, GWF collaborates with both home and business clients. They stand out for their commitment to sculpting environments pulsating with uplifting energies, fostering prosperity and holistic health. Boasting a roster of adept experts, GWF Feng Shui Consultancy ensures every consultation is aligned with the distinct objectives and dreams of their clientele.
HUI MASTER INTERNATIONAL GEOMANCY
HUI MASTER INTERNATIONAL GEOMANCY stands tall in the Feng Shui and Geomancy arena. Providing an array of services such as Feng Shui evaluations, property choices, and individual life assessments, they adeptly address the multifaceted requirements of their clients. Their reputation is anchored in promoting overall wellness, employing Feng Shui as an instrumental catalyst to fine-tune surroundings and lives towards achievement, balance, and abundance.
Master Lynn Yap
Master Lynn Yap is acclaimed for her integrative stance on Feng Shui, melding age-old tenets with contemporary design sensibilities. Possessing a meticulous eye and a profound reverence for Feng Shui's artistry, she assists clients in metamorphosing their residences and workspaces into havens pulsing with auspicious energy and nurturing well-being.
Master Kevin Foong
Master Kevin Foong stands distinguished in the realms of Feng Shui and life mentorship. His rare fusion of Feng Shui mastery and personal growth insights differentiate him. Revered for his vibrant and captivating methods, Master Kevin Foong elevates spaces while uplifting individuals toward their zenith. His sessions meld profound insights with inspiration, forging enduring positive metamorphoses.
Adelina Pang
ADELINA PANG stands as one of Singapore's most esteemed Feng Shui masters, holding a distinguished position in the domain since 1995. Among the luminaries in Feng Shui and Chinese Astrology, her adept utilization of genuine Feng Shui principles has significantly benefited numerous organizations and businesses throughout Singapore.
Richard Tay
Master Richard Tay, founder of the Fortune Resource Centre in Singapore, began his journey in Geomancy back in 1989. Over the decades, his practice has flourished, largely attributed to the strong bonds he's forged with his clients.
Bazi Master Chan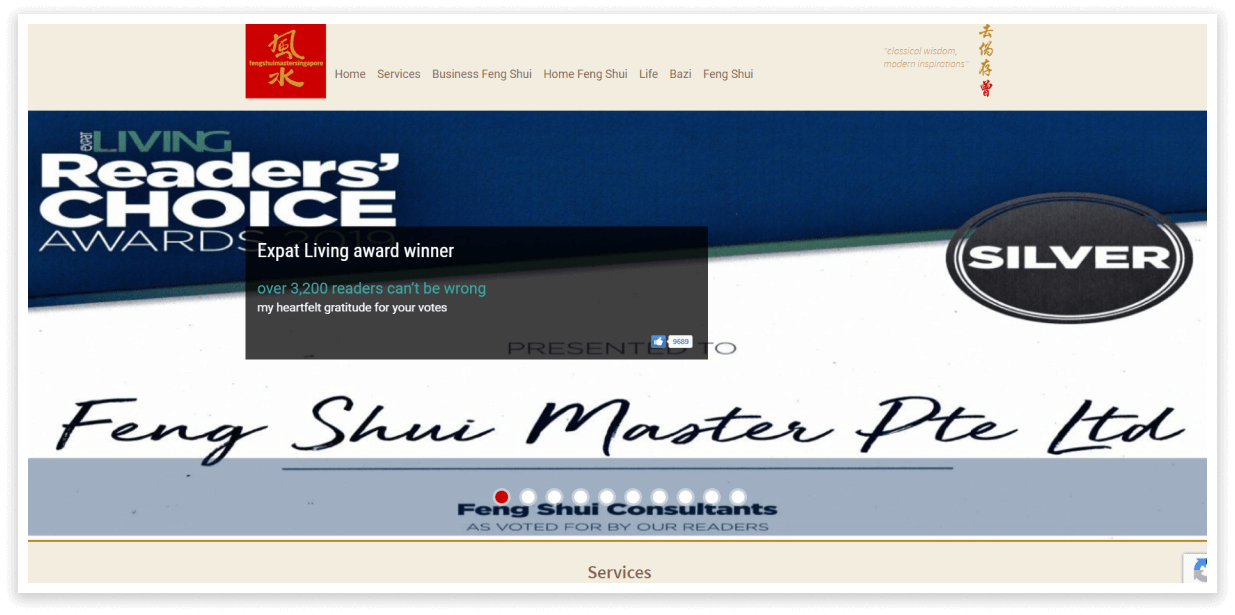 Master Chan, renowned in the world of Bazi, seamlessly melds ancient wisdom with the dynamic energies of today's world. As a revered Bazi Feng Shui expert, he delves deep into the intricate tapestry of cosmic alignments, decoding destinies and harmonizing spaces.
Jon Sim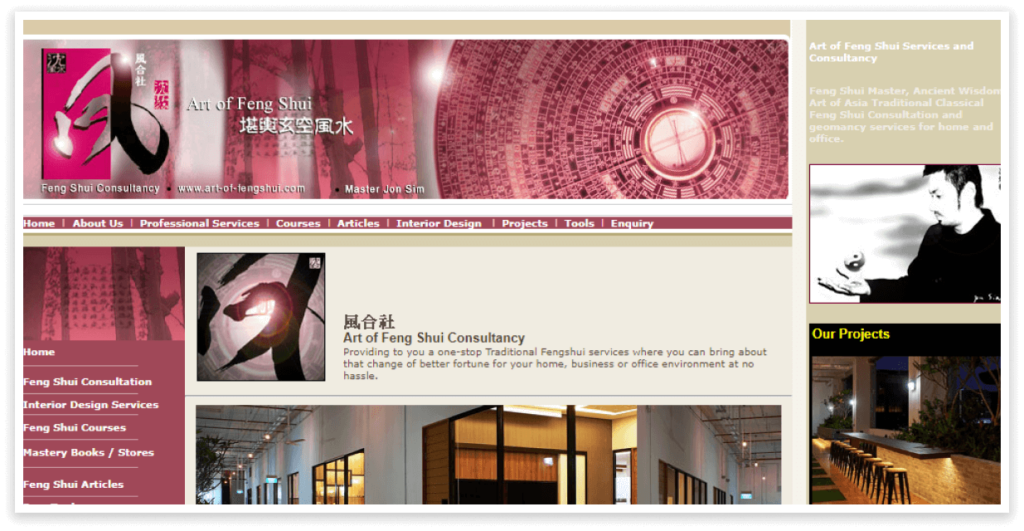 Offering a comprehensive Traditional Fengshui service, effortlessly usher in enhanced fortune for your home, business, or office environment.
Chen Yuan
Feng Shui Audit offers top-tier Feng Shui Consultancy Services in Singapore. Our approach is both professional and convenient, ensuring you receive value. Plus, our competitive pricing saves you both time and money.
Sherwin Tng
Upon becoming a father, Sherwin Tng transitioned from engineering to the realm of feng shui. Motivated by the desire to bestow an auspicious name upon his child, he was captivated by the profound expertise of a feng shui master.
Joey Yap
Regarded as the global leading expert and the most published author in Chinese Metaphysics—spanning Feng Shui, BaZi, Qi Men Dun Jia, Mian Xiang, Yi Jing, and Business Philosophy. Over 4 million copies of their works have been sold globally in seven languages. They have been honored with accolades, including The Merit Award from the Asean Book Publishers Association.
Siew Li
Siew Li, Singapore's foremost Bazi and Fengshui expert, began her practice in 1983. Raised in a large, modest household where her father tirelessly labored to provide, she developed a strong drive to decipher the intricate dynamics of life and destiny, aiming to enhance one's fortunes.
Master Chuan
Master Chuan, a contemporary Geomancer and Palmist, views the time-honored arts of Feng Shui, Palmistry, and the Four Pillar Analysis as pragmatic tools to address our daily dilemmas. Over two decades, Master Chuan has delved into the lives of over 10,000 individuals, guiding them towards self-discovery, unveiling their latent potentials, highlighting pivotal life paths, and often transforming their destinies.
Way Feng Shui
Way Fengshui Group, headquartered in Singapore, stands as a premier Fengshui consultancy, boasting a cadre of seasoned Fengshui experts. Their diverse offerings encompass both residential and commercial Fengshui, date picking, and Bazi analysis. With a tailored approach, the Way Fengshui Group collaborates intimately with clients, ensuring their distinct needs and considerations are met.
Guide to Choosing the Best Feng Shui Expert in Singapore
Navigating the waters to spot a dependable Feng Shui expert in Singapore? Here's a compass to guide your quest:
Academic Backbone: Begin by scouting for a Feng Shui savant with a commendable track record and solid academic credentials. Dive deep into their education, certifications, and hands-on experience.
Word of Mouth and Digital Footprint: Pool in suggestions from acquaintances who've had stellar Feng Shui experiences. The digital realm, with its plethora of reviews and feedback, is also a treasure trove of insights.
The Art of Consultation: Decode the expert's consultation style. A detailed evaluation of your habitat or personal dynamics should precede any counsel.
Moral Compass: It's imperative that the Feng Shui ace operates on ethical ground, steering clear of gimmicks or sky-high charges.
Vibe Match: Find someone whose ethos mirrors yours. A congruent vibe lays the foundation for fruitful Feng Shui interventions.
In A Nutshell
Singapore's Feng Shui maestros are sculptors of space, tailoring environments to amplify well-being and success. Their craft transcends mere aesthetics—it orchestrates a dance of energies, setting the stage for prosperity. As Singaporeans proudly wear their cultural badges, Feng Shui emerges as a timeless gem, weaving balance and affluence into their tapestry of life.
Should you wish to elevate any facet of your life—be it your sanctuary, professional arena, investments, or inner world—Feng Shui lights the way. Armed with a seasoned Feng Shui aficionado, Singapore's vibrant rhythm could sync perfectly with your life's melody.