Choosing a gift for an occasion is already a challenge for some of us – but choosing a gift for a newborn human being, whether it is a newborn baby hamper or a mummy and baby gift set, that steps it up a level.
What should we be looking out for when we are choosing a newborn baby gift hamper? Should I be investing in personalised baby gifts? What are good gifts for the mother and the newborn? Fret not! Let's check out some of the options together! At the end of the day, if you are unsure of what is best, you have Blissbies to fall back to. They've got your back. They have a range of newborn baby gift sets from Singapore that are both educational and fun!
The big question: How do I pick the right newborn baby gift?
Whether it's for our in-laws or our best friend, we hope to give the best gifts that not only make their newborn happy, but them too. Even for parents whom we are not familiar with, we also want to make a good impression through our choices. With so many options, from a mummy and baby gift set to a simpler newborn baby gift set in Singapore, where do we start?
The rule(s) of thumb for baby gifts
#1 Gifts should be indestructible.
As a general guideline, always ensure that gifts for newborns are safe for them to do anything and everything with – throwing them around, pushing them, pulling them apart and of course, putting them in their mouths and chewing them. Watch out for those teething times!
Here are other things that you can consider:
#2 Gifts must not cause the newborn to suffocate.
This applies to gifts and toys with many small parts, and also those furry ones. Even if these toys were gifted, do ensure that they are used while under supervision!
#3 Gifts should be lickable – safely.
Newborns cannot differentiate food from fun toys – whatever that looks fancy, or that can fit in their mouths, they will do it. When choosing the next newborn baby hamper, think about whether or not the material is safe to do so. We are talking not just about the material itself, but whether or not it will cause the breeding of bacteria! Think about a soft toy – will it get wet and dirty?
#4 Gifts should be rounded and smooth.
Within our newborn baby gift set, we should avoid objects that are sharp and can potentially hurt the baby. Perhaps not just whether it is sharp on the edges, but also whether it is too tough and may bruise the child as s/he throws it around. Remember, our little human beings don't appreciate pain!
#5 Gifts should be usable and long-lasting.
Have you ever received a gift that was nice the first couple of times you've used it, and then start to wear and tear as you start to ease into it? The same goes for our newborn baby gifts! Even if they were a pretty newborn baby hamper that may cost more, if they don't last long, they won't be a good investment at all. We are looking for gifts that are a bang for your buck.
#6 Gifts should be affordable.
Speaking of costs, we also want to find gifts that work within your budget. With so many new technology and creative gifts, options for newborn baby gift sets in Singapore are indeed limitless. However, even for creative and luxury ideas, you should set yourself an idea of how much you wish to spend for your next gift.
Let's cut to the chase, what types of gifts are there for a newborn anyway?
Toy-based
We are thinking of soft toys, rattles, mini keyboards and toy cars, right? Well, close, but they are not the only ones. Toys today also include educational toys! Educational toys are toys that help stimulate learning for children. In toddlers, it will be helping them develop their senses or learn a new skill, and in older children, teaching them about a particular subject. Blissbies offers baby gift boxes that include these educational toys. From teething toys and rattles, to comforters and cloth books, they have a range of products that help your newborn learn as they grow – all included in their baby gift collection!
Clothes
Clothes are also another item that we can buy for a newborn because they have a range of options. Rompers, singlets, socks, beanies and booties, it seems like their options can even be more than us adults! There is also the option of little dresses and outfits for both the older ladies and gentlemen.
While plain-coloured and patterned clothes are attractive, do keep in mind that they may not always be the most practical, because newborn tend to outgrow their sizes. If we are looking to present clothes, consider if it was possible for them to be adaptable to the baby while it grows, and whether it would stay comfortable during that time!
Just for mum
Of course, let's not forget our superwomen who care for our little young beings. Mothers would appreciate some luxurious bath soaks, all-natural nipple cream and essential oils for their recovery. Or perhaps a designer teething necklace or merino socks to help comfort their child.
No doubt these new mom gifts in Singapore can be useful for a new mother, but most mothers would probably already have them while on their journey. Perhaps then, we could consider looking into a mummy and baby gift set that caters to both our supermums and newborn. 
A Subtle Luxury
We all deserve a little pampering. For a mother and newborn, that could mean a simple all natural soothing cream, or perhaps a good baby shampoo or massage oil product, or even a beautiful brush and comb set. Let's not forget a designer object too – how about a designer muslin to cuddle with?
Books
At this point, if we still have no idea what to get our newborn, books will be our plan B (pun intended)! Books are practical gifts because they will last an entire lifetime. Depending on the age of the child, we can choose from cloth books or musical books, to even vocabulary books. Some even come with CDs and apps that encourage parents to learn along with their children! Whether standalone or in a newborn baby gift set, these are essentials for a young minds' growth.
Others
Besides the gifts mentioned above, there are still presents for newborn that may not be as seemingly obvious. Perhaps a plastic or silicone cutlery set could be useful to help the newborn learn how to pick up food, or infant walkers that help toughen up their leg muscles. It is easier to think of a gift if we think of the interactions and activities throughout a baby's day, and that could definitely kick start our purchase process for a newborn baby gift set here in Singapore.
Baby gift sets in Singapore: An all encompassing toy box
Why a toy box we may ask? Two main reasons:
Toys can last a long time, an estimate of 6-12 months, depending on the toys themselves and their diversity.
Parents require a variety of toys to enrich their children's play and learning, and to help them with their parenting tasks:

Books – for reading to the kids to stimulate their listening and their brain
Rattle – for distracting the newborn while changing him/her
Stacking cups – for training and stabilising their core as they sit up to move around and play using their hands
Cloth books – for reading and keeping their attention without tearing in the long term, and even teaching them new information
Cards – for stimulating the newborn's vision and allowing them to focus while parents do their tasks
Water ducky – great for the bath or even general play.
At Blissbies, they offer an easy-to-order option for the ultimate newborn baby gift set – simply do it in four steps!
Browse through the three main options at blissbies.com/sg/
Pick an option
Add to cart
Checkout
Key in gift message, shipping and delivery details
We are ready to go!
The three main options at Blissbies depend on how many items and what types of toys we want in each newborn baby gift set. All the items in these lovely baby gift boxes are suitable for newborn 0-12 months old. They also offer free delivery, and shipment starts within 24 hours of purchase!
The essential "Don't"s: Things to avoid when buying newborn baby gifts
Avoid fancy wooden toys
As much as wooden toys have our nostalgia (and our childhood Pinocchio), they may not be the best for newborns because they may be too heavy, or breeds bacteria after babies have licked them.
Avoid buying fancy clothes
While clothes is a viable option, fancier design clothes tend to be worn only once or twice before being put away – either because the newborn has outgrown them, or they may be too uncomfortable for their material. Think about how the newborn would be regurgitating after their big meals too!
Avoid buying Rompers and Dungarees without buttons
Putting on clothing on a newborn is already a chore. Putting on rompers and dungarees without buttons is a level-up task. These clothes will be generally harder to wear, especially on a moving baby. Our new parents do not need that extra handy work!
Avoid non-stretchable clothes
If we really do want to purchase some soft clothing, try to go for those which have the capacity to expand. Newborns tend to grow fast, so it will be ideal to get those that are stretchable – not just for the longevity of this piece of clothing, but also how much easier it would be to put on.
Avoid things for mum like cream or bath soaks
Yes, we all hope to take care of the mother too, but a lot of times, these new mom gifts & hampers will not add extra value to what our dear mums already have! Besides, gifts like these are often quite subjective to preferences, be it the scents or textures, so it may be difficult for us to choose one that suits them.
Avoid anything too practical
Like diapers, or baby cream. As much as practical gifts can be useful to the mother and child, they may not best reflect your tender care and well-wishes for them! It's like receiving a toothbrush for your birthday – while it is useful, it may not be the most personal.
Best newborn baby gift vendors in Singapore
Blissbies
Blissbies was founded on a personal story. When the founders' son was born, they had received a bunch of gifts and hampers – clothes, diapers and soft toys. Yet the best newborn baby gift that they have received was a set of a box of toys, which helped them to entertain and educate their kids. From there, they wanted to pass on that gesture, and help other newborn parents too.
Types of Products Sold
Sets of toys (3 main choices)
Personalisation Factor
Choosing among the 3 sets, depending on how many toys and types included
Price Range
S$35.00-$79.00+
How to Order
Via website
Ships to
Malaysia, United States, United Kingdom, Hong Kong, Australia, Singapore
Shipping Fee
SingaporeFree shipping within 3-7 working days
MalaysiaFree shipping within 2-7 working days, depending on region
OthersStandard shipping within 7-15 working daysPriority shipping within 3-6 working days
Do check out their website for more details!
Great news! To get a 10% discount off your newborn baby gift set, you just have to subscribe to our newsletter and we will provide you with that 10% discount! You can also use the code FIRST10 during checkout.
Mybabygift.com.sg
Established in 2011, MyBabyGift Premium Baby Hampers was founded with the vision of creating unique gifts for newborns and their parents. They offer luxurious personalized baby hampers and gift sets for newborns and their parents. They provide complimentary name and birth date embroidery for all of our delicate blankets, pillows, towels, toy bunnies, and clothing, presented in a beautiful baby gift box.
Types of Products Sold
Baby gift hampers,Hampers for mother and child,Individual toys and accessories for toddlers,Baby shower gift boxes
Personalisation Factor
Hampers depending for whom and what occasion,Creating your own hamper by choosing a basic set then selecting add-ons
Price Range
S$25.00-$700.00+
How to Order
Via website
Ships to
Singapore, Australia, China, Hong Kong SAR, Indonesia, Malaysia, Philippines & Thailand
Shipping Fee
SingaporeFree delivery above S$99
All other countriesDepending on country, do call them to confirm delivery costs and estimated delivery times.

Do check out their website for more details!
Arlou & Rose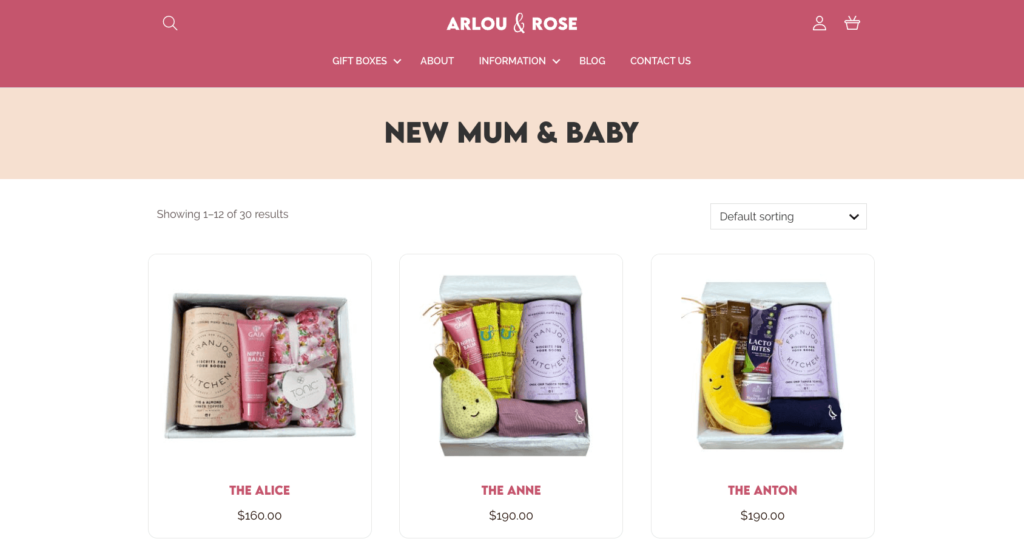 Based in Singapore, Arlou & Rose specialises in creating luxurious gift boxes for new mums, expectant mums and their children. They create gift boxes that cater to every occasion, right from the start of every mother's journey – from celebrating pregnancy announcements to offering support during her breastfeeding journey! These gift boxes can include tea, toys, clothes and even chocolate!
Types of Products Sold
Gift boxes for both mother and child
Personalisation Factor
Gift boxes that are suitable for occasions such as:Pregnancy (first, second or third trimester)New mothers and babiesBaby showersPampering setsLabour and postpartumFor twin babiesDouble gift boxes (Double Deckers)
Price Range
S$145.00-$320.00+
How to Order
Via website
Ships to
Singapore
Shipping Fee
There are no shipping charges for standard deliveries.
If you require delivery on the next business day, a $20 surcharge will apply.
Email them at arlouandrose@gmail.com for all enquiries!
Children of Luna
Children of Luna is a homegrown brand that sells beautiful and comfortable clothes for children. The inspiration behind its name "Luna" means the moon in Spanish, and is a symbol of goddesses and mothers. A New Moon too, is representative of new beginnings and birth. Founder Claudia believes that comfort, affordability and style do not need to be mutually exclusive, and thus hopes the clothes from Children of Luna can bring children to follow their sense of wonder and curiosity – to embark on new beginnings!
Types of Products Sold
Children clothes,Bedding accessories
Personalisation Factor
Choice of clothes that are suitable for different genders:BoysGirlsInfantsGift Boxes (of clothes)Bedding accessories
Price Range
S$28.00-$138.00+
How to Order
Via website
Ships to
Singapore and International
Shipping Fee
SingaporeComplimentary door-to-door delivery within 3-5 working days
InternationalDepending on country,May have to pay import duties and taxes which are levied once a shipment reaches your country,
Must meet any additional charges for customs clearance.
Contact contact@childrenofluna.com,
Le Petit Society
Le Petit Society was founded upon the desire to create versatile, well-crafted clothing for children, but it has since expanded to include other items such as books, bath capes and blankets, Jellycat soft toys, face masks and even family outfits!
Types of Products Sold
Children clothes,Books,Soft Toys, Family Masksetc.
Personalisation Factor
Variety of gifts for babies
Price Range
S$13.90-$305.00+
How to Order
Via website,
Via physical stores290 Orchard Road, The Paragon, #05-356A Shenton Way, Downtown Gallery, #01-06
Ships to
Singapore and International
Shipping Fee
SingaporeStandard shipping S$5.50Free shipping for orders over S$80.00
Rest of AsiaStandard shipping S$15.00Free Shipping over S$150.00
Rest of the worldStandard shipping S$28.00Free Shipping over S$150.00
Refer to their website for more information!
Final thoughts
Raising a child is not an easy task, and whether it is a newborn or an older toddler, there are always new things in life to learn. For the get-go, toys that help stimulate the senses and aid learning will be beneficial for children in the long term. If you are stuck on ideas, Blissbies can support you in finding a wonderful newborn baby gift set in Singapore! Check out their website for what they can offer!
Looking to buy high quality gift sets? Check out our various gift sets below: