Finding the perfect corporate gift in Singapore can be a daunting task. With its diverse culture and high-quality products, the choices are endless. This blog post promises to make your quest easier by unveiling unique corporate gift ideas that will leave a lasting impression on your employees or clients.
Dive in to discover perfect presents which combine thoughtfulness and utility for all occasions.
Key Takeaways
Corporate gifts in Singapore serve as powerful tools to strengthen relationships with clients and employees, conveying appreciation and fostering loyalty.
Choosing the right corporate gift is crucial to enhance brand image and nurture relationships. It should showcase thoughtfulness, personalization, and relevance to the recipient's interests.
Affordable options for bulk orders can be found on e – commerce platforms like Amazon, Shopee, Lazada, as well as websites such as Table Matters and OneDollarOnly.com.sg in Singapore.
Unique corporate gift ideas include sports and travel – themed gifts, lifestyle items, mobile gadgets, apparel and wearables, and office or stationery gifts.
Benefits of Corporate Gifts
Strengthening Bonds: Corporate gifts solidify relationships with clients and employees.
Tokens of Appreciation: They convey a company's value for contributions, fostering respect and loyalty.
More Than Just a Gift: It's about sending a message that recipients play a crucial role in business success.
Lasting Impressions: Gifting can yield long-term ROI, helping in brand recognition.
Competitive Edge: Helps companies stand out in Singapore's bustling market landscape.
Subtle Marketing: Strategically chosen gifts remind recipients of your brand continuously.
Building Winning Cultures: From boosting morale to encouraging teamwork, gifts play a pivotal role.
Importance of Choosing the Right Corporate Gifts
Brand Ambassadors: Corporate gifts silently echo a company's values and ethos.
Image Amplifiers: The right gift can elevate a company's perception and fortify client and employee relations.
Avoiding Cost-Cutting Pitfalls: Settling for inferior gifts can tarnish your reputation.
Thought and Relevance: The best gifts display thoughtfulness, a personal touch, and align with the recipient's interests.
Avoid Gifting Blunders: Always understand the recipient's preferences to avoid missteps, like gifting wine to a non-drinker.
Prestige in Luxury: High-end gadgets and bespoke apparel communicate exclusivity and make recipients feel cherished.
Utility in Customization: Practical items like custom bags and stationery are ideal for broader distribution while retaining practical value.
Best Unique Corporate Gift Ideas
When selecting corporate gifts, especially for a unique location like Singapore, it's essential to consider local customs, traditions, and preferences. Here's a list of unique corporate gift ideas tailored for Singapore, with an explanation of their significance:
Orchid-Inspired Gifts
Orchids, especially the Vanda Miss Joaquim, resonate deeply with Singapore's national identity. These elegant flowers symbolize Singapore's pursuit of progress and perfection.
Merlion Statuette
The Merlion combines elements of Singapore's rich maritime heritage and mythical folklore. Its iconic presence as a national emblem captures the essence of Singapore's transformation from a fishing village to a bustling metropolis.
Customised Peranakan Tiles
A beautiful representation of the Peranakan or Straits Chinese heritage in Singapore, these tiles intricately weave stories of a culture formed from Chinese and Malay influences, illustrating the island's multicultural mosaic.
Singaporean Tea Blends
A testament to Singapore's diverse population, these tea blends encapsulate a rich tapestry of flavors and traditions, marrying eastern and western influences in every sip.
Rattan or Bamboo Hand Fans
These fans, traditionally used in the tropical climate of Singapore, symbolize a harmonious blend of practicality, elegance, and respect for nature.
Personalised Leather Goods
High-quality leather goods not only exude sophistication but also serve as lasting mementos, reflecting the enduring relationships in business and friendship.
Traditional Nonya Kueh Sets
A culinary delight from the Peranakan community, Nonya Kueh encapsulates generations of culinary expertise, offering recipients a mouthful of Singapore's rich heritage.
Laksa or Hainanese Chicken Rice Kits
More than just food, these kits represent the soul of Singaporean cuisine, emphasizing the nation's passion for food and its East-meets-West culinary landscape.
Handcrafted Pewter Goods
With their blend of traditional craftsmanship and modern designs, pewter products stand as symbols of longevity and intricate artistry.
Batik Prints
Rooted in regional traditions, Batik art reflects the painstaking precision of artisans, making it a testament to Southeast Asia's rich cultural and artistic legacy.
Customized Durian Products
While durians might be divisive for their strong aroma, they undoubtedly capture the adventurous spirit of tropical Southeast Asia and Singapore's love for this unique fruit. Get Durian Chips as gift from this link.
Reusable Tiffin Carriers
A nostalgic nod to the past, these carriers are not only environmentally friendly but also symbolize the importance of community and sharing in Singaporean culture.
Ceramic Pottery with Singapore Skyline
A juxtaposition of the old and the new, this pottery showcases Singapore's deep-rooted respect for traditional arts against the backdrop of its modern architectural marvels.
Tropical Fruit Hampers
A bountiful selection of the region's fruits represents the lushness of Southeast Asia and the island's vibrant, diverse natural offerings. Avail your fruit hamper now.
Singapore Sling Cocktail Set
Beyond being a refreshing drink, this cocktail set encapsulates Singapore's colonial history and its evolution into a global city with a lively nightlife.
Local Artisanal Crafts
Supporting local craftsmen, these gifts highlight Singapore's continued dedication to preserving and celebrating its diverse artistic traditions.
Cultural Books
Curated collections or coffee table books about Singapore's history, architecture, or culture can provide insights into the nation's transformative journey.
Ethical and Sustainable Products
As Singapore steers towards a greener future, gifts like reusable straws, bamboo cutlery, or eco-friendly tote bags represent a commitment to sustainability. Get your reusable Bamboo cutlery from this link.
Candle Sets with Local Scents
Candles infused with scents like pandan, orchid, or rainforest capture the essence of Singapore, allowing recipients to experience the island's fragrances in their own space. Get your scented candle from here.
Culinary Spices Set
A curated collection of spices used in local dishes offers a taste of Singapore's multicultural culinary heritage, emphasizing its melting pot of flavors.
Why Corporate Gifts Are Important
Corporate gifts play a crucial role in building strong client relationships and boosting employee morale.
Building Client Relationships – Corporate gifts play a crucial role in building strong client relationships. When you give thoughtful and personalized gifts to your clients, it shows them that they are valued. This simple act of appreciation can go a long way in fostering client retention and loyalty.
Boosting Employee Morale – Corporate gifting in Singapore plays a vital role in boosting employee morale. When employees receive thoughtful and personalized gifts from their employers, it shows that their hard work and dedication are valued and appreciated.
Choosing the Perfect Corporate Gifts
Consider the recipients and the occasion to ensure that you select the ideal corporate gifts.
Know Your Recipients – Knowing your recipients well is crucial when it comes to choosing the perfect corporate gifts. By understanding their preferences, interests, and needs, you can make a lasting impression that will truly impress them.
Consider the Occasion – Choosing the perfect corporate gift in Singapore requires careful consideration of the occasion. Whether it's a client appreciation event, a holiday celebration, or an employee milestone, understanding the significance of the occasion will help you select a gift that is appropriate and meaningful.
Top Corporate Gifts Suppliers in Singapore
There are several top corporate gifts suppliers in Singapore that offer affordable options for bulk orders.
Happy Bird
Searching for corporate gifts in Singapore? Look no further! At Happybird, we pride ourselves on offering distinctive and tailored corporate gifts that leave a lasting impression. Your quest for the perfect gift ends with us.
The Gift Empire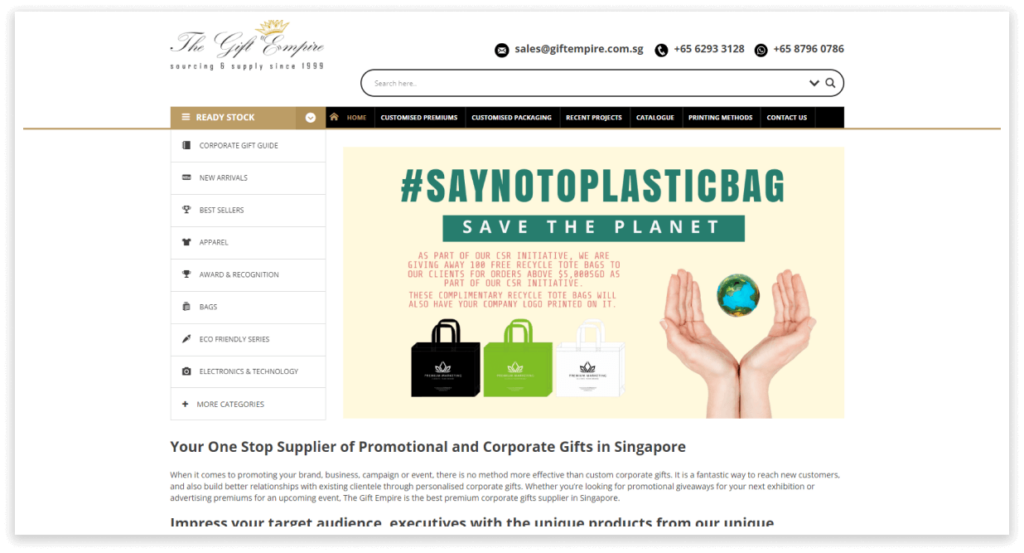 For brand, business, campaign, or event promotion, custom corporate gifts stand out as the most impactful strategy. They not only open doors to new clientele but also fortify bonds with existing customers through bespoke corporate tokens.
Shopgifts
Thanks to our immediate price quotations and real-time chat support, our partners can swiftly pinpoint the ideal gift. This lets them concentrate on their primary mission: expanding their business.
HarriAnns
Indulge in a gastronomic journey with HarriAnns food platters, curating traditional flavors with a contemporary twist. Every platter we present is a symphony of taste and tradition, ensuring an authentic culinary experience.
SLHFRESHFRUITS
Revel in nature's bounty with SLHFRESHFRUITS. Our fruit baskets are handpicked symphonies of freshness, promising peak-season produce that bursts with flavor and nutrition.
Conclusion
Impress your clients and employees in Singapore with the best unique corporate gift ideas. Custom pins and badges offer personalization, while customized bags like tote bags and backpacks are practical yet thoughtful.
Don't forget about high-end gifts to show your commitment to long-term partnerships. From personalized pens to gourmet gift baskets, there's a wide range of options that strike the perfect balance between utility and thoughtfulness.
Show appreciation to your corporate employees with these amazing gift ideas that will leave a lasting impression.
FAQs
1. What are some unique corporate gift ideas for employees in Singapore?
There are various unique and best corporate gift ideas in Singapore, ranging from customised gifts to luxury items that can impress your employees.
2. Where can I find cheap corporate gifts in Singapore?
You can find cheap corporate gifts throughout local businesses or online stores in Singapore which specialise in providing a range of affordable employee incentives.
3. How do I select the best corporate gift ideas for my company's needs?
Selecting the best corporate gifts involves understanding your employees' preferences, considering its value relevance, and ensuring it communicates well with your company's brand values.
4. Can I have customised corporate gifts made for my business?
Yes! In fact, many companies enjoy offering customised corporates gifts as they create a personal touch that enhances the connection between employers and their employees.