Navigating the world of tech education for children can be daunting, especially when it comes to finding the best robotics classes in Singapore. The Lion City is brimming with numerous quality institutions such as Young Engineers and Roboto Coding Academy that offer exceptional programs for young learners.
This article will guide you through 15 outstanding robotics courses where your kids can delve into the fascinating realm of bots while honing their problem-solving skills. Ready to spark some engineering creativity in your child? Join us on this explorative journey.
Benefits of Robotics and Coding for Kids
The Finest Robotic Classes for Kids in Singapore
Here are some of the top robotics classes for kids in Singapore.
Young Engineers – Singapore
Young Engineers Singapore leads the pack in providing exceptional LEGO robotics engineering classes for kids. The courses not only bring fun and excitement through building and programming, but also help these enthusiastic young minds to explore the world of Robotics from a professional engineering perspective.
Students learn by engaging with hands-on projects that introduce them to complex concepts in a highly interactive manner. Known for its emphasis on programming solutions, Young Engineers Singapore offers STEM Robotic Education which aims not merely to teach but inspire students about possibilities in technology-based careers.
Play Facto School
Play Facto School prides itself on being an award-winning platform for robotics enrichment in Singapore. The school has created a child-friendly module that offers an easy and intuitive way for kids to learn about coding and robotics. They incorporate Modi, known globally as the simplest IoT Learning Kit, into their educational program.
This innovative approach taken by Play Facto School sets it apart from other Singapore robotics classes. Not only do they cater to primary school students, but their offerings extend to younger children with Lego Robotics classes designed specifically for kindergarteners.
STEM Academy
STEM Academy stands out among robotics classes for kids in Singapore. The institution specialises in Robotics and Coding courses, offering a comprehensive curriculum to young learners.
High-quality teaching methods are combined with practical exposure to impart STEM skills effectively. Through such an approach, children don't just learn theoretical concepts but also experience their applications firsthand.
Roboto Coding Academy
Roboto Coding Academy is a top-notch provider of coding workshops for kids in Singapore. With a strong focus on teaching coding, programming, and robotics, this academy stands out as one of the finest options for young learners between the ages of 6 and 16.
They have multiple outlets conveniently located in Orchard, Novena, and Tampines, making it accessible to families across Singapore. At Roboto Coding Academy, children are given the opportunity to dive into the exciting world of technology through engaging classes that cater to their age group.
School of Robotics
The School of Robotics is a top choice for parents in Singapore who are looking for trustworthy robotics classes for their kids. They offer coding and robotics programs that cater to children of all ages, providing them with a comprehensive learning experience.
With their cutting-edge technology and in-house facilities, the school ensures that each child receives tailored guidance and support throughout their journey.
The Lab Singapore
The Lab Singapore offers coding and robotics classes for children between the ages of 5 to 16 years old. This makes it a great option for kids who are interested in learning about technology at an early age.
What sets The Lab Singapore apart is their use of robots to teach coding. Through hands-on activities, students get a unique and engaging learning experience that helps them understand the concepts better.
LCCL Coding Academy
LCCL Coding Academy, known as the premier coding and computational thinking school in Singapore, offers top-notch robotics classes for kids. These classes are designed for children and teenagers aged 5 to 18 years old.
Led by a team of highly experienced instructors, the coding classes at LCCL Coding Academy provide a dynamic and engaging learning environment. With its association with The Finest Robotic Classes for Kids in Singapore, LCCL Coding Academy is committed to delivering the best robotics education in the country.
Nulllspace
Nullspace Robotics is an award-winning robotics enrichment center in Singapore. They have been offering robotics classes and coding classes for children aged 6 to 16 since 2008. With a low instructor-to-student ratio of 1:3, each child receives personalized attention to enhance their learning experience.
One of the highlights of Nulllspace Robotics is their state-of-the-art learning centers equipped with the latest technology. These centers provide a conducive environment for kids to explore and develop their robotics skills.
Ripplescreate
Ripplescreate is another fantastic option for kids interested in robotics classes in Singapore. Their programs are designed to provide hands-on learning experiences that help children develop problem-solving and critical thinking skills.
With a focus on creativity, innovation, and collaboration, Ripplescreate offers a range of courses suitable for different age groups. Children can explore the world of robotics through exciting projects like building their own robots or programming drones. The instructors at Ripplescreate are experienced and passionate about teaching kids about technology and engineering.
Coding Lab
CodingLab is an established educational platform based in Singapore, dedicated to nurturing young minds in the field of coding and technology. Offering a comprehensive range of courses, CodingLab empowers students with essential programming skills, fostering creativity, problem-solving, and critical thinking. Through interactive and engaging lessons, students develop a strong foundation in coding, preparing them for the digital challenges of the modern world.
IN3LABS Robotics Coding Education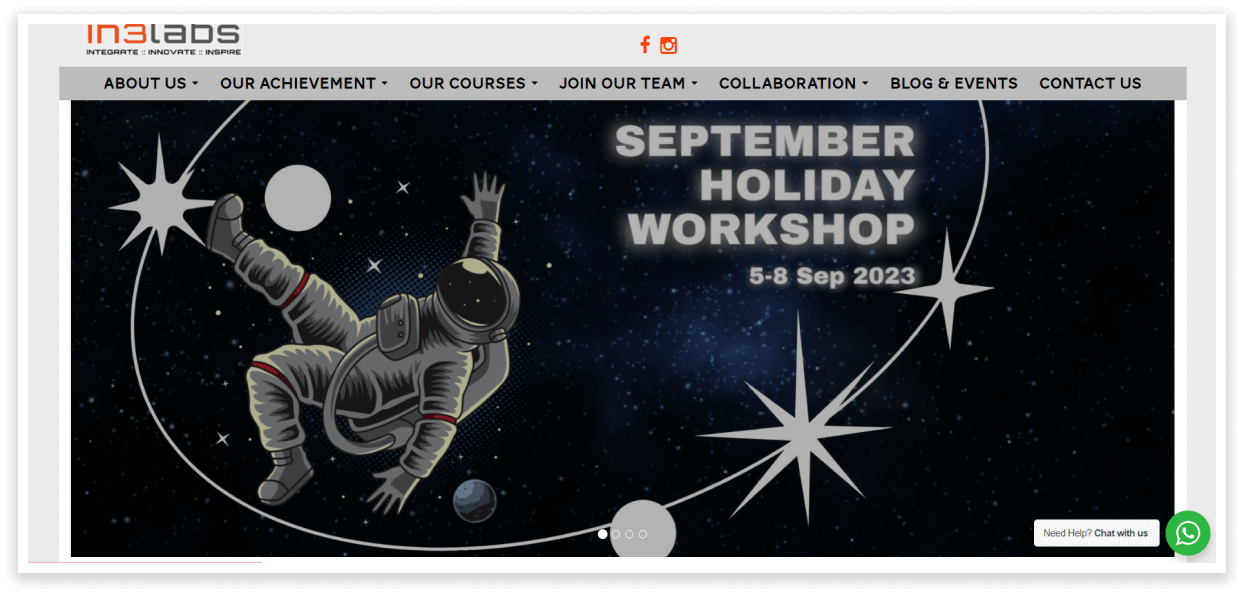 IN3LABS is a robotics-focused educational initiative that provides innovative coding education to learners of all ages. Through hands-on experiences, IN3LABS empowers students to explore the fascinating world of robotics and coding, fostering a deep understanding of technology and its real-world applications. With a blend of theory and practical projects, IN3LABS equips individuals with the skills to design, program, and interact with robots, cultivating a passion for STEM and future-ready skills.
NK Robotics Northpoint
NK Robotics Northpoint is a leading robotics and technology education center located at Northpoint City. We offer engaging and hands-on learning experiences for students of all ages, focusing on robotics, coding, and innovative technologies. Our expert-led courses empower participants to develop critical skills in problem-solving, creativity, and logical thinking while having fun with cutting-edge robotics projects.
Robotics Connection Singapore
Robotics Connection Singapore is your gateway to comprehensive robotics education and exploration. As a prominent robotics hub, we offer a diverse range of courses and workshops catering to all skill levels. From beginners to enthusiasts, our programs delve into the realms of robotics design, programming, and hands-on construction.
Children's Worklab
Children's Worklab Singapore is a premier creative learning center dedicated to nurturing young minds through hands-on exploration and experiential learning. Our dynamic workshops and courses are designed to spark children's curiosity in science, technology, engineering, arts, and mathematics (STEAM). With a focus on interactive projects and engaging activities, Children's Worklab fosters a love for learning, critical thinking, and problem-solving skills in a supportive and inspiring environment.
Computhink Kids SG
Computhink Kids SG is a leading educational platform in Singapore, specializing in fostering digital literacy and computational thinking skills in children. Our innovative programs provide hands-on experiences in coding, problem-solving, and technology, equipping young learners with essential skills for the modern world.
Age-appropriate Introduction to Robotics
Are you searching for the best robotics classes for your kids in Singapore? Look no further! In this article, we have curated a list of 15 top-notch robotic classes that will ignite your child's passion for coding and technology.
With these classes, your little ones can embark on an exciting journey of learning while having fun at the same time. Join us as we explore the world of robotics and discover the perfect class for your child.
Get ready to witness their imaginations soar to new heights with these amazing opportunities!
In conclusion, Singapore offers a wide range of excellent robotics classes for kids. These programs provide children with the opportunity to learn and develop their coding and robotics skills in a fun and educational environment.
Whether it's through specialized courses or year-round programs, there are options available for every age group, ensuring that kids have access to the best resources to explore their interests in robotics.